Are you searching for an Office alternative? LibreOffice is a good choice. In this post, MiniTool provides you with a full LibreOffice download/install guide for Windows and Mac. It also introduces other useful information related to LibreOffice.
About LibreOffice
Before you get LibreOffice downloaded/installed, it's necessary to have an overall understanding of this tool. Here we summarize several frequently asked questions related to LibreOffice free download.
What Is LibreOffice
LibreOffice is a free and open-source office software suite developed by Document Foundation initially in 2011. As a Microsoft Office alternative, this suite consists of programs and features such as word processing, spreadsheet creating and editing, slideshows, diagrams, drawings, databases, mathematical formulae, and so on.
It is a cross-platform office suite that supports Microsoft Windows, macOS, Linux, ChromeOS, Android, and iOS. With more than 100 languages supported, LibreOffice is widely used by people around the world and provides incessant updates and improvements for users. So, if you are searching for a Microsoft Office alternative, you can consider using LibreOffice.
Can I Download LibreOffice for Free
Can I download LibreOffice for free? Of course, yes. LibreOffice is a free and open-source office suite developed by a worldwide community. It has been used and tested daily by a large and devoted user community. So, you can get LibreOffice free downloaded/installed for your devices.
LibreOffice System Requirements
To download Libre Office for Windows/Mac smoothly, you need to make sure that your PC meets the minimum system requirements of this software. Here are the software and hardware requirements for LibreOffice Windows/Mac installation.
LibreOffice Windows System Requirements:
OS: Windows 7 SP1, Windows 8, Windows Server 2012 to 2022, Windows 10. Windows 11
Processor: Pentium-compatible processors, Pentium III and Athlon is recommended
RAM: at least 512MB
Hard disk:5GB available of disk space
Resolution: 1024×768 or higher, with at least 256 colors
LibreOffice Mac System Requirements:
OS: macOS 10.12 or higher
Processor: Intel or Apple silicon processor
RAM: at least 512MB
Hard disk: 800 MB available of disk space
Resolution: 1024×768 graphics card with at least 256 colors
Which Version of LibreOffice Should I Download
Now, the latest fresh version of LibreOffice 7.4.2 and still version of LibreOffice 7.3.6 are available for users. Which version of LibreOffice should I download? A lot of people may be unclear about the difference between the Fresh and Still version.
The LibreOffice Still version is the stable maintenance branch that is suitable for conservative users, while the LibreOffice Fresh version is the feature branch that comes with more new features and improvements for early adopters or advanced users.
If you seek stability and safety, it's recommended that you download LibreOffice Still. On the contrary, you'd better download LibreOffice Fresh if you want to use more features.
LibreOffice Download & Install for Windows 10/11
This part will show you how to download Libre Office and install it for Windows 10/11. Make sure your computer meets the system requirements of this tool and follow the LibreOffice download/install tutorial below:
Note:
Make sure you have administrator rights to install the software. Besides, certain features/applications especially for Base require Java installation.
Step 1. Click here to open the official LibreOffice Download page and you should find the LibreOffice 7.4.2 Fresh version and LibreOffice 7.3.6 Still version.
Step 2. Select your operating system from the drop-down menu and click on Download. Then select a location to save the download pack. Here we take the LibreOffice 7.3.6 Still version for example.
Tips:
If you are not sure that your system is the 32-bit or 64-bit version, you can read this guide to check that.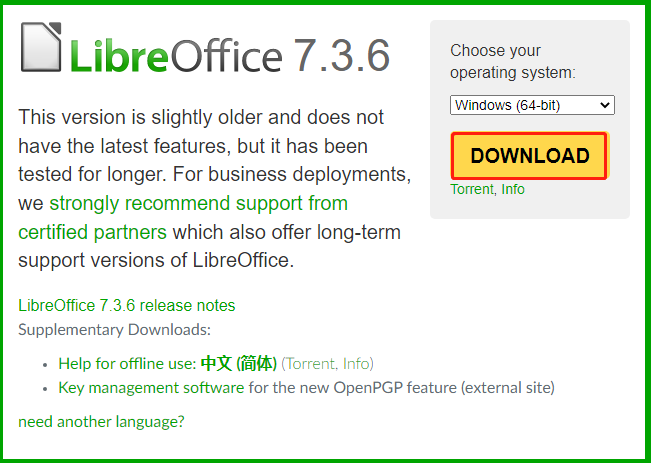 Step 3. Once downloaded, double-click the .MSI file and click on Next to start installing LibreOffice on your PC.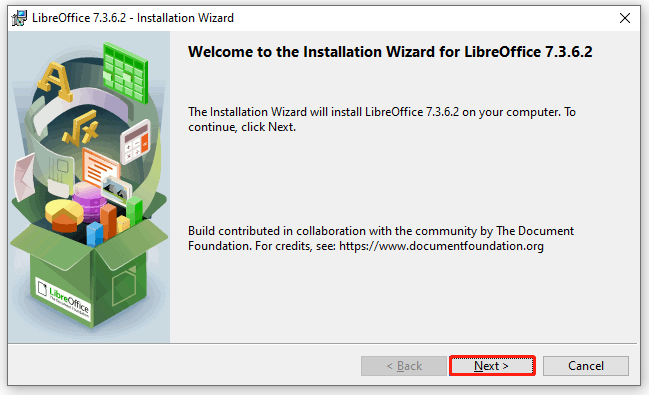 Step 4. Select the Setup Type and click on Next. Here we take the Typical setup type for example.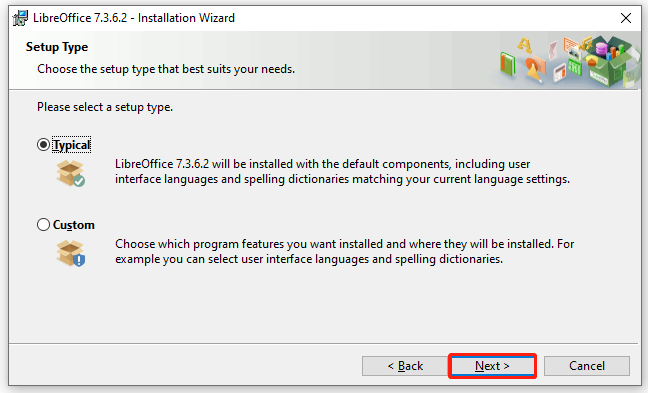 Step 5. You can select the Create a shortcut on desktop option or not and click on Install.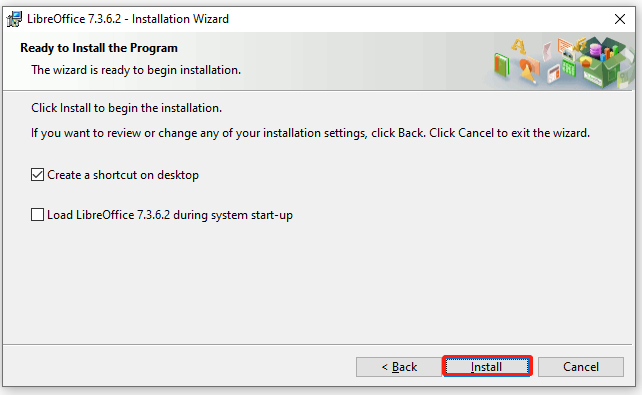 Step 6. Wait for the installation to complete. You may need to click on Yes to access the admin rights during the installation. Once installed, click on Finish.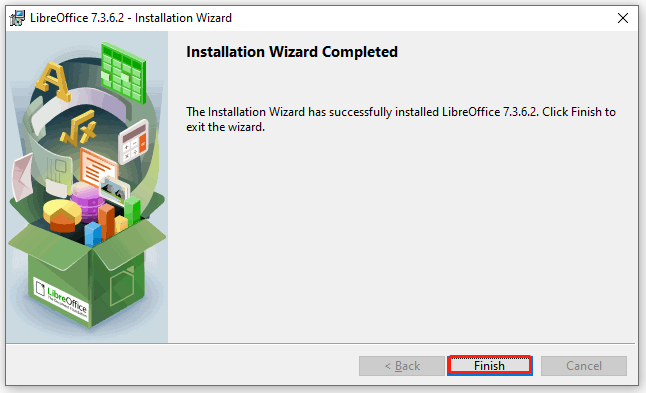 LibreOffice Download & Install for Mac
You can download LibreOffice for Mac only if your PC meets the system requirements. To do this work, you can open the official LibreOffice download page, select macOS (Apple Silicon) or macOS (Intel) according to your situation, and click on Download.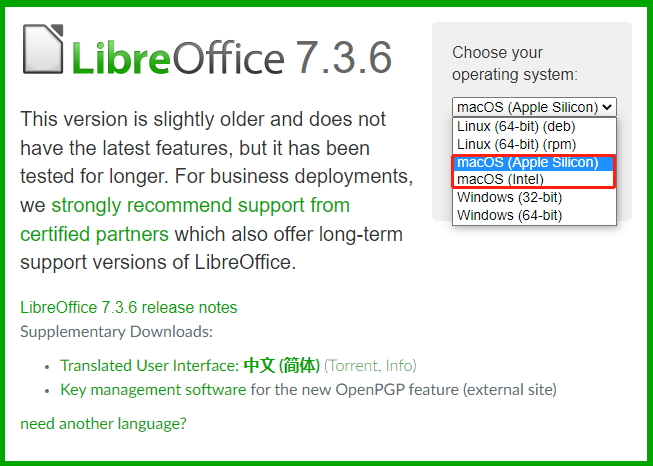 Once downloaded, double-click the .DMG file and click on Yes to run the installer, and then follow the on-screen prompts to install LibreOffice for Mac. If you are still confused about this process, you can refer to this Mac LibreOffice free download/install guide.
Fix Not Enough Disk Space to Install LibreOffice on Windows 10/11
As mentioned above, the LibreOffice free download requires 1.5GB of available disk space and more space during installation/running. How to fix it if you can't install LibreOffice on Windows due to insufficient disk space?
Don't worry. MiniTool Partition Wizard can help you free up disk space with many powerful features like Space Analyzer and Extend Partition. In addition, you can use the Migrate OS to SSD/HD feature to upgrade your hard drive to SSD without reinstalling OS.
MiniTool Partition Wizard FreeClick to Download100%Clean & Safe