If your SD card suddenly loses some space and the missing space turn to unallocated, while you cannot extend it with Disk Management and do not know what to do, this article will show you how to extend volume of SD card with a perfect freeware.
Here's the scenario:
The 14G SD card which is for camera loses about 6G space without knowing the exact reason. After opening Windows 10 built-in Disk Management utility, I found the missing space becomes unallocated, so I was planning to expand the SD to it via the function Extend Volume. But disappointingly, Extend Volume is grayed out, so I really hope somebody could tell me how to extend volume of SD card so as to help me get the lost capacity back.
Why failed: Windows Disk Management utility will not allow you to do SD card partition Windows 10. For example, features like Delete Volume, Shrink Volume, Extend Volume will be grayed out. In fact, up until the Windows 10 Anniversary update, you couldn't partition a USB or SD card with Disk Management.
See also: Fixed: Disk Management is Unable to Delete Volume on USB Flash Drive
Solution: For situation like this, we suggest you directly download a third-party partition tool which can solve your problem easily. MiniTool Partition Wizard should be the perfect choice. Well then, how to extend volume of SD card by using this program? Please look at the following demo.
How to Extend Volume of SD Card with MiniTool Partition Wizard
MiniTool Partition Wizard is a top partition manager which can help to manage your disk partition easily, so that you can have your disk in an ideal state. For your information, to extend partition of SD card, you can have the free edition of this tool.
MiniTool Partition Wizard FreeClick to Download100%Clean & Safe
With the free edition of MiniTool Partition Wizard, there is more than one feature to partition SD card – Extend Partition and Move/Resize Partition. Now you can follow the detailed steps below to have a try.
First of all, please install this program on your computer, and then connect the SD card to computer.
How to extend volume of SD card via Extend Partition.
Step 1: open the program by double clicking on it and then choose Launch Application to enter its main interface.
Step 2: in the main interface, choose the SD card partition and then click the Extend Partition from the left action panel under Change Partition. After clicking this function, the Extend Partitionwindow will jump out.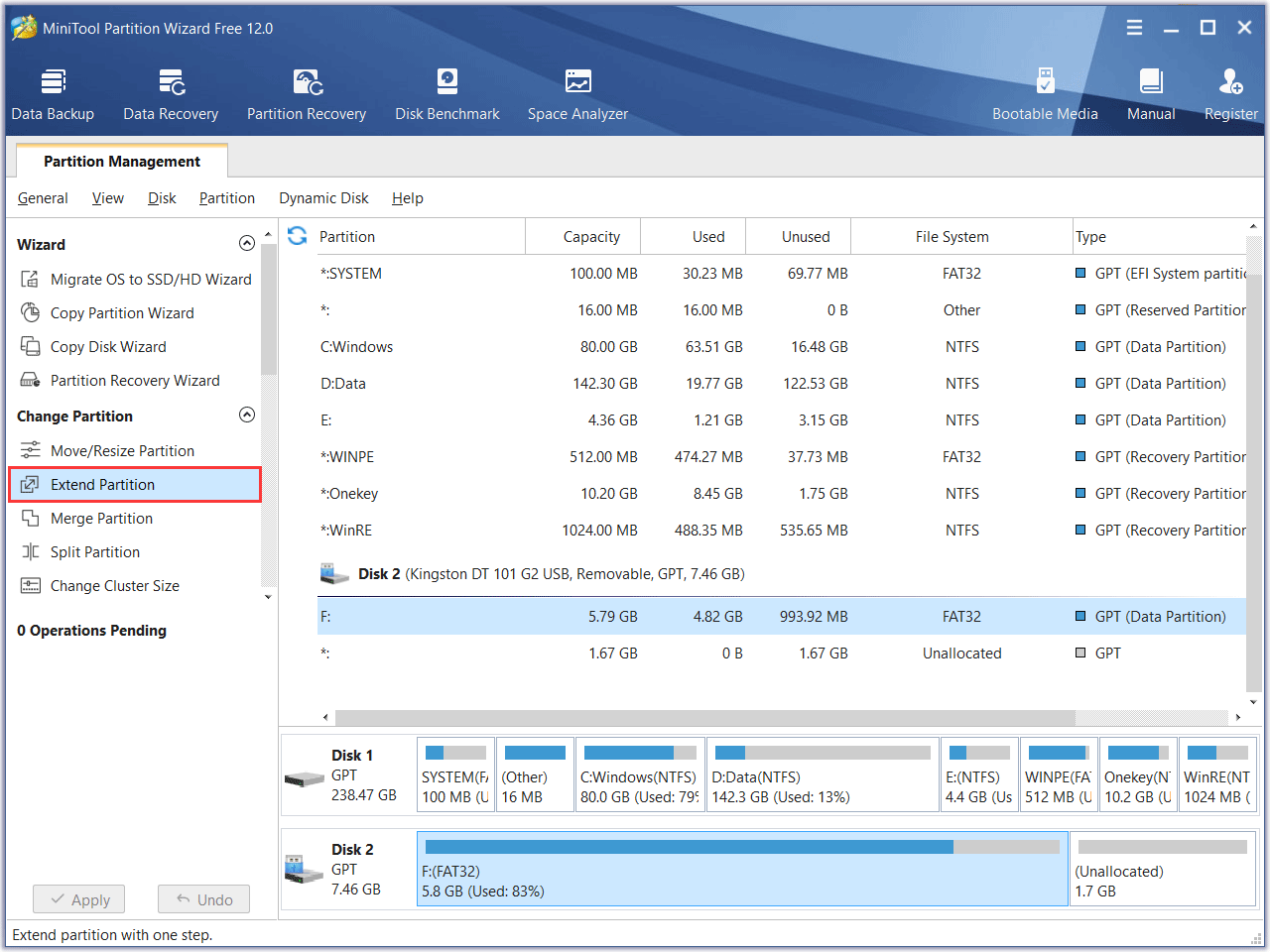 Step 3: in the Extend Partition window, open the drop-down list of Take Free Space from and choose the unallocated space to take free space from. Then, drag the sliding handle rightwards to take up the whole unallocated space. After that, click OK to continue.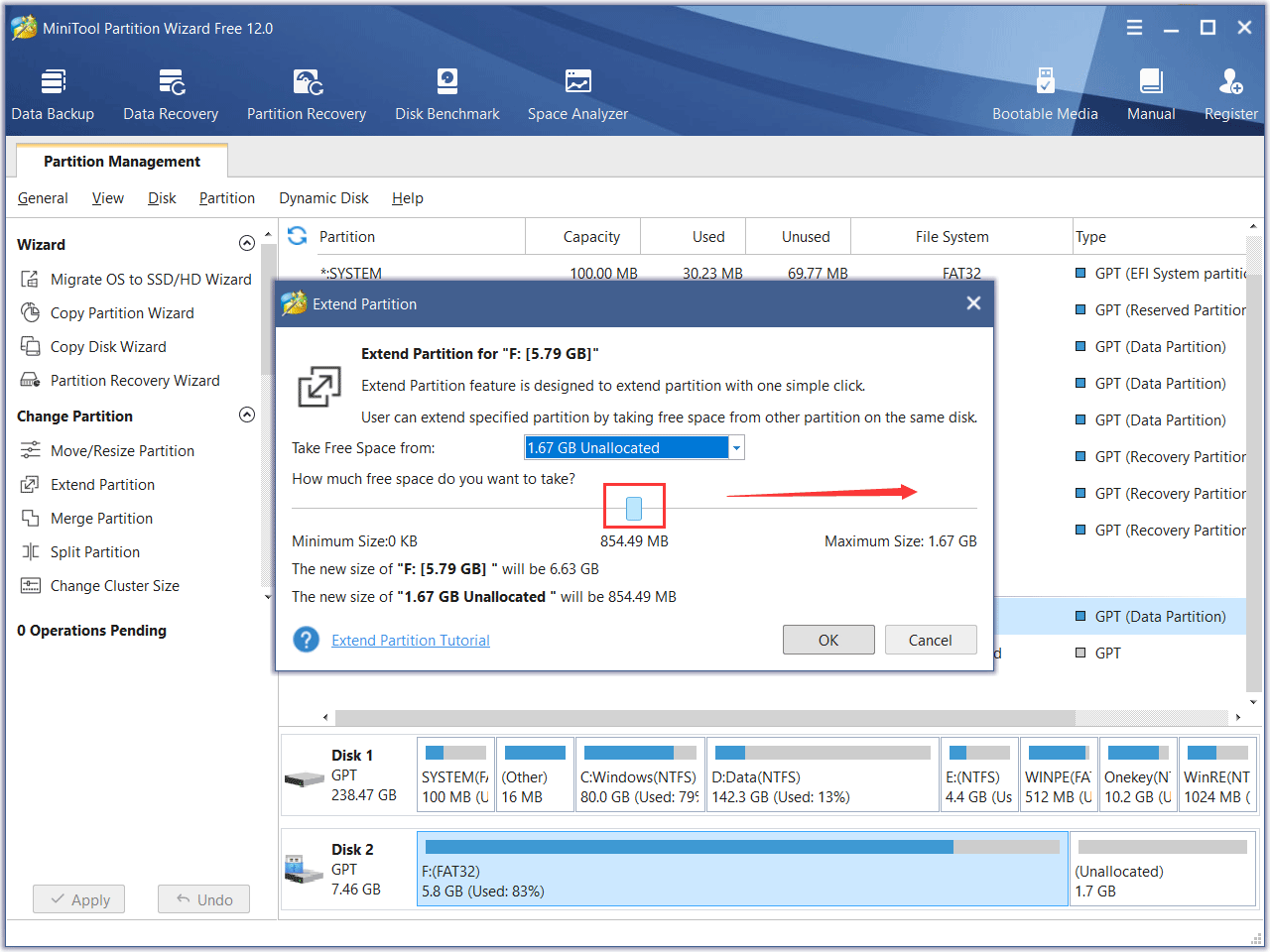 Step 4: after clicking OK, you will be back to the main interface. And you can see the new condition of the SD card. If preview that the result is what you want in mind, you can click Apply to confirm the operation.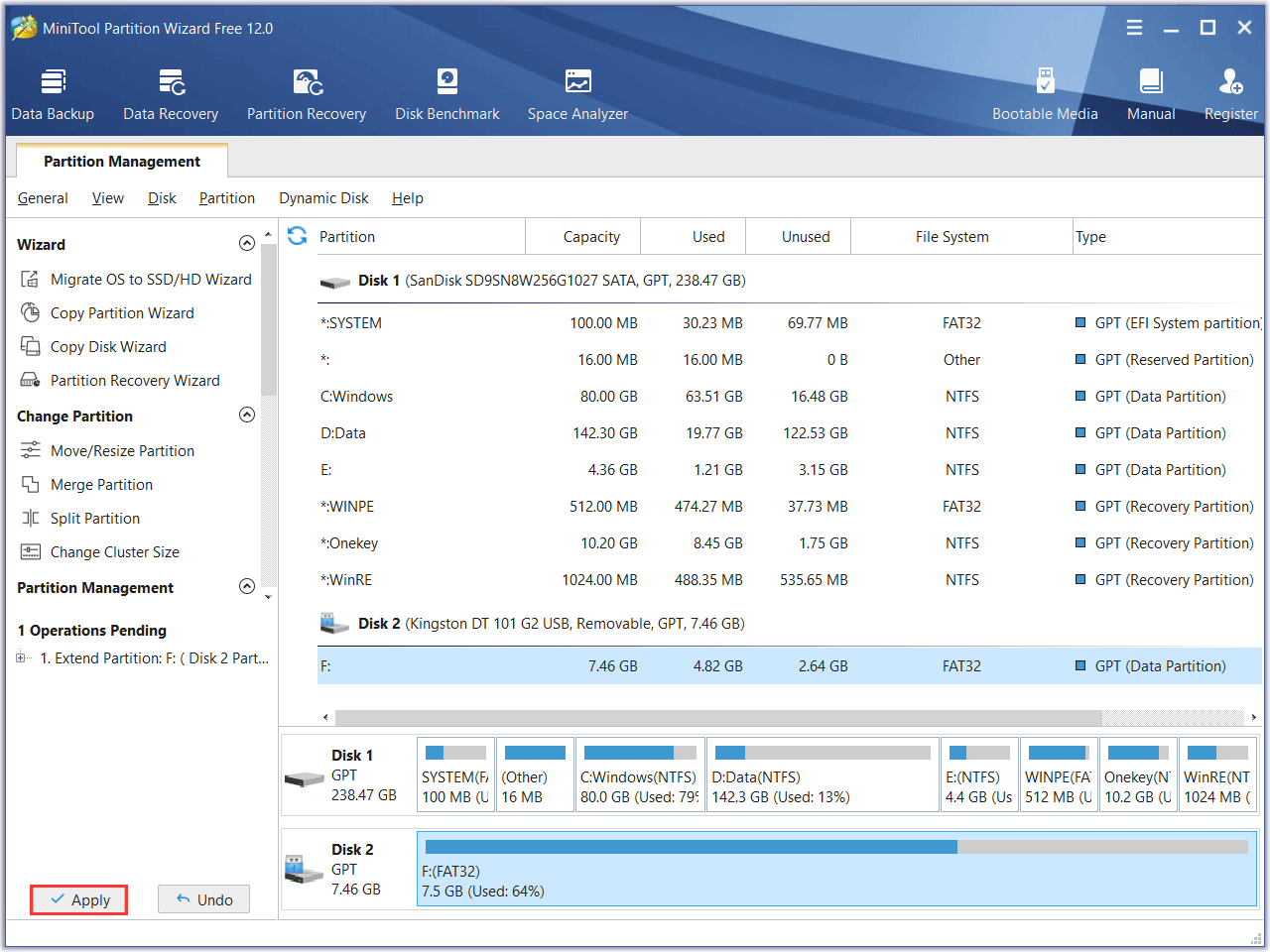 How to extend volume of SD card via Move/Resize Partition
As mentioned previously, there is not the only way to expand SD card partition. Besides Extend Partition, Move/Resize Partition can achieve this purpose too. The process of the beginning and the end are the same as the Extend Partition described earlier, so we won't go into details here.
Step 1: open the software and launch to its main interface.
Step 2: choose the feature Move/Resize Partition.
Step 3: in the Move/Resize Window, you can see the blue handle represents the SD card partition while the blank area means unallocated space.
To extend the SD card partition by taking up the unallocated space, you just need to drag the handle furthest to the right. After that, click OK to go back to the main interface.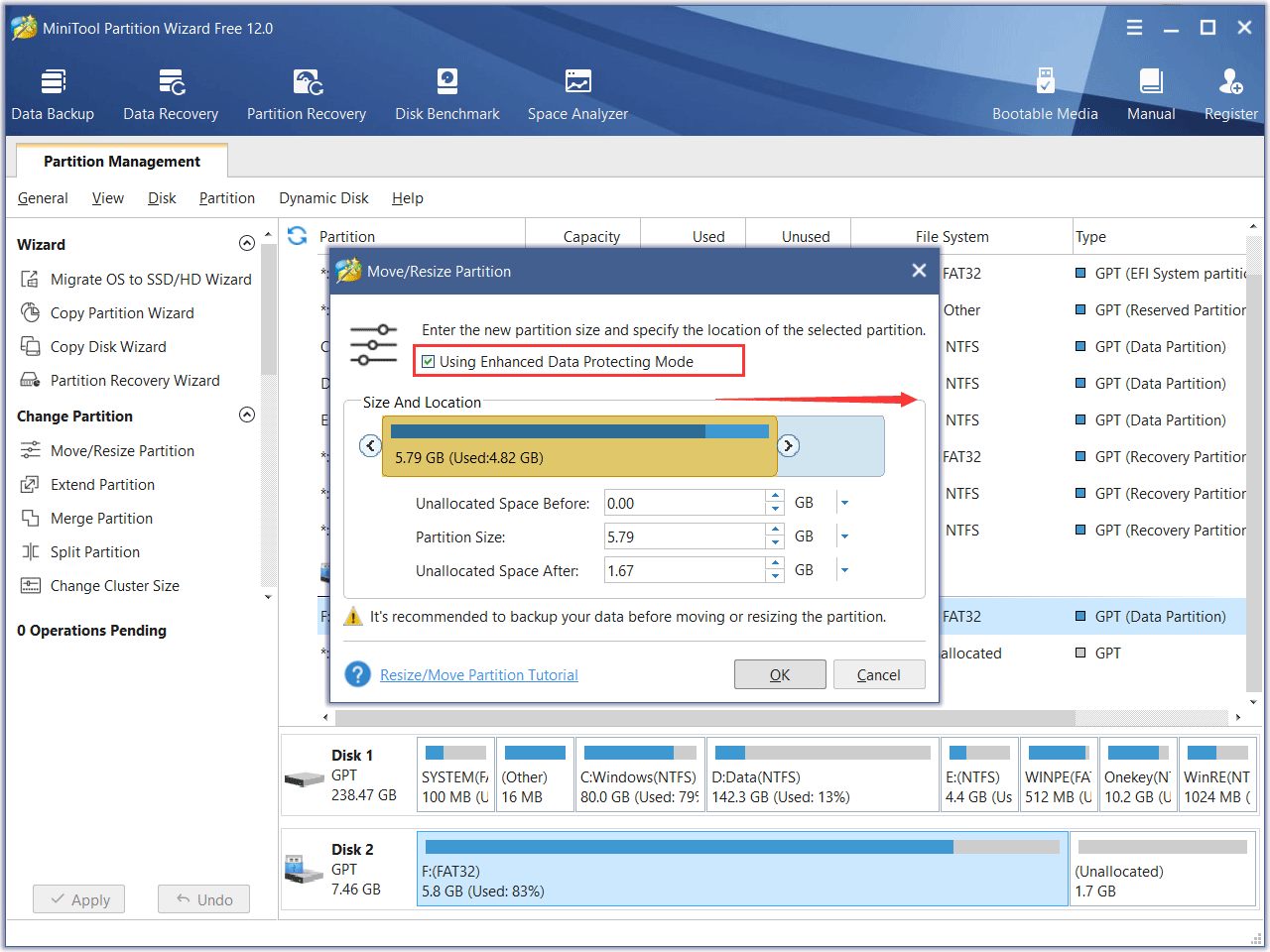 Tips: please keep the Using Enhanced Data Protecting Mode line checked by default since this mode is good for the data safe. In case of data loss, you'd better backup your data before the operation.
To extend partition of SD card, you only need the above operation. But in fact, this feature contains three functions which is moving partition, enlarging partition, and reducing partition. If you are interested, you can find more information in this tutorial: Move/Resize Partition.
Step 4: now in the main interface, you can preview if the SD card becomes what you are wondering. If the result is satisfying, don't forget to click Apply to save the change.
Now you officially finished the process that expands SD card partition.
In the end, both these two features will not cause bad effects of your data, and you can easily restore your SD card to the original size by extending it, only the key operation process is different. You can choose one depending on which process you prefer.
The Last Words
Now do you know how to extend volume of SD card? We believe you have the right answers, after all, you can feel that MiniTool is able to accomplish this task well. And we dare say it is obviously that MiniTool is the best choice since it is easy to operate, safe and free.
In addition, if you have any problems during using MiniTool Partition Wizard, you can connect us via [email protected] to let us know. Meanwhile, if you have any better idea about partition SD card issue, welcome to share with us on the commend zone.