Summary :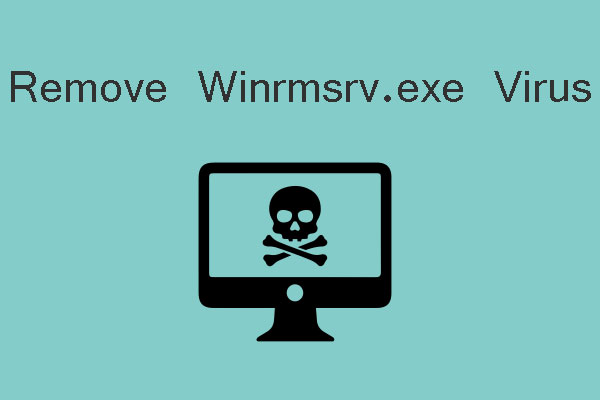 Is your firewall blocking winrmsrv.exe? This file may be virus. In this post, MiniTool explains what winrmsrv.exe is and shows you how to remove it from Windows 10 after you confirm it is virus.
Quick Navigation :
What Is Winrmsrv.exe?
Hey, is this winrmsrv.exe safe to allow in the firewall? Regardless it being from Microsoft, I could not find so much info about it in the Internet. It seems to be some Remote related service, but it was strange to show up...

--- answers.microsoft.com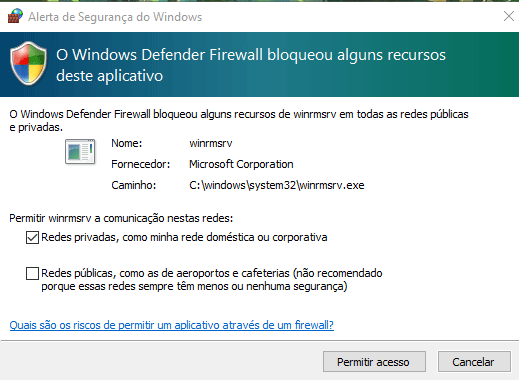 Some Windows users have complained that their firewall is blocking some incoming connections from winrmsrv.exe. That is strange because Winmsrv.exe is a legitimate Windows process, which usually doesn't ask for firewall access. You can find this executable file in C:\Windows\system32\ folder.
But unfortunately, this file can be targeted by malware. In that case, it can be classified as a Trojan Horse, used as a backdoor for ransomware by hackers. Therefore, if the firewall is blocking winrmsrv.exe, this file may be virus. In addition, the winrmsrv.exe may also be virus if you get any error message that resembles any of the followings:
(Winrmsrv.exe) has encountered a problem and will close shortly.
(Winrmsrv.exe) has stopped working, or this program is not responding.
(Winrmsrv.exe) is not a valid Windows 32 application error.
(Winrmsrv.exe) Application Error: Click OK to terminate the program.
Then, how to remove winrmsrv.exe virus from your computer? Please refer to the following content.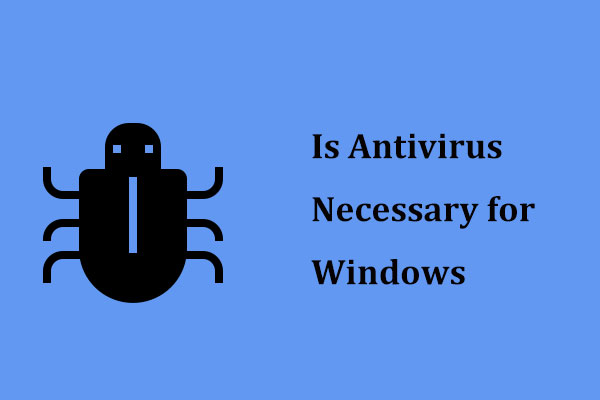 Is antivirus necessary for Windows 10/8/7 to keep your PC safe? Read this post to get the answer, and you can also know some ways to prevent malware.
How to Remove Winrmsrv.exe Virus
Before you remove winrmsrv.exe, you should confirm whether the file is digitally signed and is within the Windows32 folder. Here is the tutorial:
Right-click on the exe file and then choose Properties.
Navigate to the General tab and then check if the file's location is C:\Windows\System32.
Move to the Digital Signatures tab, then click on the provided signature and choose Details.
After that, choose View Certificate.
If there is no entry under the Signature list, then your winrmsrv.exe is likely to be a virus. You can then take the following measures to remove it.
Method 1. Remove the Winrmsrv.exe Virus Manually
Step 1: Boot your computer into Safe Mode. You can refer to this post: How to Start Windows 10 in Safe Mode [6 Ways].
Step 2: End the virus process in Task Manager.
Use the Ctrl + Shift + Esc keyboard shortcut to launch the Task Manager.
Navigate to the Processes tab and then click on the More details arrow at the bottom.
Search for all the problematic processes like winrmsrv.exe. Then, right-click on each of them and choose Open File Location.
Scan these files using your antivirus program. If they are infected, end these processes and delete their folders. If you aren't sure if a component is part of the infection, just delete it.
Step 3: Delete the virus using the Control Panel.
Press the Windows and R keys simultaneously to open the Run dialog box.
Type "cpl" into it and click OK.
Once the Control Panel window appears, search for all suspicious entries and then uninstall them.
Step 4: Check Startup processes.
Type "msconfig" into the search field and press Enter.
Navigate to the Startup tab and then uncheck all entries that look suspicious.
Copy and paste this command "notepad %windir%/system32/Drivers/etc/hosts" into the Run Press Enter and a new Notepad file will open. If your computer is infected, you will see a bunch of other IPs connected to your computer at the bottom of this note.
Step 5: Find out registry entries added by the virus and delete them.
Type "regedit" into the Run box and then press Enter to open Registry Editor.
Press the Control and F keys together and then type the virus' name to look for all the entries with a similar name. Then, delete these entries.
If nothing shows up, you can navigate to the following entries manually to delete them:
HKEY_CURRENT_USER > Software > Microsoft > Windows > CurrentVersion > Run > Random
HKEY_CURRENT_USER > Software > Random Directory
HKEY_CURRENT_USER > Software > Microsoft > Internet Explorer > Main > Random
Step 6: Remove winrmsrv.exe from browsers like Google Chrome, Internet Explorer, and Mozilla Firefox.
Google Chrome: Open chrome://settings/ in Google and navigate to the Extensions tab. Search for winrmsrv.exe and other suspicious plugins to delete them. Then, open Chrome menu and select Settings > Show advanced settings. Click Reset button to reset your Google.
Internet Explorer: Click on the cogwheel icon to expand the menu and then select Manage add-ons > Toolbar > Extensions Search for winrmsrv.exe and then click Disable. Go to Tools > Internet options > Advanced section and click Reset. Then, navigate to the Reset IE settings tab, check on the Delete personal setting box, then click on the Reset button.
Mozilla Firefox: Open about:addonsds in Firefox browser. Look for winrmsrv.exe and other related extensions to remove them. Click on the menu icon and select Help > Troubleshooting information. Then, click on Reset Firefox.
Method 2. Remove the Winrmsrv.exe Virus Automatically
Manual removal is too tedious. Another way to remove winrmsrv.exe is to use antivirus. You can use professional antivirus software like Windows Defender, Malwarebytes, McAfee, etc.