Nowadays, more and more people have dual boot Windows system and Ubuntu. However, as time goes by, they abandon Ubuntu due to some reasons. But they will find that Windows won't boot after uninstalling Ubuntu. Why and how to fix it? Find answers in this post.
"I have a Dell XPS 9530 that I originally conpd to dual boot Windows 8.1 and Ubuntu. I've been too busy to actually play with the Ubuntu partition and it has been a year since I last booted into it. I decided it was time to delete the Ubuntu partition and extend mg Windows partition to occupy the whole drive. It turns out that was more problematic than I had pd. I cannot get my laptop to boot now. It starts up a Grub terminal with minimal bash support. How do I fix this?"
Have you ever been in the same situation like the post said – Windows won't boot after uninstalling Ubuntu? If you are experiencing this right now, keep reading this article.
The Reason Why Windows Won't Boot after Uninstalling Ubuntu
Ubuntu is a free and open-source Linux operating system based on Debian. The system is developed by a UK based company called Canonical Ltd. It runs for desktop, cloud, smart phones, network servers, and almost all your internet connected things.
When Ubuntu has been installed, it always accompanied with GRUB or LILO of Linux on MBR. After the Ubuntu partition is deleted, boot sector code of the MBR will be modified or we say damaged. As a result, when you are trying to boot after uninstalling Ubuntu, you will receive boot error such as grub rescue commands.
When error unknown filesystem grub rescue after deleting Ubuntu appears, what to do? At this time, the best solution is to restore the boot sector code to original state via rebuilding or fixing MBR in boot mode.
With knowing why Windows won't boot after uninstalling Ubuntu and the suggested solution, now you must want to know how to fix this issue. Here, we suggest using a top partition manager to fix the damaged MBR.
How to Fix the Damaged MBR?
MiniTool Partition Wizard is a professional disk partition manager. The ideal condition of a disk can become a real thing with it since it has many useful functions, such as Migrate OS to SSD/HD, Copy Partition, Extend Partition, Partition Recovery, Rebuild MBR, and so on.
To fix the damaged MBR, Rebuild MBR feature is what you need.
Since the computer cannot boot, we suggest using MiniTool Partition Wizard Bootable Edition which can be obtained from a full edition of the software.
While if you are a home user, the pro edition can fully meet your needs.
At first, you need to install the software on a normal working computer and create a bootable media, then set the unbootable computer boot from the bootable media to enter MiniTool Partition Wizard to fix the damaged MBR.
After booting from this bootable media successfully, you need to wait a while and it will enter the main interface of this program. Now you can follow the following detailed steps to solve the case that Windows can't boot after uninstalling Ubuntu.
Step 1: Please select the disk whose MBR is damaged and choose Rebuild MBR feature from the left action panel. After this operation, you will see a pending operation on the left: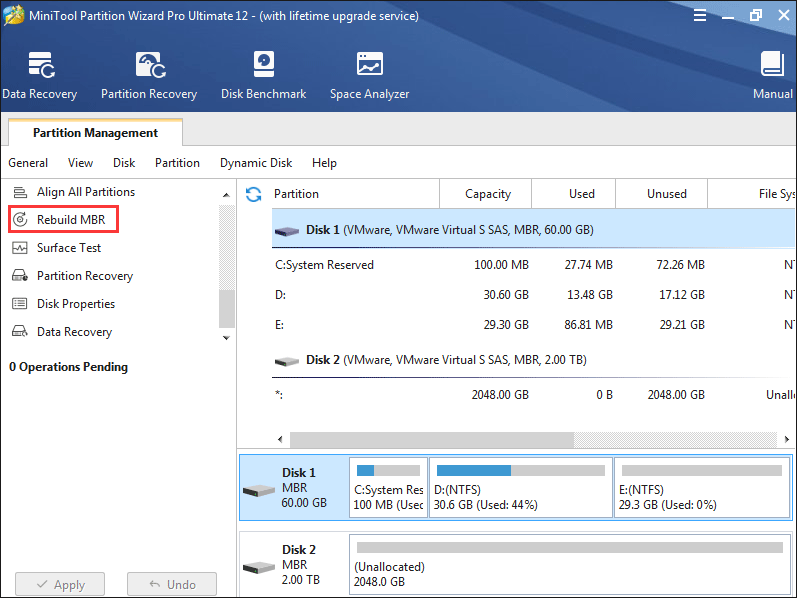 Step 2: Now, please click Apply button to apply the change.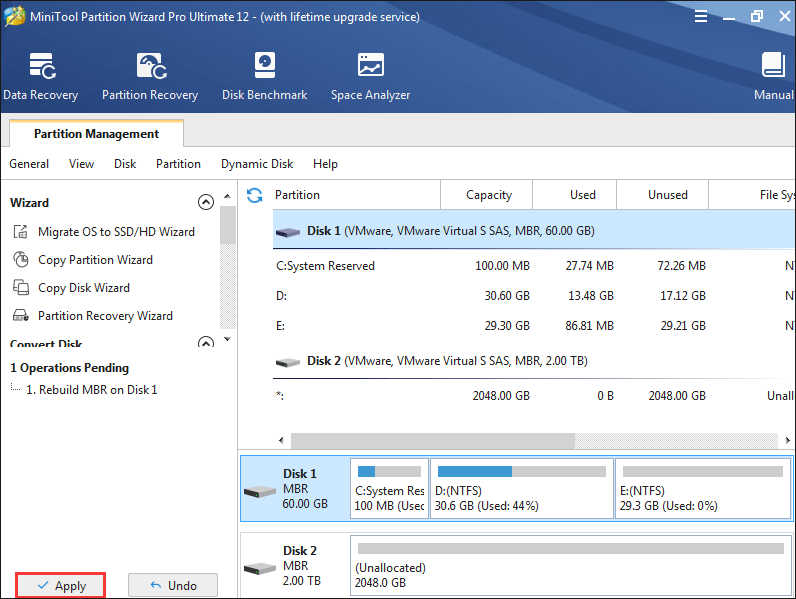 After the operation is completed, quit from MiniTool Partition Wizard Bootable Disc and try to boot from the local hard disk.
"Using MiniTool Partition Wizard Bootable Edition easily solved my issue that Windows won't boot after uninstalling Ubuntu. Hope this could help you guys too, believe me and try it."Click to Tweet
Bottom Line
Therefore, when Windows won't boot after uninstalling Ubuntu, try using the partition management software MiniTool Partition Wizard Bootable Edition to rebuild MBR, which is quite useful.
In addition, if you have any suggestions about Windows can't boot after uninstalling Ubuntu issue, welcome to share them with us in the comment zone. Any problems about MiniTool Partition Wizard are welcomed to send to [email protected].