What is Windows Installer folder? Is it safe to delete files in this folder? This post of MiniTool would tell you how to safely free up space with the help of the Windows Installer cleanup utility.
About Windows Installer Folder
What Is the Windows Installer Folder
Windows Installer folder is a protected folder with System & Hidden attributes, which can be found under the Windows folder. When you install a program in Windows, its .msi setup package will be copied to the Installer folder.
The Installer directory is a cache location for installer data files of various applications installed on the PC. When you repair, uninstall, or reinstall the program via Apps & Features in Settings or Programs & Features in Control Panel, you are required to use the .msi package from the Windows Installer folder to do these operations.
Once the corresponding setup package (.msi or .msp) file isn't found, Windows prompts the error "The installation source for this product is not available. Verify that source exists and that you can access it."
Issues with the Installer Folder
However, you may find that the Installer directory grows and consumes a massive amount of hard disk space. This phenomenon often occurs and it can be seen in many forums or communities. Well, here is a true example.
On my SSD machine, the C:\Windows\Installer folder is massive and takes up about 15% of my total disk space. Is there a way to clean up that folder without killing Windows 8.1/10? Tucking away the installers on the OS partition seems wasteful.

-superuser.com
Can You Delete All files in This Folder
The answer is negative because the Windows Installer folder contains important files for the accurate run of the system. If you delete these files, you can't work with your PC. Actually, you should never delete the contents of the C:\Windows\Installer folder randomly.
Windows installer patches sometimes may get orphaned during the process of software uninstallation. When a program is uninstalled, the corresponding .msi package is left behind in the Windows Installer folder. Then these orphaned packages can be deleted.
Besides, many unnecessary files created during normal operations can also be removed. Based on the above fact, you can conduct a Windows Installer folder cleanup Windows 10 with the offered methods in this post.
Method 1: Delete Orphaned .MSI Files via PatchCleaner
How to find the orphaned .msi files? PatchCleaner identifies orphaned files in the Windows Installer folder and offers you the option to delete these files or move them to a different location. Follow these steps to use this Windows Installer Clean up tool.
Step 1: Click here to download PatchCleaner。
Step 2: After downloading it, double-click on its setup file and follow the pop-up instructions to install it.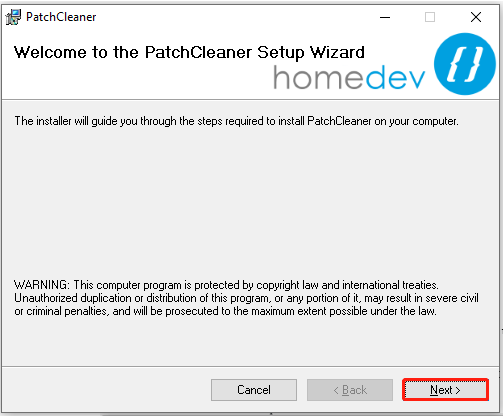 Step 3: When the installation process ends, run it by double-clicking on its icon on the desktop. Then you can see the corresponding sizes of used, excluded, and orphaned files in the Installer folder.

Step 4: You can click details behind each file category to see the detailed information if there are any files. For instance, here are the details of "in use" or valid program entries.
Step 5: If there are any orphaned files on your computer, click details to learn the detailed information. Then you can either delete the orphaned setup package or move it to another folder and then delete it safely after a few days.
How to clean up Windows Installer folder safely? In addition to PatchCleaner, there are some other Windows Installer cleanup programs to do that.
Word Frozen: How to Solve It and Recover the Lost Data
Method 2: Make Use of Windows Settings
Step 1: Open Settings by holding the Windows and I keys at the same time.
Step 2: In the Settings window, click System.
Step 3: Click Storage under the System tab, and then move to the right side of the window and tap Temporary files to continue.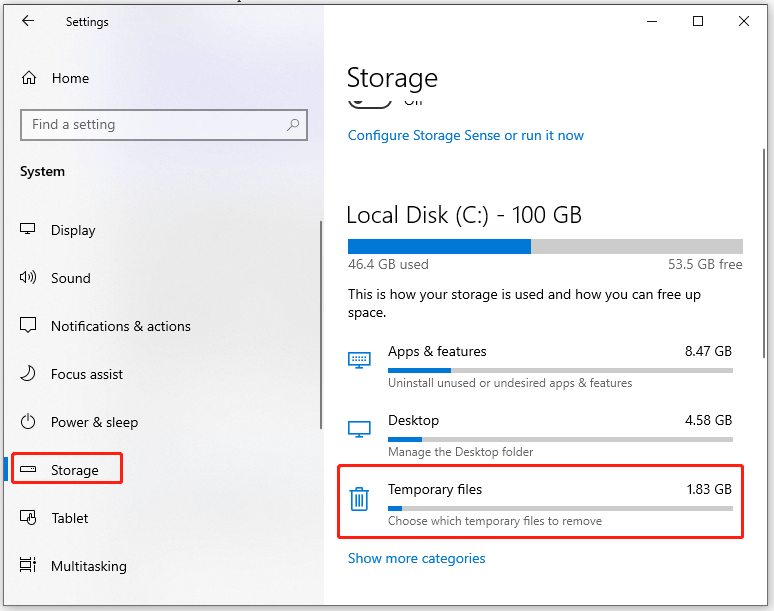 Step 4: Choose file types like Windows Update Cleanup and Downloads from the list, and then click on the Remove files option to execute the operation.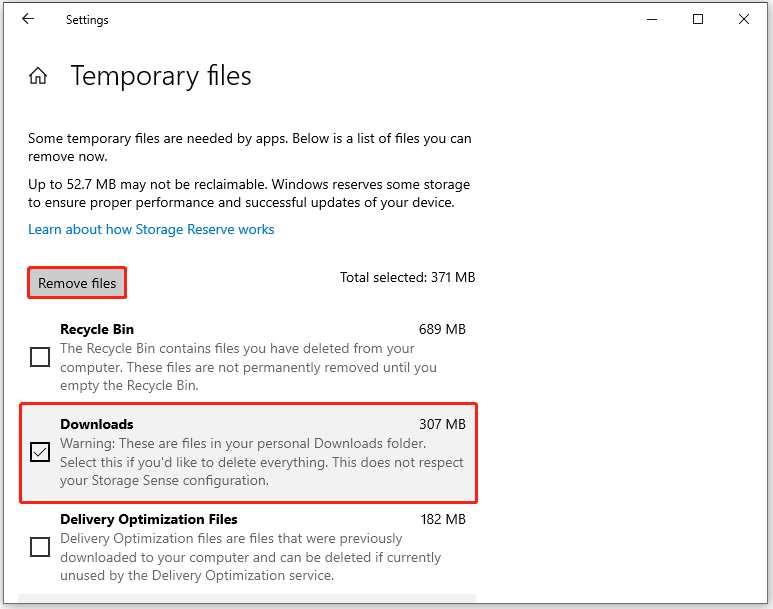 Method 3: Run Disk Cleanup
Disk Cleanup is a built-in utility on Windows devices. It can help you clean up system files safely. It is a free Windows Installer cleanup utility. You can free up space via Disk Cleanup using these steps.
Step 1: Open File Explorer by pressing Windows and E keys.
Step 2: Click on This PC in the left pane, and then find and right-click on the C drive and choose Properties.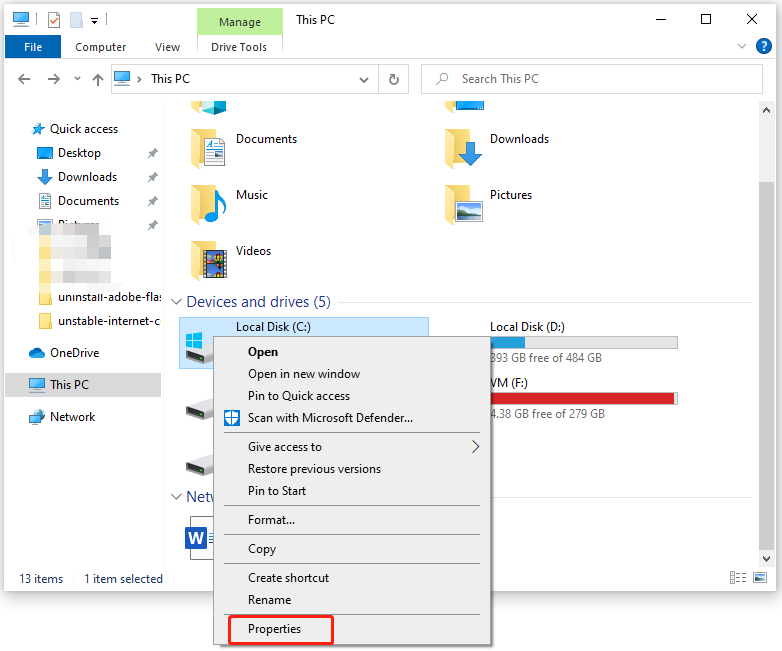 Step 3: Tap Disk Cleanup in the Properties window.
Step 4: After you click on Clean up system files, the utility will immediately calculate the disk space that you can free up from the selected drive.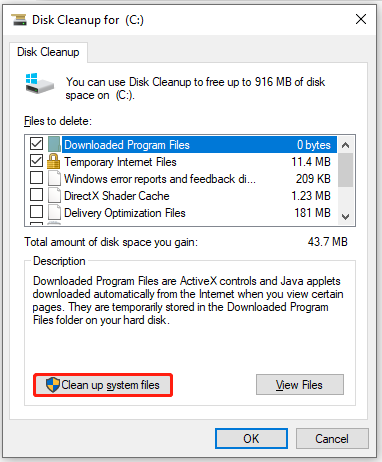 Step 5: Choose files to delete and click OK to carry out the operation.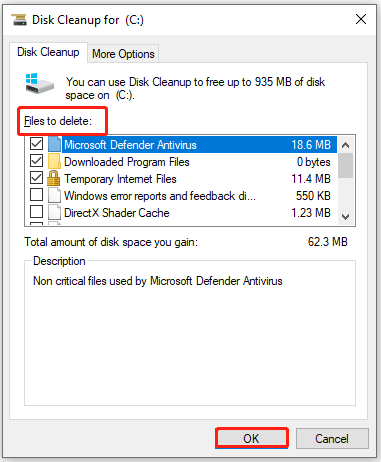 Further reading:
Though Windows Settings and Disk Cleanup can help you do the Windows Installer folder cleanup job, they probably can't reach your expectation. What's more, some errors might appear while you're using Settings or Disk Cleanup. According to user reports, errors like Settings not working, Settings app not opening, Disk Cleanup won't open/work, Disk Cleanup stuck on Windows Update Cleanup, etc.
In cases like that, you need a third-party program to find and delete unused files in the Windows Installer folder. MiniTool Partition Wizard is an ideal option. For more information, move to the next section right now!
Also read: How to Clean up Your Computer? Top 8 Methods for You
Method 4: Use MiniTool Partition Wizard
Find what is taking up your hard drive space with a professional disk space analyzer and then delete unused files or folders. MiniTool Partition Wizard is such a tool. Its Space Analyzer feature enables you to know what is exactly consuming your disk space.
Learn your hard disk usage and delete space-consuming and useless files with this free Windows Installer cleanup utility now!
Step 1: Download and install MiniTool Partition Wizard by clicking the button below and following the on-screen instructions.
Step 2: Launch this app to enter its main interface.
Step 3: Click on the Space Analyzer feature in the top bar.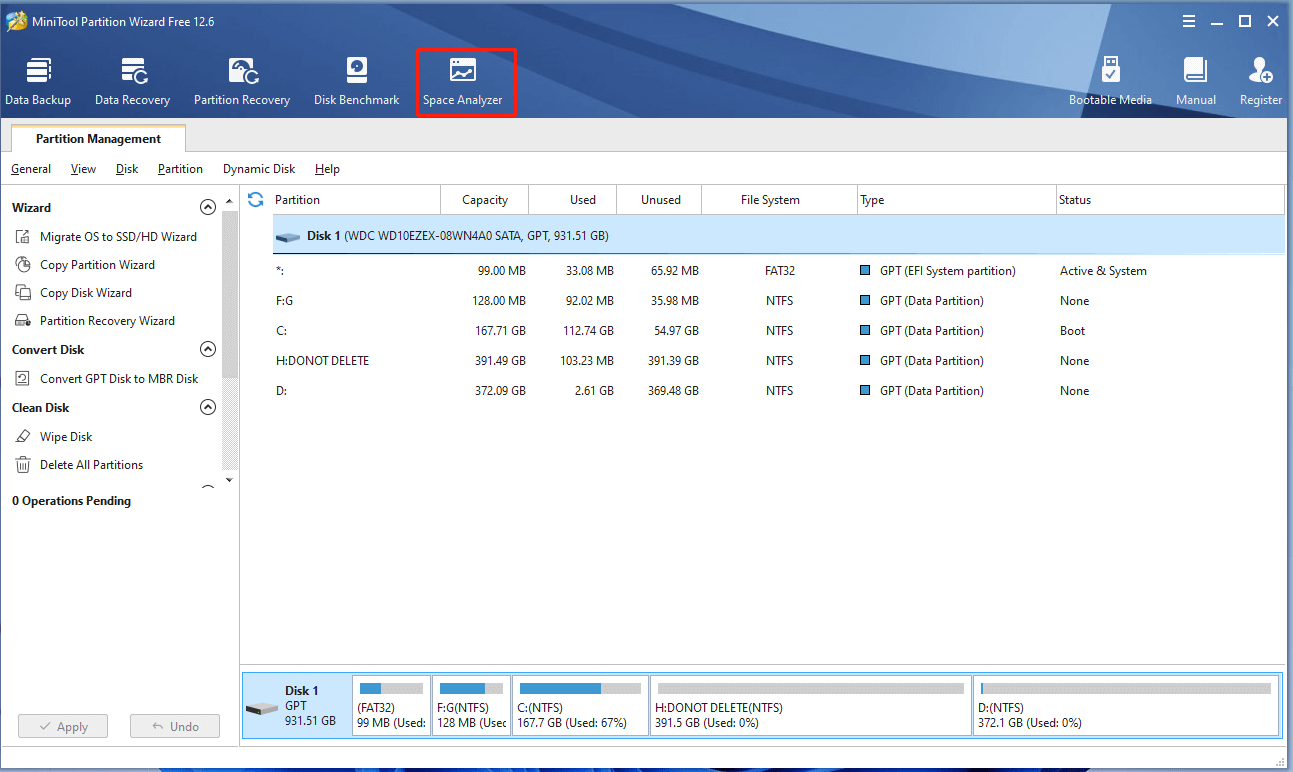 Step 4: In the next window, choose C from the drop-down menu and click Scan. Then the program will automatically scan the selected drive.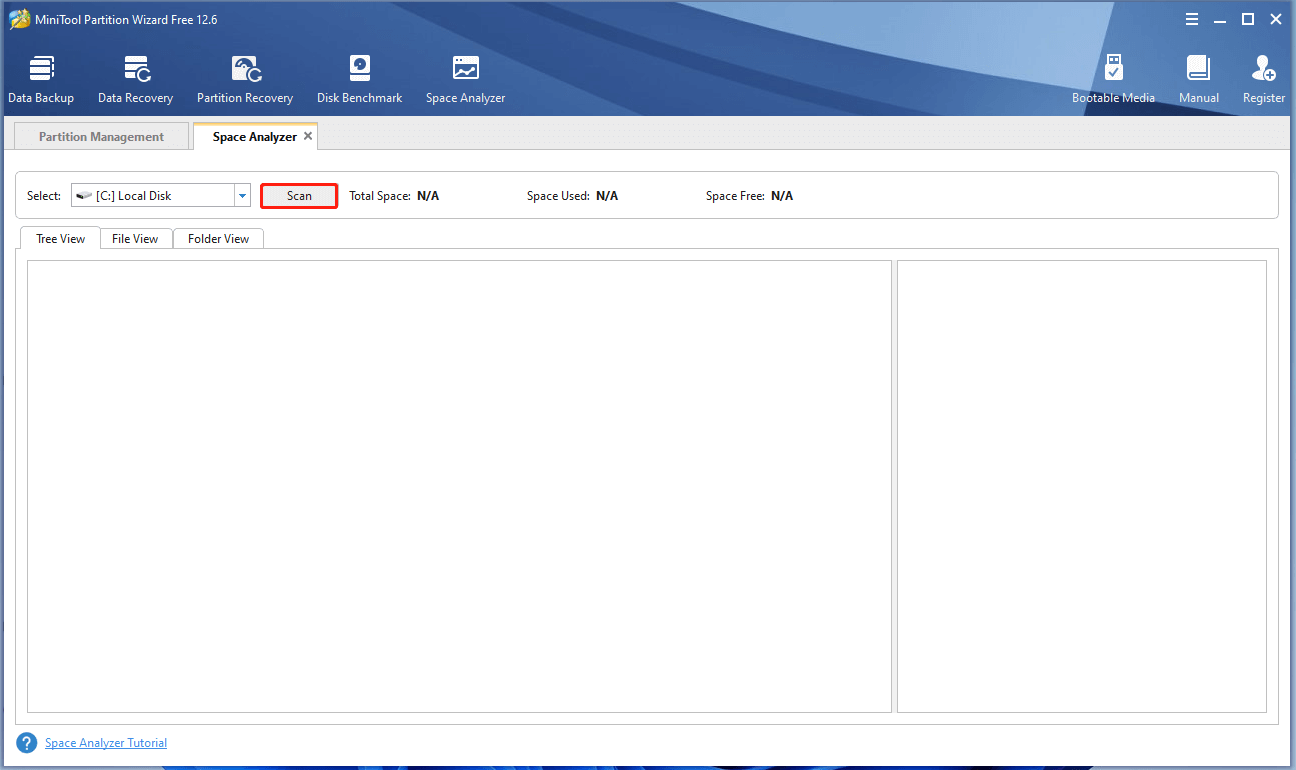 Step 5: After a while, you will receive the result. Expand the Windows folder to find the Installer folder. Likewise, you can expand the Installer folder to display its content. You can find the target files by using .msi or .msp file filters.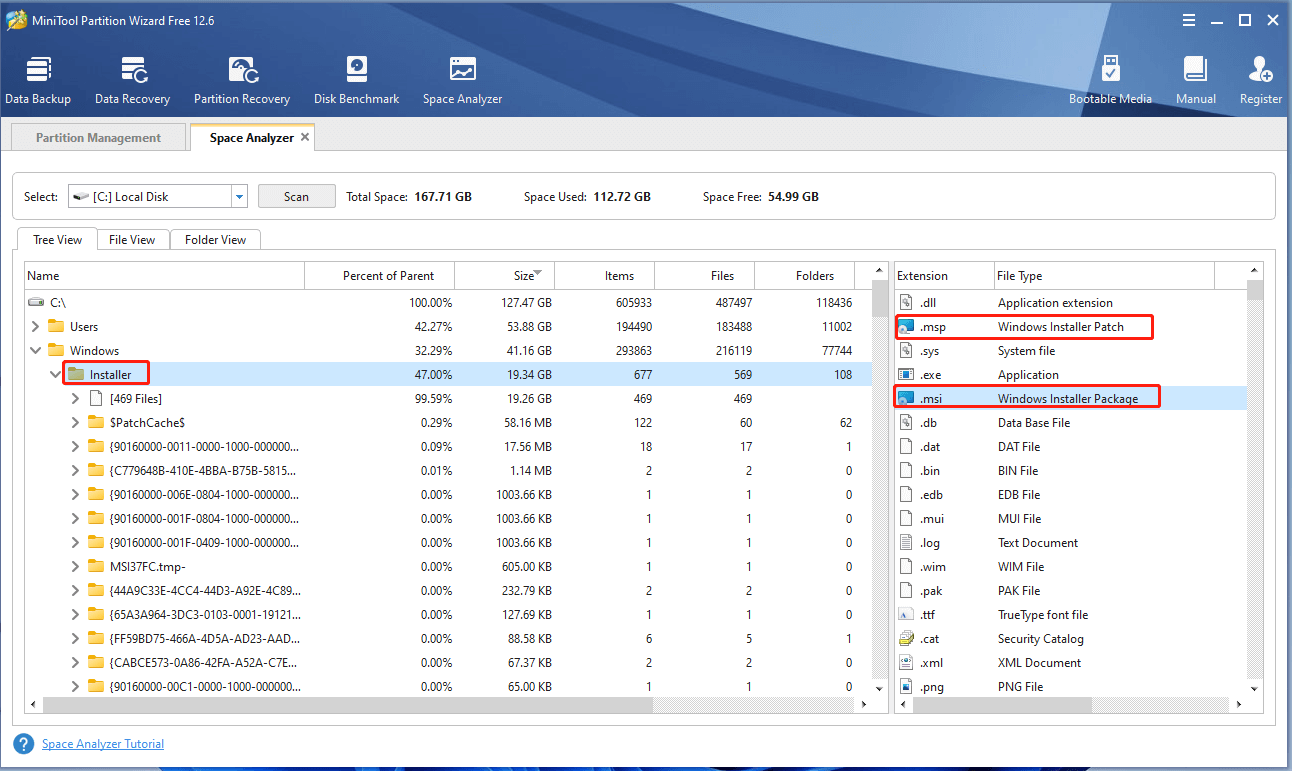 Step 6: Right-click on the unused .msi or .msp files and click Delete (to Recycle Bin) or Delete (Permanently) based on your need.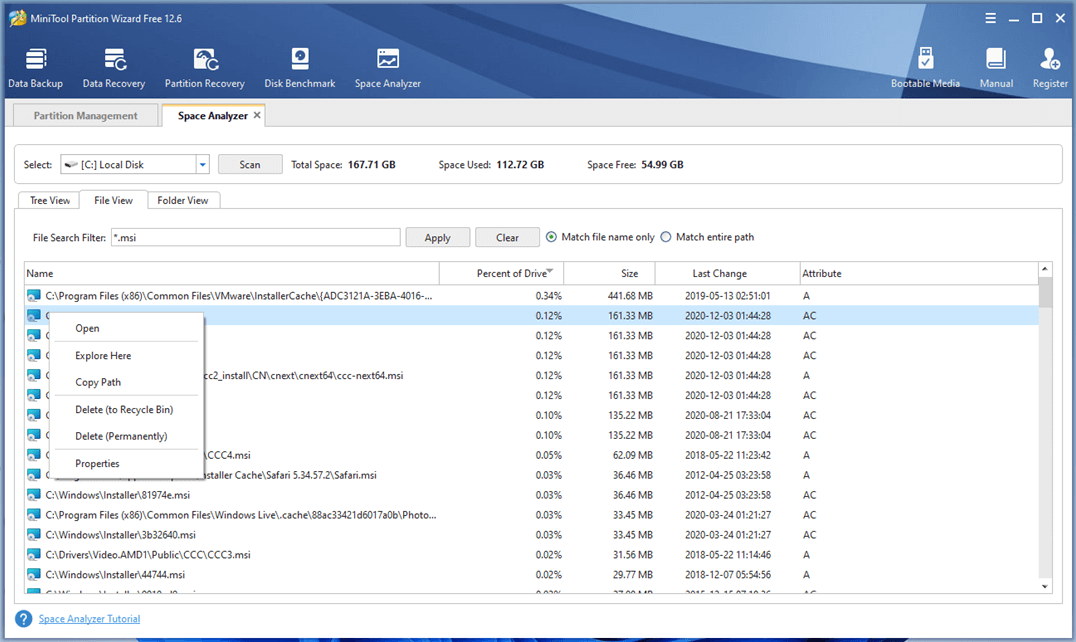 Method 5: Create a Symbolic Link
You can also create a symbolic link to save space in the Windows Installer folder. The whole process is divided into 3 stages. You can finish the operation by following these stages one by one.
Tip: Symbolic links essentially are advanced shortcuts. The symbolic link to an individual file or folder appears to be the same as the file or folder to Windows, even if it's simply a link pointing at the file or folder. Here are two types of symbolic links: hard and soft.
Stage 1: Unhide the Windows Installer Folder
Generally speaking, the Windows Installer folder remains hidden by default. Here you need to unhide it. Here are steps for doing that.
1. Press Windows and E keys to open File Explorer.
2. Click on the View tab, and then click Options and Change folder and search options.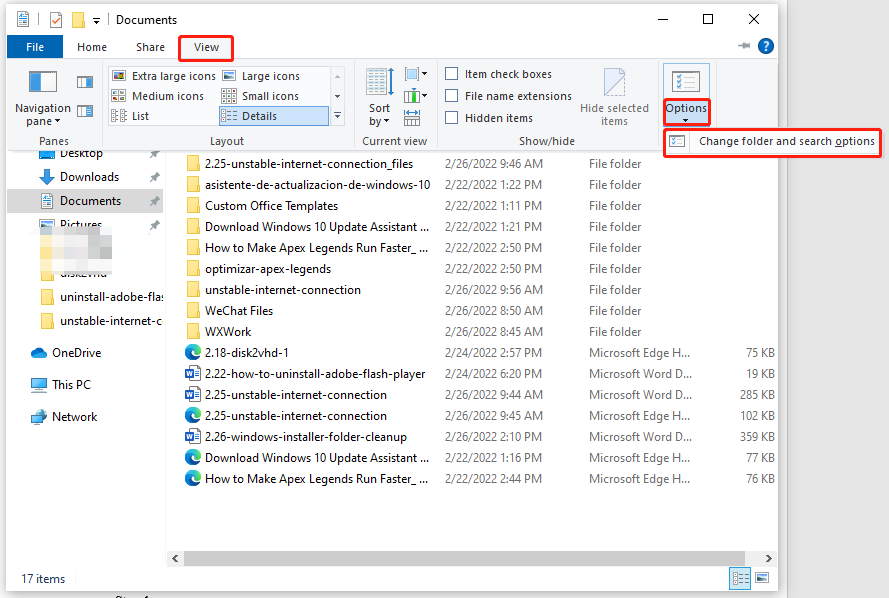 3. In the Folder Options window, click on the View tab and uncheck the Hide protected operating system files (recommended) option.
Note: After you unmark the option, you will receive a warning window. Click Yes to confirm the operation.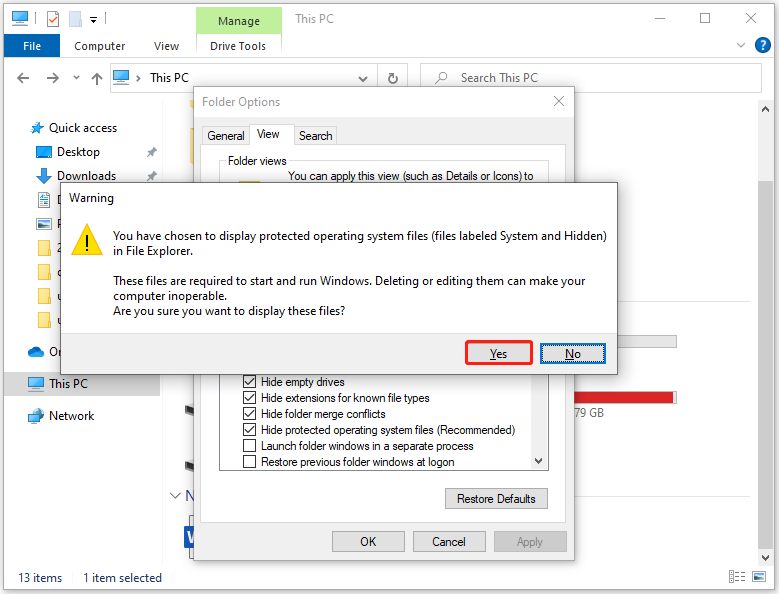 4. Mark the Show hidden files, folders, and drivers option and click OK to save the changes.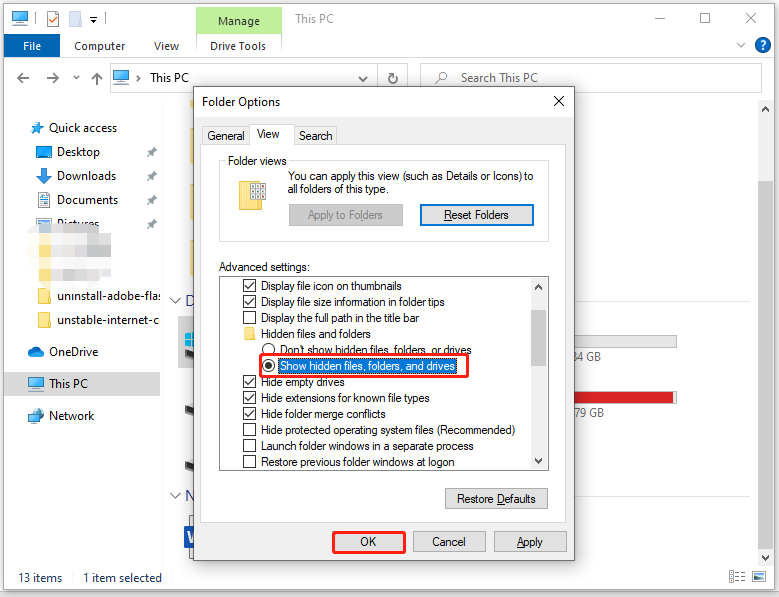 Stage 2: Copy Windows Installer Folder to Another Drive
You can copy the whole Windows Installer folder and then paste it to another drive, and then delete files in the folder. This operation can avoid some issues caused by file deletion. The time required for copying and pasting the folder depends on the size of this folder.
To do that, find the Windows Installer folder on your computer, and then right-click on it and choose the Copy option in the elevated menu. Move to the target drive, right-click on the empty space, and click Paste. After that, wait for the finish of the operation.
Stage 3: Create a Symbolic Link Using CMD
Now, follow these steps to create a symbolic in Command Prompt.
Step 1: Type cmd in the search box, and then click on Run as administrator in the right panel. Alternatively, you can also right-click on Command Prompt and tap Run as administrator.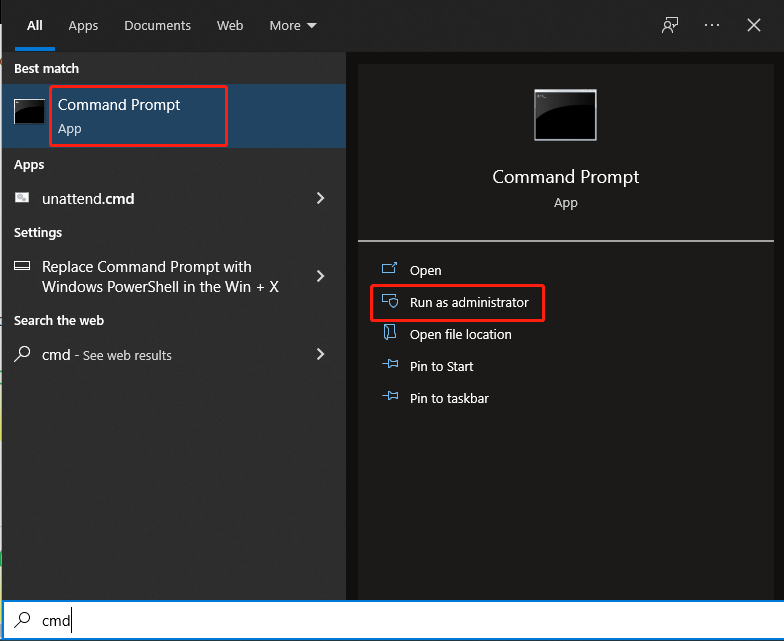 Step 2: Input the command "rmdir /s /q C:\Windows\Installer" in the prompted Command Prompt and hit Enter to execute it. Then the C:\Windows\Installer directory and folder will be deleted.
Note: The folder path needs to be replaced in the above command if the folder of Windows is located at a separate path.
Step 3: Copy the command from the batch file and paste it into the Command Prompt. After you press the Enter key, a symlink will get created from C:\Windows\Installerto D:\Important\Windows\Installer.
How to perform a Windows Installer folder cleanup Windows 10 smoothly? Here are 5 methods to do that. Pick one based on your preference. Click to Tweet
Bottom Line
You will learn what Windows Installer folder is and how to safely execute a Windows Installer folder cleanup from this post. You can either clean up Windows Installer folder with a Windows built-in tool or expertized Windows Installer folder cleanup utility.
Is this post helpful for you? Do you encounter any difficulties while executing the cleanup operation? Well, please share your questions in the following comment area. If you have any doubts about MiniTool Partition Wizard, directly contact us by sending an email via [email protected].