Since June 28, 2012, Microsoft has released a variety of Windows 11 updates. The latest one is Windows 11 Insider Preview build 22000.160. In this post, MiniTool Partition Wizard introduces the new features in the latest Windows 11 build 22000.160.
Windows 11 Build 22000.160 Is Available Now
As a Windows user, you might have heard that Microsoft announced Windows 11 on June 24, 2021. According to Microsoft, the official version of Windows 11 will come later this year, but you can download and experience Windows 11 pre-release builds by joining the Windows Insider Preview program.
Till now, Microsoft has released a variety of Windows 11 Insider Preview builds. The first version is Windows 11 build 10.0.22000.51 released for Dev Channel on June 28, 2021. In the following content, you can learn about the seventh version – Windows 11 build 10.0.22000.160 (Windows 11 update KB5005189).
Windows 11 build 10.0.22000.160 was released on August 19, 2021, for both Dev Channel and Beta Channel. On the same day, Microsoft released the first official ISOs for Windows 11 Insider Preview Build 22000.132 to the Windows Insider Preview Downloads page. It means that you can upgrade your PC to Windows 11 with the ISO file now.
It is recommended to keep your Windows up-to-date, as Windows updates usually come with some new features and certain bug fixes. Do you know how to get Windows 11 Insider Preview build 22000.160? Please keep reading.
Get Windows 11 Build 22000.160
On Windows 11, you can receive the Windows 11 Insider Preview build 22000.160 automatically, as long as you haven't paused updates. You can press Win + I to open Windows 11 Settings and go to System > Windows Update to check for that.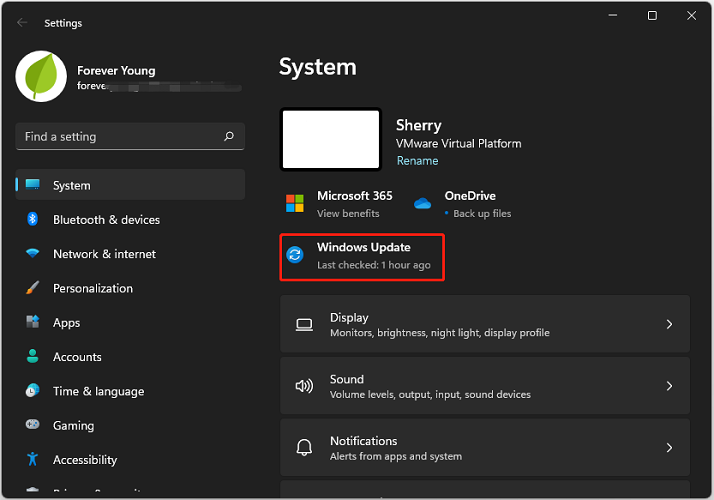 In Windows Update, available updates will be downloaded and installed automatically. You can see an update named Cumulative Update for Windows (10.0.22000.160) (KB5005189) and view the downloading and installing process here. All you need to do is just waiting patiently until the update is fully installed.
Tip: If you don't receive Windows 11 update KB5005189, click the Check for updates button to search available updates.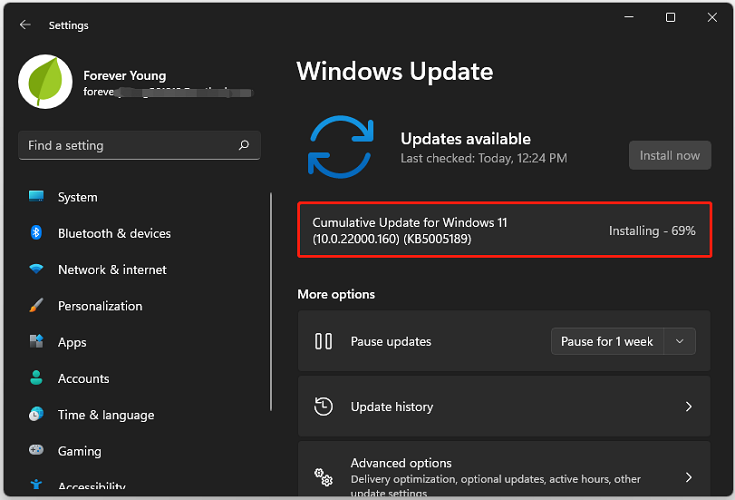 Once the installing process is finished, you can click the Restart now button after saving your work. If you don't want to restart your computer immediately, you can click Schedule the restart to pick a time to perform the restart.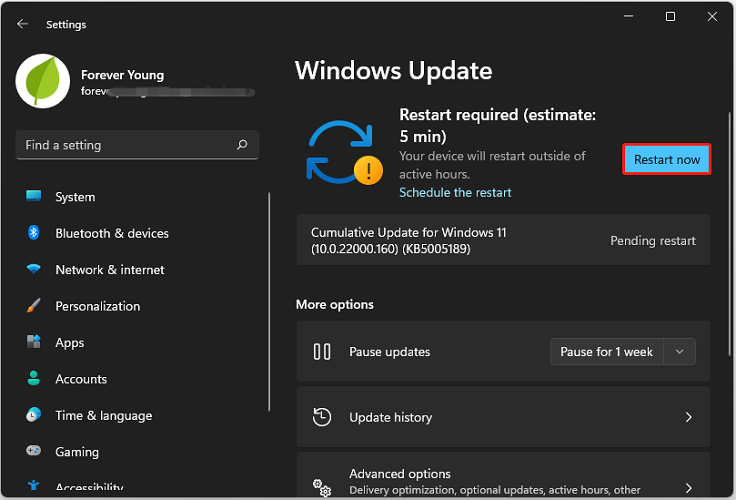 New Features and Bug Fixes in Windows 11 Build 22000.160
Now you have the latest Windows 11 version. What's new in this version? Get the answer in the following content.
New Features
Microsoft added a new Focus Sessions feature to the Clock app via Windows 11 Insider Preview build 22000.160 (Windows 11 update KB5005189) for Windows Insiders in the Dev Channel. Besides, the new Clock app is designed with a new outlook which makes it beautiful.
You can search for Alarm & Clock in Windows 11 to experience the new app.
What does the Focus Sessions feature do? Nowadays, most people need to deal with a variety of things in their daily life at the same time, which makes it hard to arrange them properly. Focus Sessions can help you solve the problem. Here are what you can do with Focus Sessions.
Focus Timer
With Focus Timer, you can achieve your goals and get more work done. You just need to input how much time you have and the Focus Session will set up the rest.
Snip-in Spotify Tool
Some people can focus on what they are doing while listening to music. With, the Focus Session, you can connect your Spotify account and find the perfect audio to help you focus on your task.
Microsoft To Do
The Focus Sessions integrates with Microsoft To Do. In Focus Sessions, you can select the task you would like to work on and check it off after finishing the task. In this way, you can manage your To-Do tasks easily and clearly. List all your tasks in a day and do them one by one. Your time won't be wasted.
Daily Progress
The Daily Progress can help you build healthy digital habits by setting a daily goal and challenge yourself to not break the streak.
Bug Fixes
By releasing Windows 11 Insider Preview build 22000.160, Microsoft fixed an issue that the "location in use" icon was showing in the taskbar sometimes even though it was blocked in settings.
However, there are still many other issues with Windows 11. For more information, you can visit the official Microsoft website.