Have you heard any news about Windows 11? Since Microsoft announced the new operating system, more and more people are planning to experience it. Here, MiniTool Partition Wizard introduces Windows 11 beta released by Microsoft recently.
What Is Windows 11 Beta?
Microsoft Introduced Windows 11 to the public in June 2021. This new operating system differs from the previous versions of Windows in many aspects. It has a new outlook and is designed with various new features (click to see Windows 11 new features).
To get Windows 11, users need to join the Microsoft Insider Program. Till now, there are three channels in the Microsoft Insider Program:
Windows Release Preview Channel
Windows Dev Channel
Windows Beta Channel
The first Windows 11 Insider preview build 22000.51 was released to the Dev Channel on June 28, 2021, by Microsoft. With this build, users can enjoy a lot of new features of Windows 11. For more detailed information about this build, you can refer to our previous post. It indicated that you can get this Windows 11 update only in the Dev channel.
Microsoft keeps releasing several updates for Windows 11 these months. The updates after Windows 11 Insider preview build 22000.100 are available both in the Dev and Beta channel. You can choose a channel to update your Windows 11 according to your needs.
You might wonder "is Windows 11 beta safe". Actually, Windows 11 beta builds are more stable and reliable than the previous Windows 11 Insider preview builds in the Dev channel, as they have been tested and validated by Microsoft.
How to Get Windows 11 Beta on Windows 10?
How to get Windows 11 Beta? You need to go to Windows Insider Program.
However, before you install Windows 11 Beta, you should make sure your computer meets Windows 11 minimum system requirements. You can click here or visit the official website of Microsoft to check for that. If your PC doesn't meet the system requirements, the channel options in the Windows Insider Program will be limited and this PC can't run Windows 11.
Now, let's see how to download and install Windows 11 beta on Windows 10.
Tip: If you have already installed Windows 11 update in the Dev channel, you can go to Settings > Windows Update > Windows Insider Program. Then click Choose your Insider settings option to change to Beta Channel.
Step 1: Press Win + I to go to Windows Settings quickly.
Step 2: In Settings, click Update & Security. Then select Windows Insider Program in the left pane. In the right pane, click the Get started button.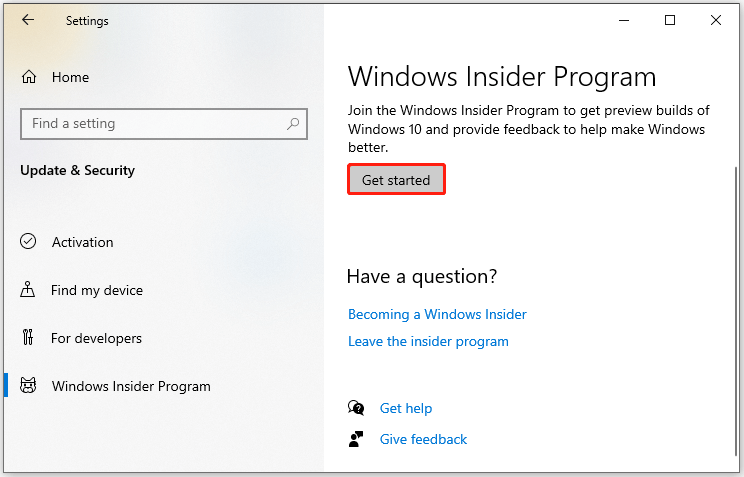 Step 3: In the pop-up window, click Link an account and then sign in with your Microsoft account.

Step 4: When you are asked to choose your Insider settings, select Beta Channel (Recommended). Click Confirm to continue.
Step 5: Click Confirm on the next page and then restart your computer.
Step 6: After restarting your computer, go to Windows Settings > Update & Security again. Then click the Check for updates button to get the Windows 11 beta download.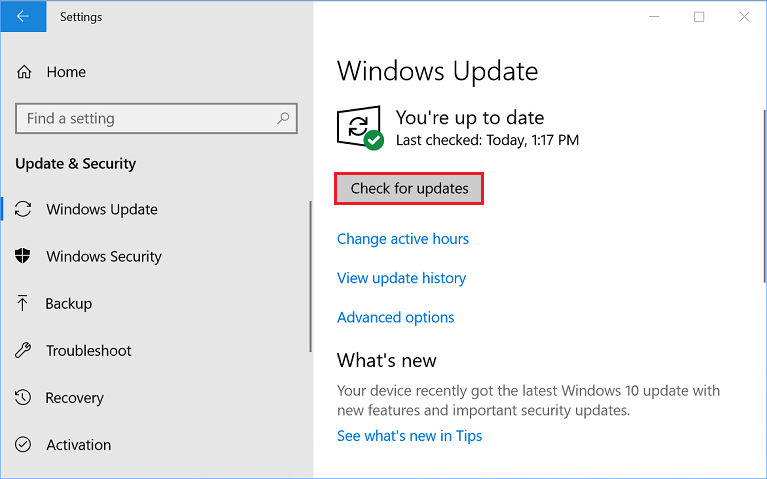 Then you will receive Windows 11 beta update, and you just need to wait until the update is completely downloaded and installed.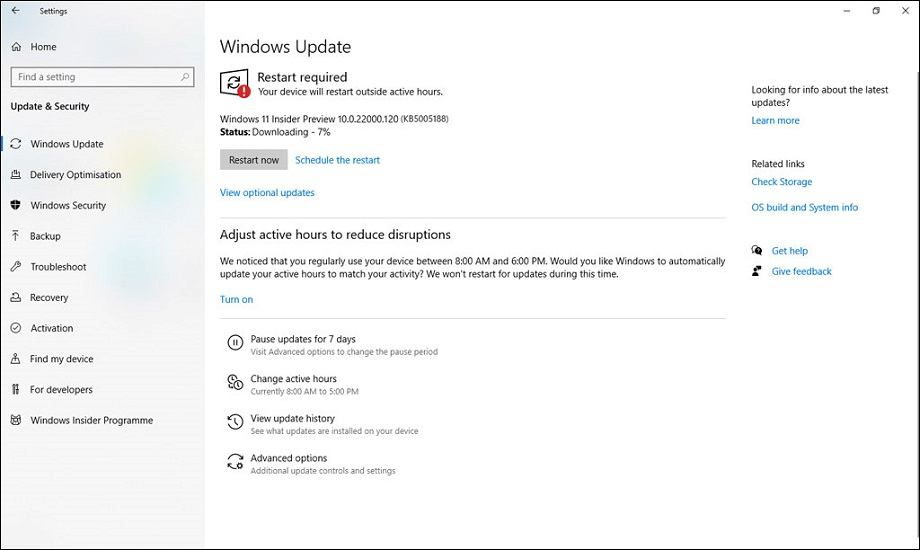 After installing the update, you will be required to restart your computer and you will have the access to Windows 11 beta.