School is back in session. Do you need to buy a laptop? This post will introduce Windows 10 vs. macOS vs. Chrome OS. You can make a decision after reading this post. In addition, MiniTool Partition Wizard will help you speed up your Windows computer.
School is back in session, which means it's time to go laptop shopping. When you make a decision, apart from the hardware, what you should consider most carefully is the operating system, because it will greatly affect user experience.
The OS will dictate how you interact with apps, programs, the web, or the software that manages your computer's resources. In addition, to some extent, the operating system will affect cost.
There are three leading laptop operating systems offered to you students: Windows 10, macOS, and Chrome OS. This post explains Windows 10 vs. macOS vs. Chrome OS from 4 factors. You can know each of their pros and cons in this post.
User Interface
Windows 10
Windows 10 has a Start Menu, which can be resized to your liking. You can pin an app to the Start menu and the app will appear as a Live Tile, which displays information at a glance. In addition, all of your files and programs are organized in the Start menu with accompanying graphics, so you can find them faster.
Windows 10 also has a taskbar, to which you can pin any of programs. On the left side of the Windows 10 taskbar, there is a search bar next to a microphone icon that brings up Cortana. On the opposite side is an Action Center where you'll find notifications. There is also an icon indicating virtual desktops.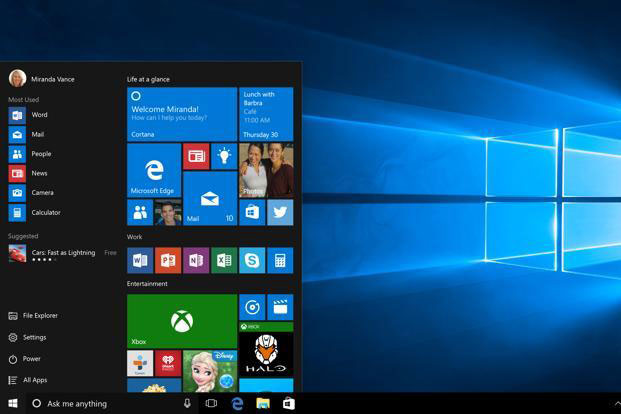 macOS
Apple hasn't made any major changes to macOS' interface in years. Similar to Windows 10, macOS also has a powerful search feature scanning your computer and the web for whichever term you type in, and a customizable taskbar where you can place your favorite programs and apps.
It also looks like a desktop with shortcuts, which echoes the look of Windows 10. However, with a new Stacks feature, you can easily group files together in expandable clusters. In addition, with the rocket icon, macOS can open Launchpad, a clean interface for all your apps.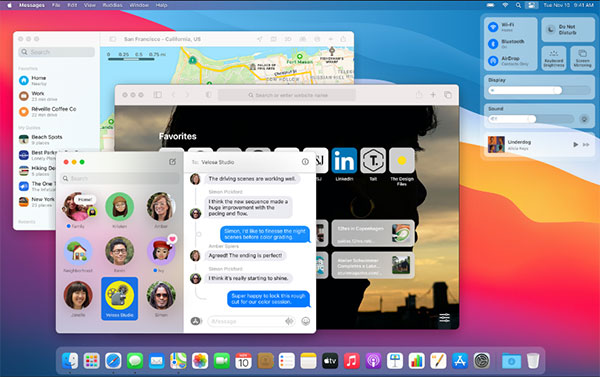 Chrome OS
Google's web-based operating system relies heavily on the Chrome browser, which keeps things streamlined for students who do all of their coursework on the web.
There is a launcher on the bottom-left corner of Chrome OS for quickly accessing apps and recently viewed files in an Android-like app drawer, which makes Android users feel right at home. In addition, there is a pop-up box on the opposite corner allowing you to quickly change Wi-Fi, Bluetooth and Accessibility settings, among other things.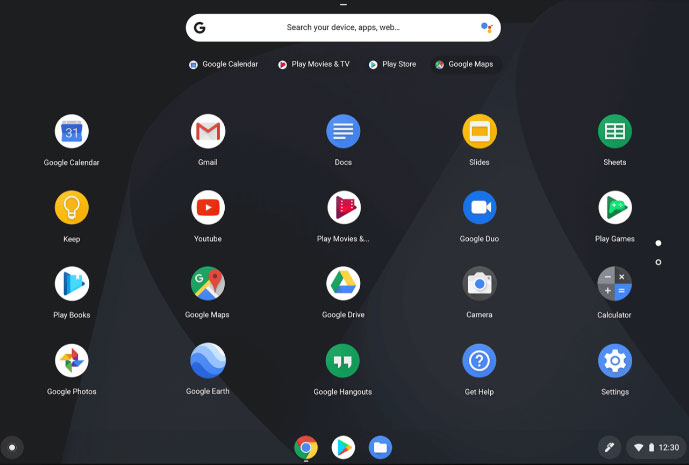 Top Features
Each of these operating systems comes with its own set of features. Here are some of the most important for students.
Windows 10
Windows 10 features the ability to switch between desktop mode and the touch-friendly tablet interface, which makes a Windows 10 detachable or a bendback 2-in-1 laptop popular among students who prefer to take notes or draw by hand.
Windows 10 also features Microsoft's voice assistant, Cortana, which makes it easier to search for things; and an Action Center, a pane that displays notifications and lets you quickly access important functions, like Bluetooth and Wi-Fi.
macOS
Apple's macOS features Spotlight, which can calculate equations, show you the weather and scan your computer for files; and Siri, a voice assistant, which can search results or find files on your computer.
With the new Sidecar feature, macOS allows you to use an iPad as a second display, so you can work on multiple apps at the same time. With Messages for Mac, you can send messages to any Mac, iPhone or iPad that uses iMessage.
macOS also features cloud storage solution, iCloud, which allows you to back up your files or access them on another device, even a Windows PC.
Chrome OS
The Chrome OS features Chrome browser, the world's most popular web browser. It also features fast boot speed, instant tethering to Android phones, automatic display brightness, and seamless cloud sync.
With Android apps, Chrome OS allows you to install all your favorite smartphone apps on your Chromebook. Therefore, many new Chromebooks have touch screens or are 2-in-1 PCs to accommodate for these touch-sensitive apps.
Apps and Programs
Windows 10
Windows 10 ships with Microsoft Office and has a large ecosystem of third-party programs. For content creators, they can get photo and video-editing apps, CAD and modeling software, or other similar software on Windows 10.
For gamers, they can play every major PC game on Windows 10, while only a select few can be played on a Mac.
macOS
Apple offers its own suite of programs exclusive to macOS, such as iMovie, Final Cut Pro, Mail, Safari, Apple Maps, Messages, FaceTime, etc. Along with Apple's own apps, macOS users can download from hundreds of thousands of apps found in the App Store.
Chrome OS
You can't install third-party software on a Chromebook, but there are tons of apps in the Chrome Web Store and Google Play Store. In addition, all of the apps you already use on your Android phone can be downloaded onto your Chromebook.
Cost
Windows 10
From $200 budget machines to $8,000 workstations, Windows 10 has the largest selection of laptops from which to choose.
To save money, you can choose Acer's Aspire 5, a sub-$400 laptop with solid performance, a bright 15.6-inch display, and long battery life. Of course, the current favorite laptop for college students is HP Envy 13, costing $750. But it provides you with an attractive, lightweight chassis; a bright display, and fast performance.
macOS
Apple's cheapest system is the MacBook Air with a starting price of $1,099. It features a sleek design and a pretty display.
For those students who need more power to run power consuming software, the MacBook Pro 13-inch version is a good choice. Although it starts at $1,299, it comes with great battery life, a bright and colorful display, and powerful speakers.
For those who want more real estate or even better performance, the MacBook Pro 15-inch version is a good choice because it now runs on the latest 9th Gen Intel Core processors.
Chrome OS
Chromebooks rarely have high-end products. Our favorite low-price laptop running Chrome OS is the Samsung Chromebook 3, an 11.6-inch laptop that costs just $179. If you want a better design or performance, you can choose Asus Chromebook Flip C434 ($569) or Pixelbook ($999).