Xbox One is a popular game console. Unfortunately, users usually encounter various problems while playing the console. Some of them are asking "why is my Xbox controller blinking" on forums frequently. To solve the problem, MiniTool Partition Wizard puts together some fixes here.
Xbox One, a line of home video game consoles, is the successor to Xbox 360 developed by Microsoft. As a popular game console, it mainly competed against PlayStation game consoles, Wii U, and Switch. On an Xbox One console, users can play a huge number of games with a controller, such as Grand Theft Auto V, Forza Horizon 5, Dying Light 2, Call of Duty: Modern Warfare, etc.
However, sometimes your Xbox controller might keep blinking and doesn't work. You might ask: why is my Xbox controller blinking. There are various factors that could lead to the problem. To solve the problem, you might need to try multiple solutions one by one. Don't worry. The possible solutions are listed below and you can have a try!
Fix 1: Make Sure Your Xbox Controller Is Paired Properly
Why is my Xbox controller blinking fast? When you encounter the problem, the first thing is to check whether your Xbox controller has been paired properly.
Please note that the range for a wireless Xbox controller is 19 to 28 feet. If your Xbox controller is out of range, your Xbox controller might keep flashing. In addition, an Xbox One console supports up to 8paired controllers.
To make sure your controller can be connected to the console properly, you can pair your controller again. You just need to press the Pair button on your Xbox One and then press the Pair button on the controller within 20 seconds. If it is paired successfully, your controller should flash for a moment and then display a continuous light.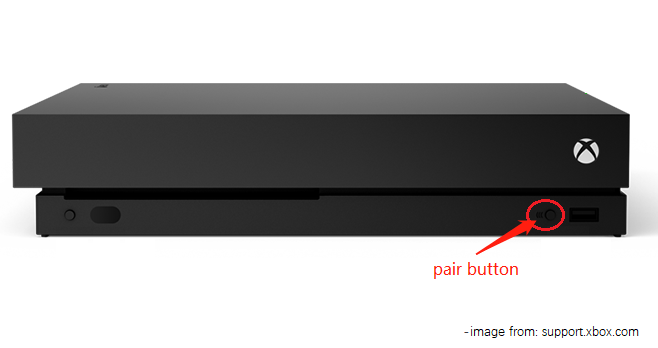 Besides, you can connect your Xbox controller via a compatible micro USB cable. It usually comes with your console and can help you solve the Xbox controller blinking issue.
Fix 2: Restart Xbox One
Another way to fix Xbox controller blinking issue is to restart your Xbox One console. You just need to press and hold the Power button on your console for about 10 seconds to turn your Xbox One off. Then disconnect the power cable. After 20 minutes, you can plug the power cable and turn on the console to check whether your Xbox controller stops blinking.
To make your controller work properly, you might also need to update the firmware on your Xbox One controller. For more details, you can refer to our previous post: How to Update Xbox One Controller? 3 Methods for You!
Fix 3: Check Your Battery
Low or broken battery issues could also lead to Xbox controller blinking due to the weak signal. Therefore, you should also check your battery status. Replace or charge your battery according to your needs.
Fix 4: Contact Xbox Support for More Solutions
If you have tried all the fixes above but you can't solve the problem, you can contact Xbox support or a professional repair service for more solutions. Please note that if your controller is out of warranty, you need to pay for the repair.