Summary :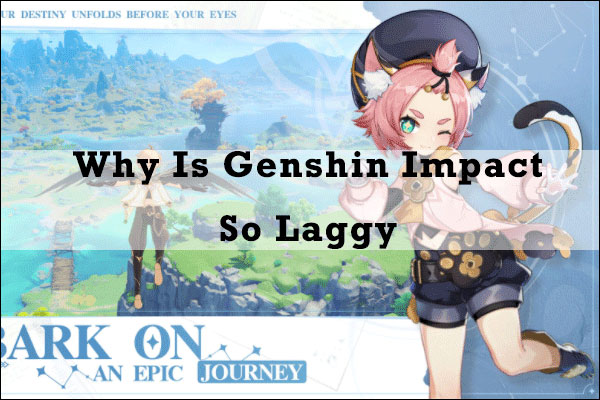 Have you ever encountered any problems while playing Genshin Impact? Do you know how to make Genshin Impact run smoother and faster? In this post, MiniTool Partition Wizard introduces why Genshin Impact is so laggy and how to solve it.
Genshin Impact is an action role-playing game developed by miHoYo. This game is quite popular, available on various platforms, including Microsoft Windows, Nintendo Switch, PlayStation 4, PlayStation 5, Android, and iOS.
Unfortunately, some Windows users reported that their Genshin Impact is so laggy that they can't enjoy the game.
Why is Genshin Impact so laggy? Actually, the Genshin Impact lag issue is usually caused by the problem with the Internet connection. If you are wondering how to make Genshin Impact run smoother, you can try the following fixes.
Fix 1: Check Your Internet Connection
When you encounter Genshin Impact lag, the first thing you should do is to make sure your Internet connection works properly.
You can disconnect and reconnect your Internet connection. And to play games, it is better to use a wired connection than a wireless connection to the Internet, as a wired connection is usually more stable and faster.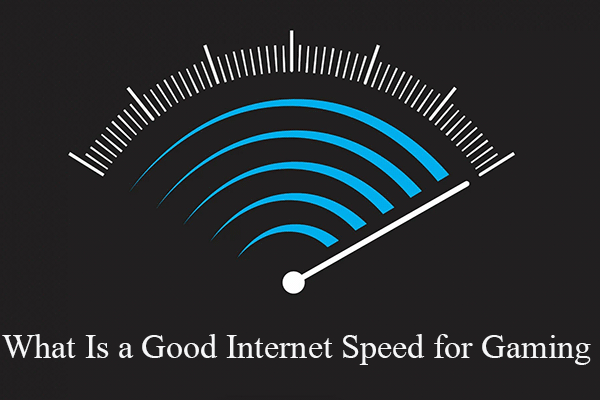 A good Internet speed is very important for games that require an internet connection. But what is a good internet speed? You may get answers in this post.
Fix 2: Close Unnecessary Background Programs
Programs running in the background can hog bandwidth. If you have launched multiple applications while playing Genshin Impact, the game might be very laggy. Therefore, it is recommended to close unnecessary background programs while running Genshin Impact.
Step 1: Press Ctrl + Shift + Esc to open Task Manager quickly.
Step 2: Under the Processes tab, right-click the program you want to close and select End task. Repeat this step to close all the unnecessary programs.
Tip: Please do not end the programs related to Microsoft or Windows. Otherwise, your operating system might not run properly.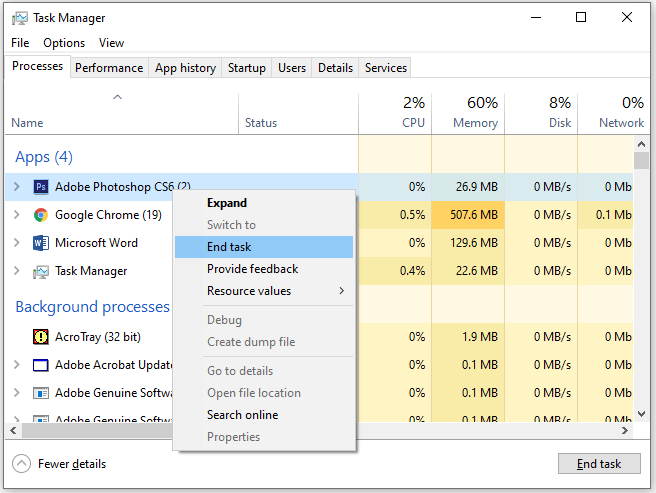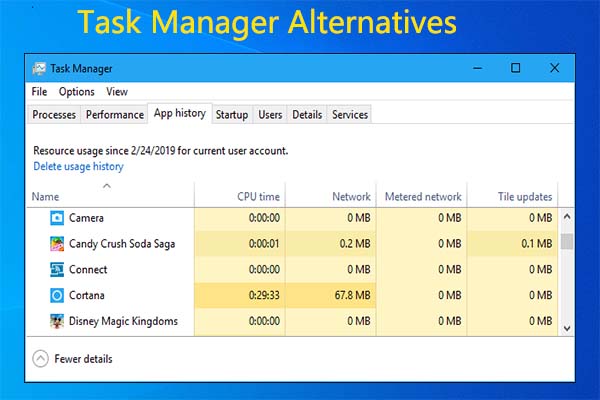 Task Manager is a Windows built-in utility, which is important. However, some people still want to seek a Task Manager out of some reason.
Fix 3: Update the Network Driver
Why is Genshin Impact so laggy? An outdated or corrupted network driver might also be one of the reasons. To troubleshoot the issue, you should update your network driver to the latest version.
Step 1: Right-click the Start button and select Device Manager.
Step 2: Double-click Network adapters to expand the category. Then right-click the network adapter you are using and select Update driver.
Tip: If there are multiple network adapters, you can go to Network & Internet settings > Change adapter options to check which one you are using.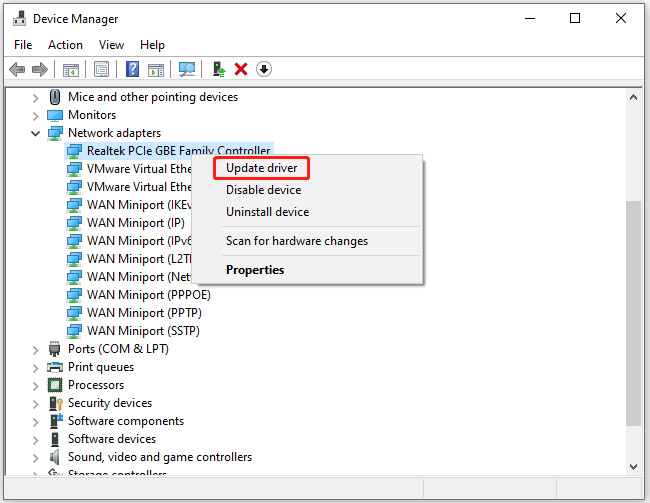 Step 3: In the pop-up window, click Search automatically for updated driver software and follow the on-screen instructions.
Then you just need to wait patiently until the network adapter is updated successfully. After that, you can run Genshin Impact and check if it runs faster.
Fix 4: Update Windows
Windows updates usually come with improvements and bug fixes. It is a good idea to keep your Windows up-to-date. To check for updates, you just need to go to Settings > Windows Update and then click the Check for updates button. Then Windows will download and install available updates automatically. You just need to wait patiently.
Fix 5: Change DNS
Improper DNS settings might also lead to Genshin Impact lag. In this case, you can try Google DNS with the following steps.
Step 1: Open Control Panel.
Step 2: Select the Category option for the View by section on the upper right corner. Then click Network and Internet > Network and Sharing Center > Change adapter settings.
Step 3: Right-click the network you are using currently and select Properties.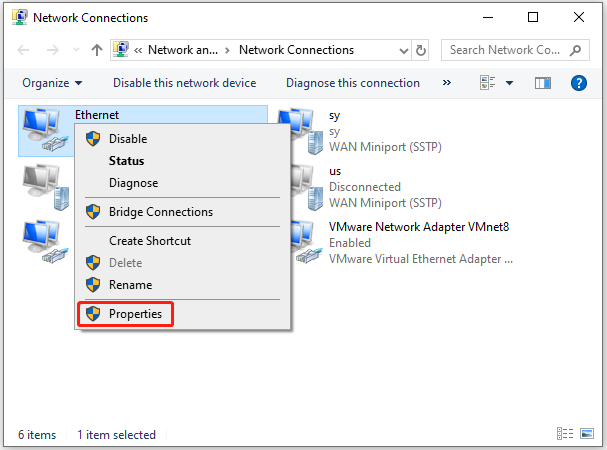 Step 4: Under the Networking tab in the pop-up window, double-click Internet Protocol Version 4 (TCP /IPv4) to open its properties settings. Then select Use the following DNS server addresses and input the following values:
Preferred DNS server: 8.8.8
Alternate DNS server: 8.4.4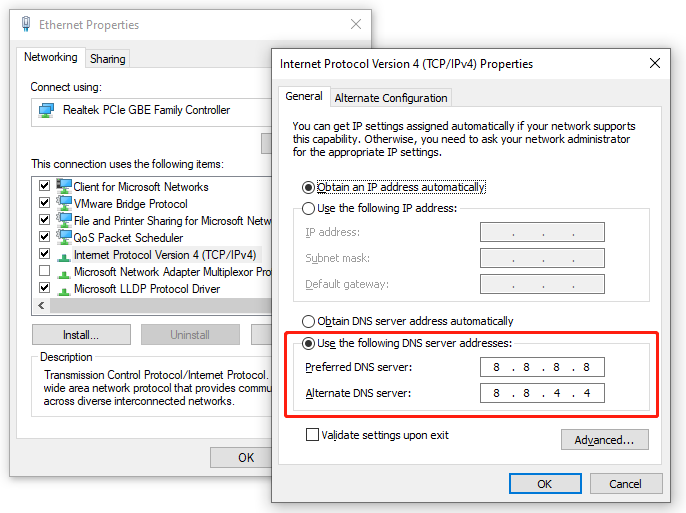 Step 5: Click OK to save the changes.
Why is Genshin Impact so laggy? How to make Genshin Impact run faster? Read this post and you can figure them out.