Why Does Steam Update So Much?
Every time I go on Steam there is a new update, it gets so annoying and the fact that I have slow internet doesn't help.

---www.reddit.com
Developed by Valve and first launched in 2003, Steam has become the most popular game platform for decades. It is the world's largest distributor of PC games. By 2019, Steam had over 34,000 games with over 95 million monthly active users.
To maintain its status in PC game platform market, Steam needs to improve its services still. Therefore, it sometimes adds new features, fixes bugs, and releases security updates. These require you to update your Steam client on PC.
Some people complain that Steam updates too much. Why does Steam always update? There is a Steam update log. In this log, you can see that Steam releases updates once to 4 times a month. This update frequency (I think) is acceptable.
However, for those users whose Internet speed is not good, Steam update may be a trouble. They need spend a lot of time to download this update and this is annoying. How to make Steam not to update so much? Please read the following contents.
How to Fix Steam Update Frequency Issue
Fix 1. Opt out of the Beta
If you think your Steam updates too often, please check the Steam update log first to see whether the update is contained in the Steam update log. If not, there may be some problems with your client, for example, you are using Steam beta version.
Steam beta version allows you to first experience various new features but it also means that it will push updates to you more frequently. In this case, you can opt out of the beta to make Steam update not so much. Here is the guide:
Click Steam menu at the upper left corner of the Steam client.
Navigate to Settings > Account.
In Beta participation section, click Change
Choose None - Opt out of all beta programs and click OK
Click Restart Steam to make changes go to effect.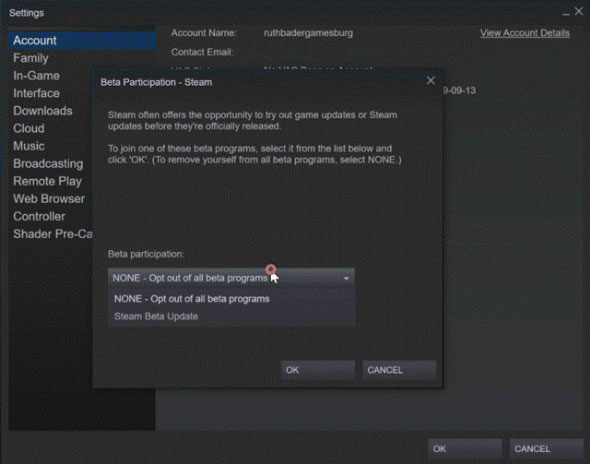 Fix 2. Speed up Internet
In many cases, you do not hate the Steam update itself. You just don't like spend too much time on it. In this case, you can take measures to make Steam update faster, for example, speed up your Internet, close other running programs, deactivate antivirus programs temporarily, etc.
Fix 3. Block Steam Update
The last method to make Steam update not so much is blocking Steam update radically through the following two ways:
Way 1: Enable Offline Mode
People love to play offline because it won't eat your internet bytes and, you don't have to install updates. To enable offline mode, all you have to do is to click Steam menu and choose Go Offline. But in offline mode, you can't earn badges and achievements.
Way 2: Turn off Automatic Updates
Through Automatic updates setting you can manually choose an option that will block update pop-ups. Here is the guide:
In the top menu, choose Steam/View and then Settings.
In the left side-panel, click on Downloads.
In the right section, under Download Restrictions, check Only auto-update games between option and then insert a time frame during which you don't use Steam (for example 3:00 to 3:00).