Summary :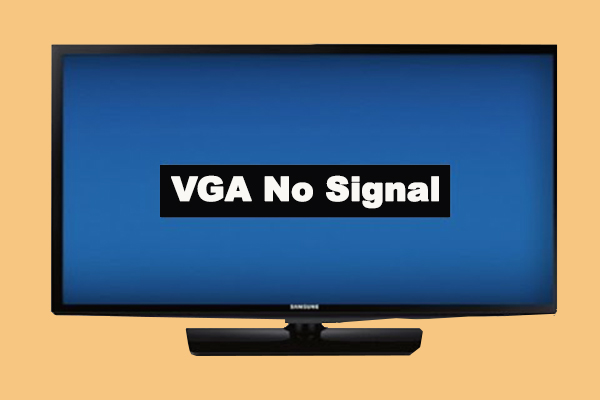 Have you come across the VGA no signal issue on Windows 10? This vexing error often occurs when connecting a video card to the monitor. If you are also searching for fixes, this post from MiniTool is what you need.
VGA is known as a Video Graphics Array that is a type of connector for many video devices such as monitors and projectors. It can be used to connect the monitor to the video cards. However, many users encounter a common issue – VGA no signal.
What does VGA no signal mean? It indicates that your monitor is powered on but not connected to a video card. The monitor cannot receive any signal from your computer. How to fix VGA no signal on Windows 10? After analyzing many posts and reports, we summarize the following 4 effective fixes.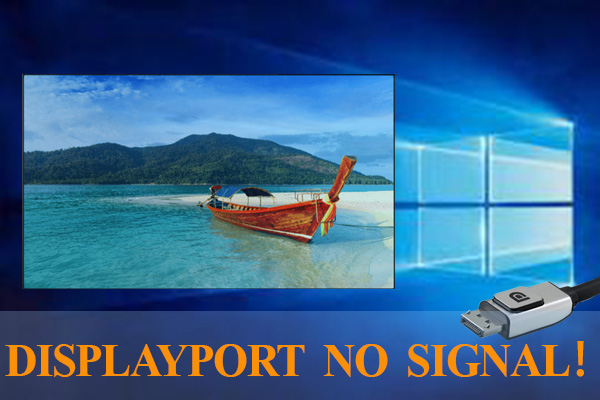 A great many users complain about they are troubled by the DisplayPort no signal issue when using the ASUS monitor. How to fix it? This post will help you.
Fix 1. Restart and Reconnect the Devices
Usually, restarting the devices is the first and simplest method to fix many connectivity issues. This method has been proven to be useful for lots of users. Here you can follow this quick guide to restart and reconnect your devices.
Step 1. Unplug all the power cables from your devices, and then turn off your computer and monitor completely.
Step 2. Wait for a couple of minutes, and then reconnect the VGA cable to your computer and monitor.
Step 3. Plug the Power cable back to your computer and monitor.
Step 4. Turn on your computer and monitor.
Now, you can check if the VGA no signal Windows 10 is fixed or not.
Fix 2. Check the Hardware Problems
Hardware issue is the most common causes behind no VGA signal. So, you should check if there is something wrong with your hardware. First, make sure that your VGA connector has been inserted into the devices correctly and cannot be pulled out easily.
Also, you should check the VGA port for the issue. If you encounter the VGA port not working Windows 10 issue, see if there's something inside the port that blocks VGA from transmitting signals.
You can use another cable on your devices to check if the cables can work properly. In addition, you can run the Hardware and Devices Troubleshooter to check the hardware issues. For that:
Step 1. Press Win + I keys to open the Windows Settings app.
Step 2. Click on Updates & Security > Troubleshoot one by one.
Step 3. Double click the Hardware and Devices on the right pane and click on Run the troubleshooter.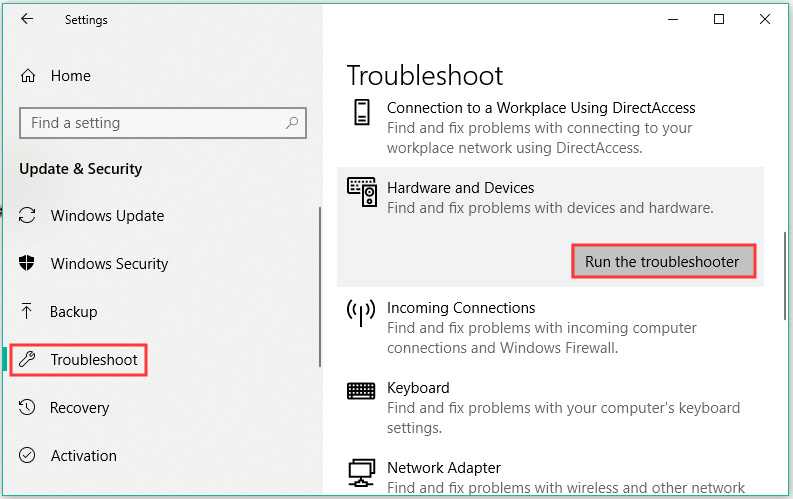 Now, the troubleshooter will detect the hardware problems automatically. Once the process ends, reboot your PC and monitor to see if the VGA no signal issue is resolved.
Fix 3. Is Your Computer in Sleep Mode
In some cases, no VGA signal occurs when the computer enters sleep or hibernation mode, or power-saving mode. At this time, the monitor will not receive any signal transmitted from the computer. To wake up your computer, you can press any keys on your keyboard and wait for some time. Then your monitor should receive signal and fix VGA no signal issue.
Fix 4. Update the Graphics Card Driver
Outdated or missing graphics card driver is also responsible for the VGA no signal Windows 10 error. To fix this issue, you should keep the graphics card driver is up to date. You can follow the quick guide below.
Step 1. Right-click the Start menu and select Device Manager from the context menu.
Step 2. Expand the Display adapters category, and then right-click the graphics card driver and select Update Driver.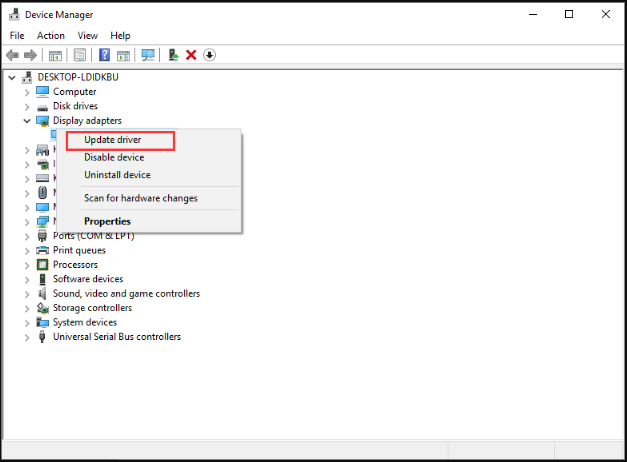 Step 3. Then you can select Search automatically for updated driver software option to update the driver automatically.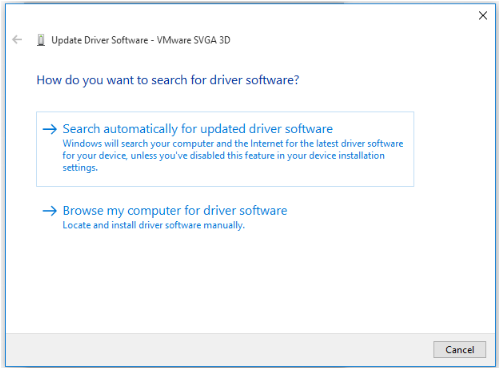 Alternatively, you can download the graphics card driver from the manufacturer's website and install it on your computer or you can use a different connection like HDMI.