Many COD: Cold War gamers complain that they are unable to join Party 3. What causes the "failed to join Party Cold War" error? How to fix it? Now, let's start exploring the answers together with MiniTool.
Call of Duty: Black Ops Cold War is a widely popular first-person shooter video game released by Activision. This game is available for many platforms, including Windows PCs, Xbox One, Xbox Series S, and PlayStation 4/5. Sometimes, however, you may encounter some common issues when playing the game like Cold War not connecting to online services, BLZBNTBGS000003F error code, and the one discussed here.
When trying to play the game with friends on different platforms, many users receive the error message "failed to join Party Cold War. Unable to join Party 3". According to a survey, the error is mainly caused by a network inconsistency. In addition, disabled UPnP, unsupported Crossplay port, and Crossplay connection glitch are also responsible for the error.
Fix 1. Restart Your Router and Console
The first and simplest method to fix the "Cold War unable to join Party 3" error is to restart your router and game console. By doing so, it can solve a network inconsistency or a temporary glitch. Here's how:
Note: We recommend you ask other party members involved to restart their router and console as well.
Step 1. Unplug the internet router from the wall socket.
Step 2. Hold the Power button on the back of your router for about 15 seconds until the router is turned off completely.
Step 3. Then wait for about 5 minutes, and plug the router into the socket again and press the Power button to restart it.
After that, you can restart your console and check if the "unable to join Party Cold War" error is fixed.
Fix 2. Enable or Disable Crossplay
Some users reported that they managed to fix the "COD Cold War unable to join Party 3" error by disabling or enabling the Crossplay option. Let's have a try.
Step 1. Launch the COD: Cold War multiplayer until you get to the Welcome screen and click on Settings at the upper right corner.
Step 2. In the Settings window, navigate to the Account & Network tab from the top menu.
Step 3. Set the toggle next to Crossplay to Disabled or Enabled under the Activision Account section.

Now, relaunch the game and check if you're still unable to join Party 3 Cold War. If so, move down to the following fixes.
Fix 3. Re-add Your Activision Friends
If you have enabled the Crossplay option but the error still occurs, this may be an issue with your Activision accounts. In this case, you can fix it by deleting the friends who are unable to join Party Cold War from the list and re-adding them.
Step 1. Open the Cold War game and navigate to the Social tab.
Step 2. Select the friends that you are trying to play with, and then select the profile and click on Remove Activision Friend.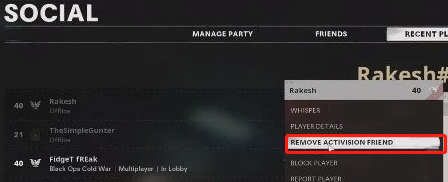 --image from YouTube
Step 3. Come back to the Social tab, and then select Add Activision Friends and re-add your friends using their Activision account IDs.
Once done, restart your Activision client and see if the "Cold War failed to join Party" error gets fixed.
Fix 4. Enable UPnP
If the Crossplay port used by the game server is not forward, you may encounter the "failed to join Party Cold War" error. In this case, you can enable the UPnP feature in your router settings. Here is a general guide for you.
Step 1. Go to your router login page. If you are not clear about this, you can try searching online for instructions related to your specific model.
Step 2. Login to your router using the required credentials.
Step 3. Go to the UPnP menu on your router and make sure UPnP is enabled status.
Step 4. After you enabled UPnP, restart your router and the device you're playing the game on, and check if the error disappears now.
Fix 5. Forward the Crossplay Port Used by COD Cold War
If you are using a router that doesn't support UPnP, you can manually forward the ports used by the game. To do so, follow the steps below:
Note: Since the instruction varies from different router manufacturers, we just provide a simple guide with generic steps.
Step 1. Make sure that your PC is connected to the same network you use when playing the COD Cold War.
Step 2. Open your default browser and enter the IP address of your router in it. If you don't know how to find the IP address, you can refer to this post.
Tip: If you don't know the credentials, you can try finding them on the back of your router or search online for the default login credentials according to your router model.
Step 3. On the log in page, enter your username and password to access the router settings.
Step 4. Once logged in, expand the Advanced or Expert category and find a feature named Port Forwarding or NAT Forwarding.
Step 5. Manually forward the ports below to allow your network to accept the Crossplay connections for COD Cold War.
TCP: 3074
UDP: 27014-27050
Once finished, restart your computer and launch the game to check if you can join a Crossplay party smoothly.