Steam vs Epic Games Store: The PC Game Platform War
Steam is the longtime leading digital distributor for the PC platform, but it is facing a significant challenge from an equally large and powerful player: Fortnite creator Epic Games, which launched its own PC games store in 2018.
Thanks to the meteoric rise of Fortnite as one of the most popular games on the planet, Epic has quickly earned the financial and industrial clout it took Valve more than a decade to build. And then, Epic decides to launch its own PC game store EGS (Epic Games Store).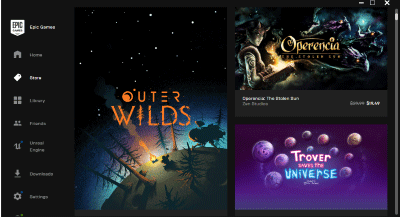 Epic's opening shot was shifting the once-standard revenue split for games, taking a 12 percent cut instead of 30. In addition, if your game is built using the Unreal Engine and also distributed through Epic's store, Epic will waive the engine's 5 percent royalty fee.
As a result, many developers switch to Epic Games Store and many games like Metro Exodus, Satisfactory, Roller Coaster Tycoon Adventures, etc. becomes Epic exclusive games, though just in a limited period.
To counter Epic's revenue split strategy, Steam's also changes it strategy: the revenue split with developers ranges from 30/70 to 20/80, depending on game sales.
But Epic's reputation is not good among gamers. The main reasons are as follows:
Its exclusive games are mainly games developed by third-party companies. In addition, some games have already presold on Steam. After becoming Epic exclusive games, these games are removed from Steam.
Some people think its service is not as good as Steam's.
Steam vs Epic Games Store: Which One Is Better for Gamers?
In this part, I will explain Epic games vs Steam from several aspects. Read the following content and make a choice.
1. UI
Both platforms opt for a sleek, modern UI design. However, Steam's UI has noticeably more features, tags, and elements. For those who are familiar with Steam, this may be not a bad thing, because this means that Steam offers more features and services. But for fresh gamers, this UI is complicated.
In addition, in 2019, Steam paired a games newsfeed with each title in your library (similar to the PlayStation Network). This makes the library considerably more cluttered. In contrast, Epic Games keeps its newsfeed in the user's home tab, making the library minimalistic and simple.
Epic Games Store's UI has fewer tabs and dropdown menus, which makes the UI considerably more user-friendly.
2. Game Library
Steam store has a much larger variety of titles to choose from. In terms of game variety, Steam is winner. However, quantity doesn't equal quality. Steam relaxes the standards for game listings and allows low-quality games and clones on the platform.
On the other hand, the Epic Games Store has far fewer games on the platform, but their quality is markedly better. These games include both AAA and indie titles. In addition, Epic Games has definitely been fleshing out the selection since the store's launch, but seems to be focusing on newer indies rather than adding slightly older ones to its catalog.
3. Features
In this aspect, Steam is undoubtedly the winner. Steam offers many features. It has an explore queue—a curated list of recommendations that players can use to sort through the many games on the platform.
Steam also offers mini-games for sale, in-game collectibles, and a marketplace for in-game items. It also has a review system that helps get community feedback on games. This system is a useful metric you can use to check out game quality.
In addition, although both Steam and Epic Games Store have social features such as chat and the ability to add people to your friends list, Steam's social features are considerably more extensive than Epic's.
For example, Steam has features including profiles where friends can leave posts, media sharing, game recommendations based on what friends are playing, the ability to invite friends to games, message boards, and groups.
Verdict
Both Steam and EGS are good game platforms. You should make a choice according to your situation.