Summary :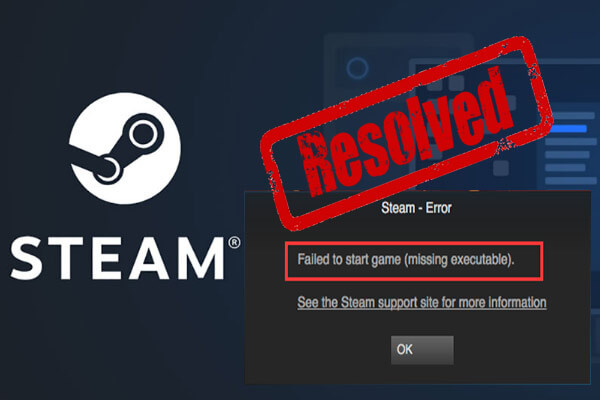 Steam missing executable error has been reported by plenty of users. It prevents users from launching the game, which is really frustrating. To deal with this Steam issue, MiniTool Software summarizes several effective solutions from various forums and lists them in this article.
Many users are used to managing their games and applications within Steam platform. But recently, various problems have been reported with Steam client, such as Steam update stuck and Steam AppHangB1 error. In addition, some users complain that they are stopped from launching the game in Steam by the error message Failed to start game (missing executable).
When you install a game on Steam, a new folder will be created on your computer to save the data of the game including the executable which is necessary to launch the game. If you receive the Steam missing executable error, it indicates that your Steam cannot find the executable of the specific game.
What can you do to deal with Steam fail to start game missing executable? Here are 5 solutions you can have a try.
Solution 1: Run Your Steam as Administrator
Actually, most issues related to Steam client appears due to lack of administrative privileges. So, you should try running your Steam as administrator at first if you get missing executable Steam issue.
Just right-click the shortcut of your Steam and choose Properties. Then, switch to Compatibility tab, check Run this program as an administrator option, and click Apply and OK to save the change.
After that, open your Steam and try launching the game which gives the error message to see if the error is fixed.
Tip: Some users also recommend opening the game directly from its installation folder, bypassing the Steam client. This has helped them remove the issue successfully.
Solution 2: Verify Integrity of Game Cache
If Steam missing executable error occurs, perhaps a necessary game file associated with game launching is missing indeed. If so, you can verify the game files in Steam to resolve this problem. Here's how to do it:
Step 1: Open your Steam and go to LIBRARY.
Step 2: Right-click the problematic game and choose Properties.
Step 3: Hit LOCAL FILES tab and click VERIFY INTEGRITY OF GAME CACHE.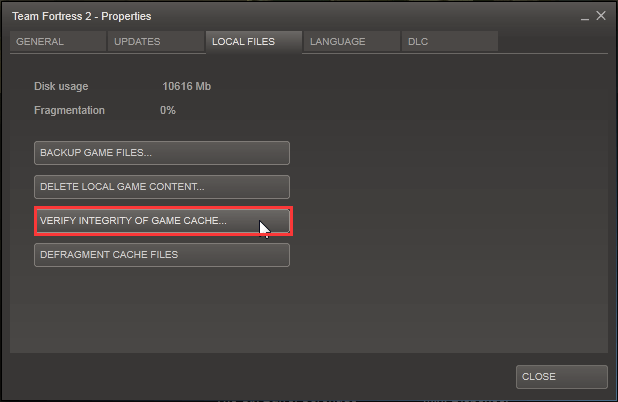 Then, Steam will start validating the game file and this will take some time. You just need to wait patiently until it is 100% completed.
Solution 3: Disable Antivirus Programs Temporarily
As we all know, Steam will download updates and games in the background when you turn to other programs, and it requires access to and the right to make changes for some system configuration for better gaming experience. However, it is very likely to be regarded as malware and be blocked by your antivirus.
Considering this, you can try disabling your antivirus programs temporarily and then check if you can launch the game properly. Of course, you should disable the Windows Defender antivirus as well if you are using it.
If this method doesn't work, re-enable your antivirus and then try the next solution.
Solution 4: Disable Windows Firewall
The Windows Firewall might also interfere with the normal functioning of your installed programs. So, you can try disable your Windows Firewall by following the steps below.
Step 1: Open Control Panel and choose System and Security.
Step 2: Select Windows Defender Firewall.
Step 3: Click Turn Windows Defender Firewall on or off in the left pane.
Step 4: Check Turn off Windows Defender Firewall for both private and public network settings and click OK to save changes.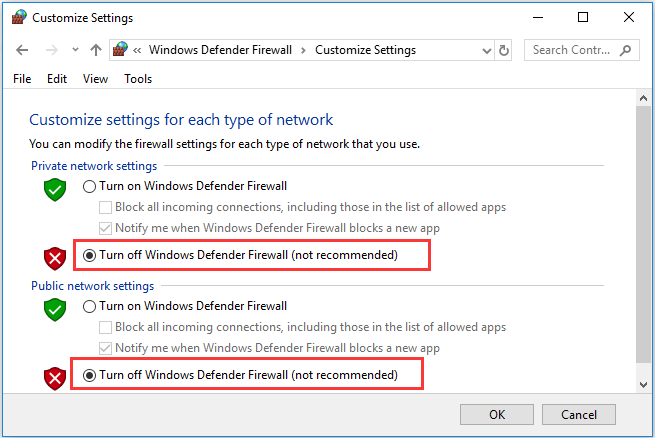 Solution 5: Remove Local Content
Finally, if all the solutions above fail to fix Steam missing executable issue, perhaps you need to delete the local files of the game as the configuration files of the game might be corrupted.
You just need to open the Properties window of the game in Steam, choose LOCAL FILES and click BROWSE LOCAL FILES to locate the game folder in your computer. Then, delete all the contents in the folder.
After that, completely close your Steam and relaunch it. Then, try opening the game again, and this will download all the game files from scratch. Hopefully, the Steam failed to start game missing executable will be removed.