If you want to better play games with Steam Deck, then Steam Deck dock is essential. In this article from MiniTool Partition Wizard, we would tell you everything about Steam Deck dock. Besides, we also show you the best Steam Deck docks.
About Steam Deck Dock
If you're looking for a way to semi-permanently attach your Steam Deck to your TV, you need a dock that can prop up the device, expand connectivity, and look pretty good. In short, the dock lets you get the most value out of your Steam Deck.
Some Steam Deck docks will offer more USB ports and HDMI ports, others may have DisplayPorts as well. You need a USB-C dock, not a USB-C hub, to turn your Steam Deck into a docked gaming PC. This is because the former allows for power and charging while the latter does not.
Which docks work with Steam Deck? Any Steam Deck dock needs its own power supply (minimum 45W via USB Type C) and enough ports to be able to use it comfortably.
Official Valve releases Steam Deck Docking Station in late 2022. The Steam Deck Docking Station is capable of turning the Steam Deck into a full gaming console, with HDMI and DisplayPort outputs and three USB 3.1 Type A ports for game controllers, and it does have a few hiccups. Occasional audio interruptions and the inevitable manual USB connection.
But compared with other docks, it has the same functions but more expensive. The official Steam Deck Docking Station has one key advantage: reliability.
If you don't want to use the official Steam Deck Docking Station, you can also use the Steam Deck dock alternative to connect your Steam Deck to your TV. This allows gamers to enjoy their Steam Deck on their big screen.
Best Steam Deck Docks
Here we introduce the best Steam Deck docks.
# iVoler 5-in-1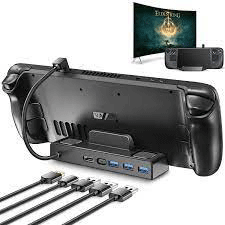 –image from Amazon
The biggest charm of iVoler Steam Deck Dock is its design. The iVoler Stand and Dock mimics not only the Switch dock, but the official Valve dock as well, supporting your Steam Deck while attached to the biggest screen in your home.
It also has excellent connectivity, including 3 USB 3.0 ports and an HDMI, as well as USB-C connections for the Deck charger and from the Deck to the dock.
Its pros:
Up to 65W Steam Deck Charging
Compatible with Nintendo Switch
large number of ports
Its cons:
# Anker PowerExpand 6-in-1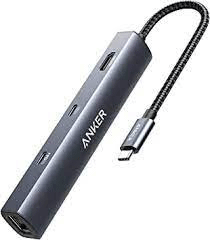 –image from Anker
The Anker PowerExpand 6-in-1 is compact and lightweight for easy portability. This unit has everything you need for a Steam Deck docking setup, including 65W of power delivery, Ethernet, 2 x USB-A and HDMI support. There's also a separate USB-C port for data transfer and power delivery, which means you can use one of the best external hard drives around.
Its pros:
65W power output
Easy to carry
Includes Ethernet port
It cons:
# Anker 575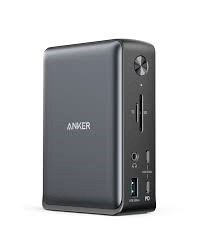 –image from Anker
The Anker 575 dock can be used to charge multiple devices, display video on up to three monitors, and more. With HDMI and DisplayPorts, the Anker 575 dock can stream media at 1080p at 60 Hz on up to three displays. Not only does this allow you to connect Steam Deck to your TV, but it's also great for dual monitor setups.
With multiple ports, you can use the high-speed charging port to charge multiple devices at the same time. It's the perfect gadget to charge your device while playing your favorite games.
Its pros:
85W charging via USB C
All the ports you need
It cons:
Inconvenient to carry
Expensive
Further reading: If you are looking for a professional partition manager for Windows, you can try MiniTool Partition Wizard. It has multiple functions to manage partitions and disks, suck as format/resize/extend/wipe partitions, migrate OS, recover data, and so on.
MiniTool Partition Wizard FreeClick to Download100%Clean & Safe