Summary :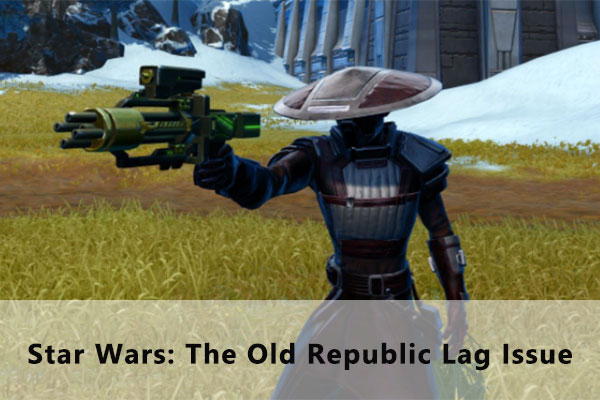 Star Wars: The Old Republic is a multiplayer game. Since its release, a lot of players have been attracted. However, some of them reported Star Wars: The Old Republic lag issue. To solve it, MiniTool Partition Wizard puts together some solutions in this post.
Star Wars: The Old Republic, simply known as SWTOR or TOR, is a massively multiplayer online role-playing game based in the Star Wars universe. It was developed by BioWare Austin. Users can play the game on Microsoft Windows. Unfortunately, some players encounter a lag issue while playing the game. There are some solutions and you can have a try if you are facing the same problem.
Solution 1: Check Your Internet Connection
When you encounter Star Wars: The Old Republic lag issue, the first thing you need to do is to check your Internet connection. If you don't know what to do, the following post might be helpful: 11 Tips to Troubleshoot Internet Connection Problems Win 10.
Solution 2: Check SWTOR System Requirements
To make sure a game works properly on your PC, you should meet its system requirements. If you get the SWTOR stuttering or lagging issue frequently, you need to check your PC specs to see if the SWTOR system requirements are met. The requirements are as follows:
OS: Windows 7 or later
CPU: AMD Athlon 64 X2 Dual-Core 4000+ or better/Intel Core 2 Duo 2.0GHz or better
GPU: Intel HD 3000 or better/AMD Radeon HD 7450/Nvidia GeForce 610
RAM: 3GB RAM
Hard drive: 50GB available storage space
If your PC doesn't meet the requirements, you might need to upgrade the hardware.
Solution 3: Run SWTOR as an Administrator
Privilege issues could also lead to Star Wars: The Old Republic lag issue. If your PC meets the SWTOR system requirements, you can try running the game as an administrator to solve the problem. You just need to:
Step 1: Right-click the SWTOR shortcut on your desktop and select Properties.
Step 2: In the pop-up window, switch to Compatibility tab and check Run this program as an administrator under the Settings section.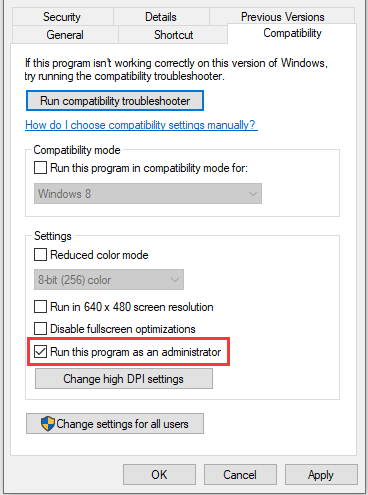 Step 3: Click Apply > OK to save the changes.
Step 4: Double-click the SWTOR shortcut to launch the game.
Solution 4: End Background Processes
If you are running too many programs while playing the game, you could also encounter Star Wars: The Old Republic lag issue as these programs would take a lot of system resources. In this case, you should kill all the unnecessary processes that are running in the background to solve the SWTOR lag problem. Here are the detailed steps.
Step 1: Press Shift + Ctrl + Esc to open Task Manager.
Step 2: Under the Processes tab, right-click each app and select End task. Repeat this step until you close all the unnecessary programs.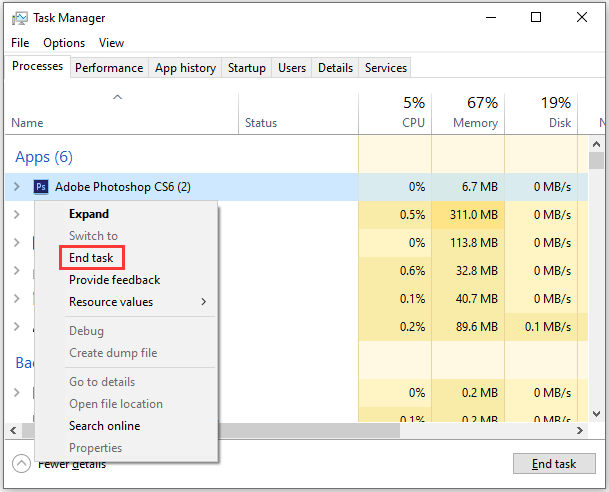 Then you can restart the game and check if you can play it smoothly. Viruses and malware attacks could also cause the SWTOR lag issue. You'd better check for that.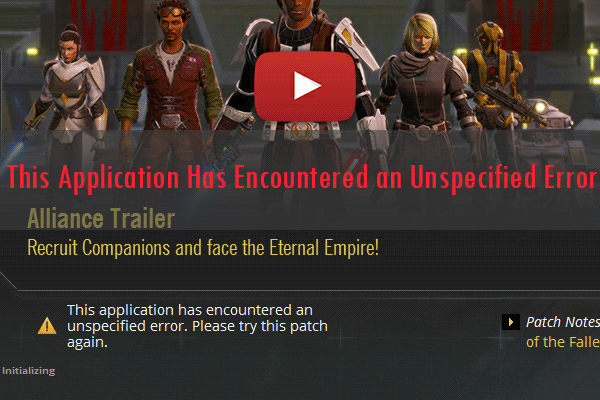 Have you ever encountered the SWTOR this application has encountered an unspecified error? This post will show you some solutions to fix the error.
Solution 5: Reinstall SWTOR
If all the solutions above fail to solve the problem, you can try reinstalling SWTOR.
Step 1: Open Control Panel.
Step 2: Select View by: Category and click Uninstall a program.
Step 3: Right-click your game and select Uninstall. Then follow the onscreen instructions to finish the process.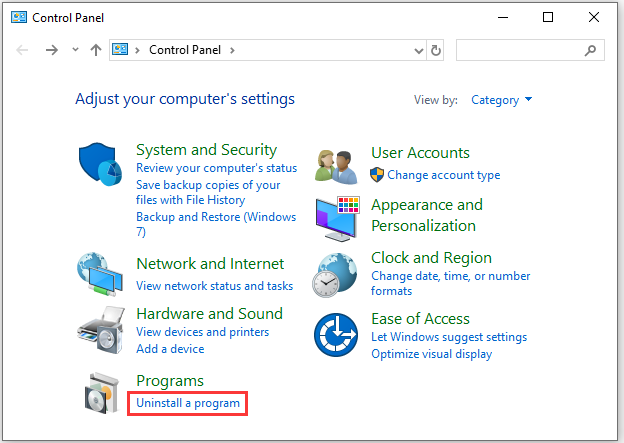 Step 4: Download and install SWTOR again.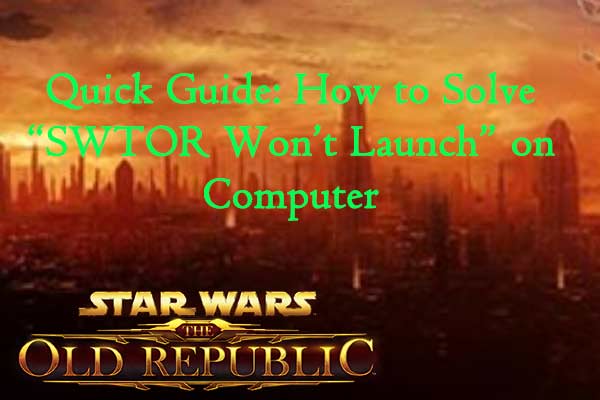 Do you play SWTOR on your computer? Are you bothered by the "SWTOR won't launch" issue? This article provides some feasible solutions for you.