SWTOR, or Star Wars: The Old Republic, is a popular video game favoured by lots of game lovers. However, it may fail to launch on computer sometimes and this is quite a frustrating problem for players. How to fix the issue? In this article, MiniTool Partition Wizard will guide you solve SWTOR not launching with several effective solutions.
SWTOR, the abbreviation of Star Wars: The Old Republic, is a massively multiplayer online role-playing game that is based in the Star Wars universe. On December 20, 2011, this video game was first released for Microsoft Windows in North America and part of Europe.
As one of the most developmentally expensive games made, SWTOR has still attracted a large number of game lovers who enjoy playing with friends in the Star Wars universe. Unfortunately, some users report that SWTOR won't launch and they cannot access the gameplay at all.
The good news is that the SWTOR not launching can be fixed easily. If you are facing Star Wars: The Old Republic not launching on your Windows PC, you can try the following methods one by one to resolve it.
Now, let's start our troubleshooting.
Fix 1: Run the Game with Administrator Privileges
You should know that the game not launching issue is commonly associated with the administrator privilege, as games require administrator permissions to access some critical files for proper functioning. So, if SWTOR won't launch, try opening it with administrator privileges.
Step 1: Right-click the desktop icon or the executable file of SWTOR and choose Properties.
Step 2: Switch to the Compatibility tab and check Run this program as an administrator.
Step 3: Click Apply and OK to save the changed settings.
Now, you can restart the game to see if it can launch properly. If not, please move on to the next solution.
Fix 2: Remove the Bitraider Folder
According to the report, the SWTOR not launching issue has something to do with the Bitraider folder, and some users have fixed the problem by removing the folder. So, you can feel free to try this method.
Before you delete the folder, you have to end the Bitraider processes at first.
Step 1: Right-click the Start button and choose Task Manager from the context menu to open it.
Step 2: Find all Bitraider processes like BRSptsvc.exe, Bitraider.exe, and so on. Select them and click End task to close these processes one by one.
Step 3: Now, Go to the installation folder of SWTOR by right-clicking the SWTOR desktop icon and selecting Open file location.
Step 4: Find the folder named Bitraider and delete it.
Once it's done, you can restart your game to see the SWTOR not launching issue is resolved.
Fix 3: Verify the Integrity of Game Files
If you encounter SWTOR crashing on launch, perhaps some of the game files are corrupted or damaged. If you are using Steam on your computer, you can make use of its built-in repair tool to fix the problem. Here's what you need to do.
Step 1: Open your Steam client and click LIBRARY.
Step 2: Among the list of your installed games, right-click Star Wars: The Old Republic and choose Properties.
Step 3: Click the LOCAL FILES tab and hit VERIFY INTEGRITY OF GAME FILES.
After the verification process is completed, just restart the game to check if the problem is fixed. If the issue comes up again, try the next solution.
Fix 4: Temporarily Disable Your Firewall and Antivirus
In some cases, your firewall or antivirus may overprotect your computer. They may mistakenly regard the game as a security threat and prevent it from launching to protect your system.
To make sure your SWTOR launch properly, you might need to temporarily disable your firewall and antivirus, including the installed third-party security applications and the built-in Windows Defender.
Tip: Don't forget to reenable your security application to protect your system from other threats.
Useful tutorials:
Fix 5: Update Your Graphics Card Driver
Besides, your graphics card driver might also be responsible for SWTOR crashing on launch or the SWTOR not launching issue. If you haven't update for your graphics driver for a long time, then updating it to the latest version may help you fix the problem.
Step 1: Right-click the Start button and choose Device Manager to open it.
Step 2: Expand the Display adapters, right-click your graphics card driver, and choose Update driver.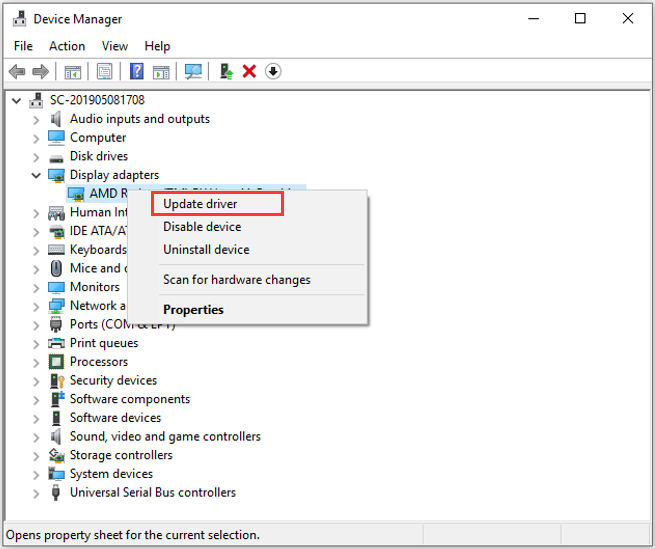 Step 3: In the pop-up window, choose Search automatically for updated driver software to continue.
Then, your Windows will search your computer and the Internet for the latest driver software for your device. You just need to follow the onscreen instructions to complete the process. Once it's done, restart your computer to check if SWTOR can launch properly.
Hopefully, the above methods can help you resolve SWTOR not launching issue effectively and allow you to enjoy the game with friends again.
Tips:
To newly-bought laptops or brand-named PCs with pre-installed Windows 11, if the above methods don't work, downloading and installing DirectX9 may solve the problem. This is our users' feedback.