You might be upset if you delete Spotify playlist by mistake. Is there a chance to get it back? Yes. Don't worry. In this post from the MiniTool Partition Wizard website, you can learn about "Spotify recover playlist" on PC and mobile devices.
About Spotify
Spotify is a music streaming and media service. Users can access it via web browsers or its application on various modern devices like Microsoft Windows, macOS, and Linux computers, Android and iOS mobile phones and tablets, etc.
On Spotify, users can create their own playlists and visit playlists created by others. And the added playlists will be listed on the left side of the Spotify home screen, which makes it easy to play, as you can see in the following screenshot.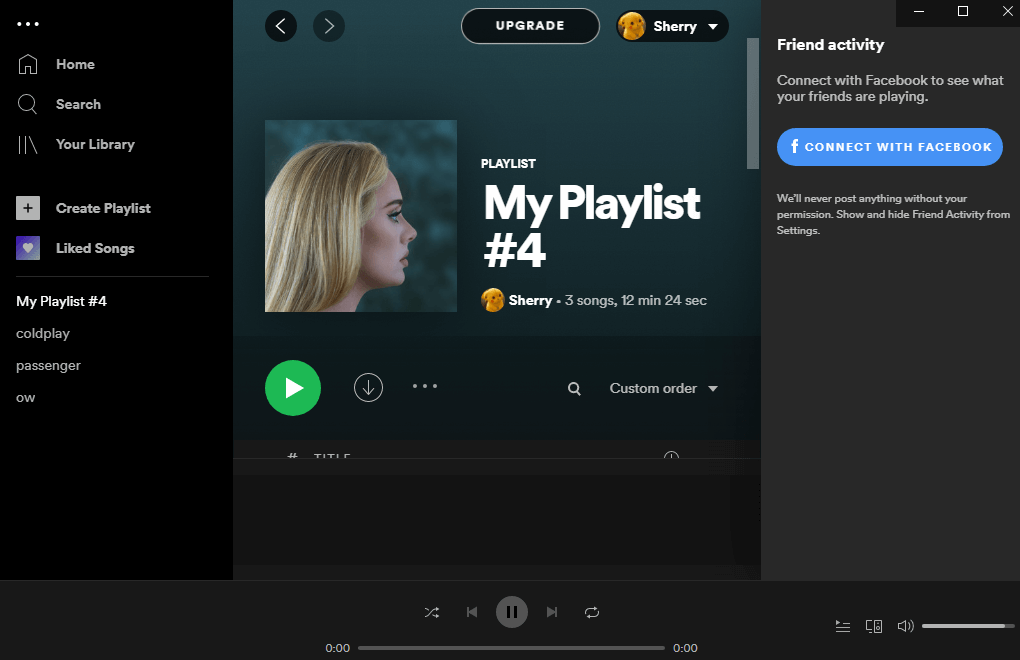 Spotify allows users to delete unneeded playlists, which I have discussed in the previous post. Today, I'd like to introduce how to recover deleted Spotify playlists.
Spotify is designed with a "Recover playlist" feature. Please note that you can only get back the playlists that are deleted with the last 90 days.
Spotify Recover Playlist on PC
How to recover Spotify playlist on PC? If you delete a Spotify playlist accidentally, you can follow the steps below to recover it.
Step 1: Go to the account page of Spotify. And here are two ways:
Launch the Spotify client and sign in with your account. Then click the arrow icon next to the name of your profile. It is located in the upper right corner.
You can also open a web browser and visit the page for Spotify account directly.
Step 2: Find the Recover playlists feature on the left side and click it.
Step 3: On the right pane, you can view your deleted playlists within 90 days. Just click the RESTORE button for the playlist you want to recover.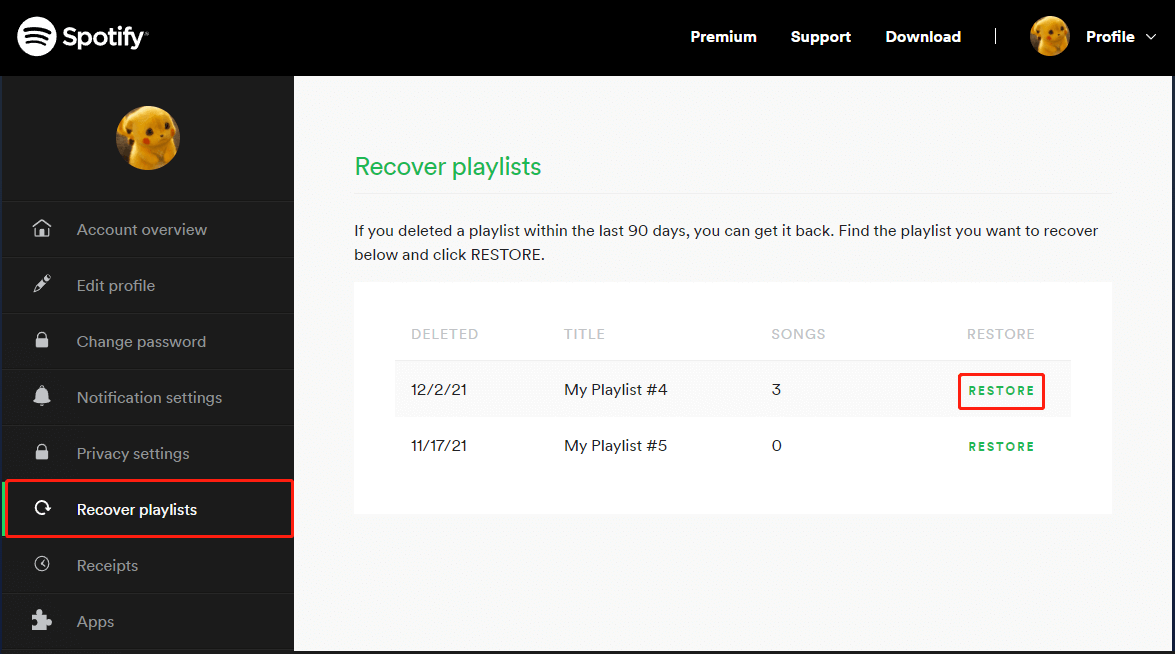 Alternatively, you can also press Ctrl + Z (on Windows) or Cmd + Z (on Mac) immediately to recover the playlist just after you deleted it.
After a few seconds or minutes, you should be able to see the recovered playlist in your Spotify application.
Spotify Recovery Playlist on Mobile Devices
How to delete Spotify playlist on mobile devices? Here is the guide.
Step 1: Run a web browser on your Android or iPhone device. Then go to the Spotify website and log in.
Step 2: Tap the three-line icon at the upper right corner and choose Account from the menu.
Step 3: Tap the arrow icon on the top screen of Spotify and select Recover Playlists from the drop-down menu.
Step 4: Scroll down to find the playlist that you need to recover and tab the RESTORE button.
Then you can check your Spotify program, and the recovered playlist should appear in your playlists.
Further Fix: Recovered Playlists Disappear
If recovered playlists don't appear on your Spotify application, you should restart Spotify.
On a PC, you can:
Press Ctrl + Shift + Esc to open Task Manager.
Right-click Spotify and select End task.
Save your work and restart your computer.
If you are using a mobile device, you can just close the Spotify application, and remove the program from the recent apps list.
In addition, you should also make sure your internet connection works properly.
Then you can run Spotify again to check if recovered playlists show up.