As a music streaming service, Spotify provides over 70 million songs for users. If you love to listen to music, you might have a lot of songs on your playlist. How to share Spotify playlists with your friends or strangers? This post from MiniTool Partition Wizard provides a tutorial.
About Spotify
Spotify is an audio streaming and media services provider founded in 2006. It provides digital copyright-restricted recorded music and podcasts, including more than 70 million songs.
Spotify offers two versions for users: Free and Premium. Users can only get basic features if there use the service free. Additional features like offline listening are provided via paid subscriptions. And there are various plans for different users to choose from.
In Spotify, users can search for expected songs based on artists, albums, or genres. What's more, they can create, edit, and share playlists as they wish. In the following contents, you can learn about how to share Spotify playlists.
Tip: The Share feature is available in Spotify Premium.
How to Share Spotify Playlists
Spotify allows users to share playlists with both friends and strangers. If you are planning to share a Spotify playlist, this tutorial might help you and it is easy to follow.
How to Share a Spotify Playlist with Friends
To share a playlist on Spotify with your friends, you just need to:
Step 1: Launch the Spotify app and log into your account.
Step 2: Go to the playlist you want to share and click the three-dot icon.
Step 3: In the pop-up menu, select Share > Copy Playlist Link.
Step 4: Send the link to your friends. Then your friends can view and enjoy your playlist by clicking this link which will open Spotify in a browser window.
Tip: If you don't want to share your Playlist as a link, you can also choose other sharing options, such as Facebook, Messenger, Twitter, Telegram, Skype, and Tumblr.
How to Share a Spotify Playlist with Strangers
By sharing the link of your playlist or posting on platforms like Facebook and Twitter, you can share your playlist with a lot of friends as you wish. If you want to share a Spotify playlist with strangers, you need to set the playlist as public. After that, when people search for a type of playlist in Spotify, yours might show up.
And you just need to go to the playlist you want to share with strangers and click the three-dot icon. Then select Make Public in the pop-up menu.
A better idea to share your Spotify playlist with strangers is to post it on the websites for both sharing playlists and discovering new ones.
For example, there is a playlist sharing site in Reddit: r/SpotifyPlaylists. It has thousands of subscribers. On this website, you just need to click the Create Post button to post your Spotify playlist. Then others will be able to enjoy your playlist. This one is only used for Spotify playlists. Playlists from other services will be deleted.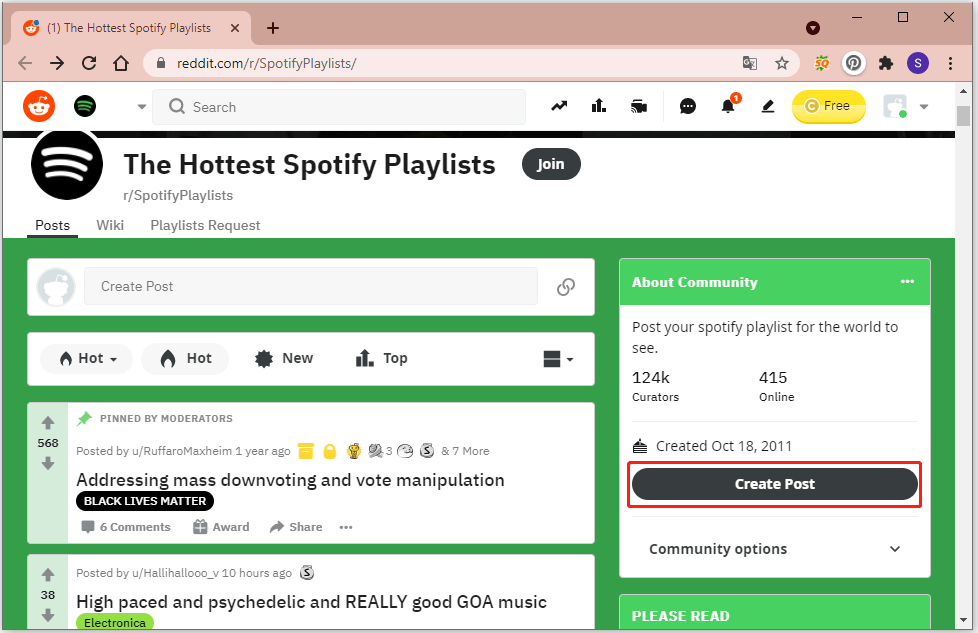 In addition, you can also try the following websites. They are also popular and worth trying.
r/Playlists: this is another access to share Spotify playlists on Reddit. You can also post playlists from other services here.
net: to share your playlist, you just need to make it public on Spotify and then add the URL on this website.
SoundShare: this is an iOS application for sharing playlists.