Many users report that they see SEC_ERROR_REUSED_ISSUER_AND_SERIAL warnings when they try to access a website or local web server. This problem usually occurs in all major browsers (Firefox, Chrome, Edge). How to Fix this error? In this article from MiniTool Partition Wizard, we will learn how to do that.
SEC_ERROR_REUSED_ISSUER_AND_SERIAL is an issue reported on almost all major browsers. This problem occurs when a user tries to access a specific URL. For some users, this problem occurs with almost all websites and email applications.
SEC_ERROR_REUSED_ISSUER_AND_SERIAL means that a certificate that already exists on the system is being reused by another server/IP. This warning may appear due to user-side issues on server-related issues. This error code is mainly caused by:
Broken browser's certificate manager
Corrupt Browser Cache
Interference from security applications
Router problem
Well, you can try the following method to fix this error. But before that, you should try to restart the browse and your computer to check if the error can be fixed.
Method 1: Clear Browsing Data and Cache
Corrupted cache and browsing data can also trigger problematic error codes. To fix it, you need to clear the cache. Here is an example of Chrome.
Step 1: At the top right of the Chrome webpage, click on the three-dots icon.
Step 2: Then navigate to the More tools > Clear browsing data option.
Step 3: On the next webpage, check the Cookies and other site data and the Cached images and files box. Then click on the Clear data button.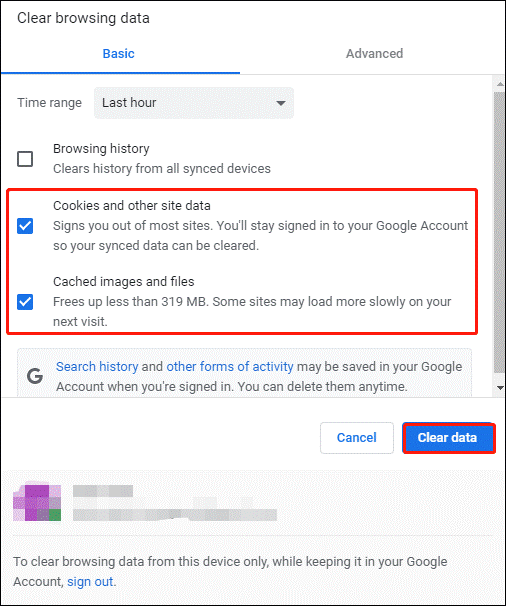 For clearing the cache in the Firefox and Microsoft Edge browsers, read this article: How to Clear Cookies on Chrome, Firefox and Edge
Method 2: Disable Antivirus the Firewall
Note:
Disabling antivirus protection can expose your computer to malicious software programs. Therefore, try this method only if you are sure that the website you are trying to visit is reputable website.
If your firewall thinks it is malicious, it can block certain sites. So, you can allow disable it.
In the system tray in the upper right corner of the taskbar, right-click the icon for your antivirus software, and then click the option to temporarily disable antivirus protection. If prompted, set the duration to disable antivirus according to your choice.
If you're using Windows Defender on Windows 10, you can temporarily disable it.
Now you can check if your issue is resolved.
Method 3: Delete Certificate
The browser may raise a SEC_ERROR_REUSED_ISSUER_AND_SERIAL error if the certificate is already abnormal in the browser or application's database, and the website provides a similar certificate. In this case, removing the old exception for the certificate in the application or browser's certificate manager might solve the problem.
Remove invalid certificates in Firefox:
Open Firefox and click the three horizontal lines to open Settings.
Go to Privacy and Security.
From the Certificates section and click View Certificate
Select a certificate and click Delete.
Remove invalid certificates in Chrome:
Open Chrome. Then paste chrome://settings in the address bar and hit Enter.
Go to Security & Privacy > Security > Manage Certificates.
Select a certificate and click Delete.
Remove invalid certificates in Edge:
Open Edge. Then paste edge://settings press Enter.
Go to Privacy, Search & Services > Manage Certificates.
Select a certificate and click Delete.
Remove invalid certificates in Opera:
Start Opera and navigate to Settings.
Click Advanced.
Go to Privacy & Security > Security.
Choose Manage certificates.
Select a certificate and click Delete.
Apart from that, one of the reasons for this error is that your router is misconfigured. Well, you can also check your router.