What is a SCSI drive? What's the difference between SCSI vs SATA, and SCSI vs SAS? You can get answers from this post. In addition, if you want to use the SCSI drive as an external drive to back up computer, or want to recover data from the SCSI drive, I recommend you to use MiniTool Partition Wizard.
What Is a SCSI Drive?
SCSI, short for Small Computer System Interface, is a set of standards for physically connecting and transferring data between computers and peripheral devices like hard drives, tape drives, scanners, CD drives, etc.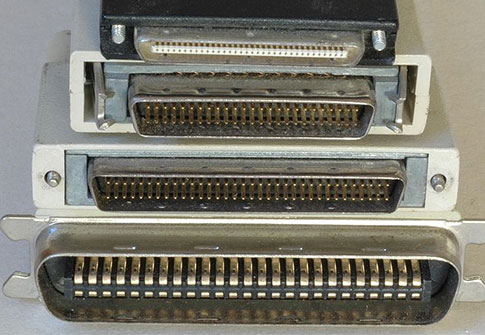 SCSI is most commonly used for hard drives and the hard drives with SCSI interface are SCSI drives, which are also called scuzzy drives (SCSI is pronounced "scuzzy").
The development of SCSI standard is as follows:
SCSI-1 (X3.131-1986), published in 1986, 40 Mbps (5 MB/s).
SCSI-2 (X3.T9.2/86-109), published in 1990 and further revised in 1994, 80 Mbps (10 MB/s) with the support of Fast SCSI and 160 Mbps (20 MB/s) with the support of Fast-Wide SCSI.
SCSI-3, debuted in 1995 and included a series of smaller standards within its overall scope. Most SCSI-3 specifications begin with the term Ultra (followed by Fast or Wide sometimes). Current SCSI technologies can transfer up to 640 MB/s.
SCSI hard drives have been the backbone of enterprise computing for nearly 20 years. Though they typically don't possess much in the way of capacity, SCSI drives make up for it with speed.
As a server drive, compared with an ordinary PC drive, a SCSI hard drive has the following characteristics:
Fast speed: SCSI drives usually have high RPM. They can reach 7200 or 10000 revolutions per minute, or even higher. Therefore, the average access time is relatively short. The external transmission rate and the internal transmission rate are higher. But this is also one of reasons why SCSI drives usually have small capacity.
High reliability: SCSI hard drives are mainly used in medium and high-end servers and high-end workstations. Therefore, most manufacturers will adopt S.M.A.R.T technology and other advanced technologies to ensure data security.
Low CPU usage: In the SCSI system, the work of processing the data flow between the disk system and the computer is completed by a dedicated controller, so the CPU usage of the SCSI drive is extremely low.
Support for hot swapping: This feature allows the server to unplug or insert a hard disk without stopping the server, and the operating system will automatically recognize the hard disk changes.
SCSI vs SAS Drive
SAS, short for Serial Attached SCSI, breaks from the traditional parallel SCSI bus and performs data transfer via serial communications using point-to-point links. Both SAS and parallel SCSI use the SCSI command set. Therefore, SAS products are compatible with devices that employ earlier SCSI technologies.
In a word, SAS replaces the older Parallel SCSI bus technology and becomes a popular alternative to parallel SCSI in enterprise environments. Comparing SAS with SCSI, SAS does have many advantages, for example:
Higher speed: SAS-1, introduced in 2004, 3.0 Gbit/s; SAS-2, available since February 2009, 6.0 Gbit/s; SAS-3, available since March 2013, 12.0 Gbit/s; SAS-4, completed in 2017, 22.5 Gbit/s (called "24G"); SAS-5, being developed, 45 Gbit/s.
Point-to-point link: This technology reduces address conflicts and deceleration of daisy chain connections and provides a dedicated signal path for each device to ensure maximum bandwidth. On the contrary, resource contention issues are very common with parallel SCSI.
Advanced data transmission method: SCSI works in half duplex mode, while SAS supports full duplex mode. Data operation in full duplex mode can ensure the most effective data throughput.
Clock skew issue: In SCSI system, there exists clock skew issue, which will reduce the system clock frequency, leading to poor system performance. SAS eliminates clock skew.
More devices can be connected: SAS allows up to 65,535 devices through expanders, while Parallel SCSI has a limit of 8 or 16 devices on a single channel.
Dual-domain SAS: SAS devices feature dual ports, allowing for redundant backplanes or multipath I/O.
Compatibility with SATA device: SAS offers optional compatibility with Serial ATA (SATA) versions 2 and later. This allows the connection of SATA drives to most SAS backplanes or controllers.
More form factors: All SCSI drives are 3.5", but SAS drives can be 2.5", allowing for their use in more compact systems.
Larger capacities: SCSI drives stop at 300 GB, while SAS drives can come in larger capacities (1 TB or even more).
What Is a SAS Hard Drive and the 4 Recommended SAS Hard Drives
SCSI vs SATA Drive
SATA, abbreviated from Serial AT Attachment, is a computer bus interface that connects host bus adapters to mass storage devices such as hard disk drives, optical drives, and solid-state drives. SATA speeds are as follows:
SATA 1.0, published in 2003, 1.5 Gbps (150 MB/s).
SATA 2.0, published in 2004, 3 Gbps (300 MB/s).
SATA 3.0, published in 2009, 6 Gbps (600 MB/s).
SATA Express, published in 2013, 16 Gbps (1969 MB/s).
In terms of SCSI vs SATA drives, they have few similarities, except that both they are half duplex. As for their differences, they have all the differences between a server hard drive and a PC hard drives.
SATA drives are more used in personal computers. Even if some people use SATA drives to compose RAID, these drives are usually used in low-end servers. On the contrary, SCSI and SAS drives are usually used in medium and high-end servers and high-end workstations.
Besides, SCSI drives have almost been eliminated by SAS drives, while SATA drives are still popular currently. Many manufacturers produce SATA SSDs (including 2.5-inch SATA SSD and M.2 SATA SSDs) and it seems that these SATA SSDs will not be eliminated in recent years. Besides, for large hard drives (such as 8 TB, 10 TB, 14 TB, etc.), they still like to use SATA 3.0 interface.
But in personal computers, especially in SSD field, I think SATA will be eliminated by PCIe NVMe SSDs soon, because PCIe NVMe SSDs are much faster than SATA. Even if there is SATA Express, this trend is still difficult to change.
SATA vs. SAS: Why You Need a New Class of SSD?
Here is a post talking about SCSI drive. In this post, you can see the differences between SCSI vs SAS, and SCSI vs SATA.Click to Tweet
External SCSI Hard Drive
SCSI drives are faster than ordinary SATA hard disk drives. You can still use a SCSI drive in your computer, but if you have switched to SATA SSDs, PCIe NVMe SSDs, or SAS drives, I recommend you to use the old SCSI drives as external drive.
Although converting a SCSI hard drive to an external drive will cause some speed loss, this can avoid waste. To make an external SCSI hard drive, you need a SCSI to USB adapter. When you buy this adapter, please pay attention to the number of pins.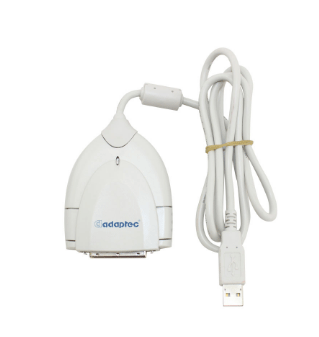 With this adapter, you can connect a SCSI drive to a USB port in the computer. Then, you can manage the drive as an external drive and access data in the drive.
Manage Drives with MiniTool Partition Wizard
No matter which drive you use, you need to manage the drive in your computer. Then, MiniTool Partition Wizard can help you do that more easily. In addition, if you want to use the SCSI drive to back up your computer or you want to recover data from the SCSI drive, MiniTool Partition Wizard is a good choice.
MiniTool Partition Wizard DemoClick to Download100%Clean & Safe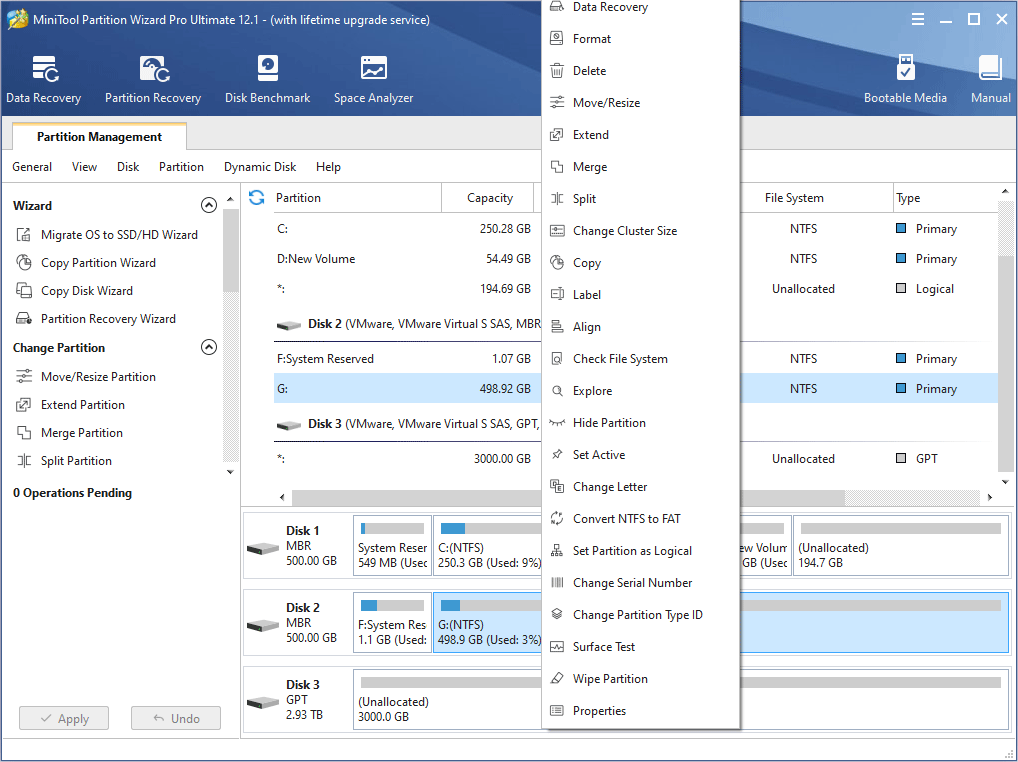 If you want to back up computer to the SCSI drive with MiniTool Partition Wizard, here is the tutorial:
Step 1: Click the above button to download MiniTool Partition Wizard. Launch this tool and go to its main interface. Right click the disk you want to back up and choose Copy from the context menu (this feature is free if the disk you want to clone is a non-system disk).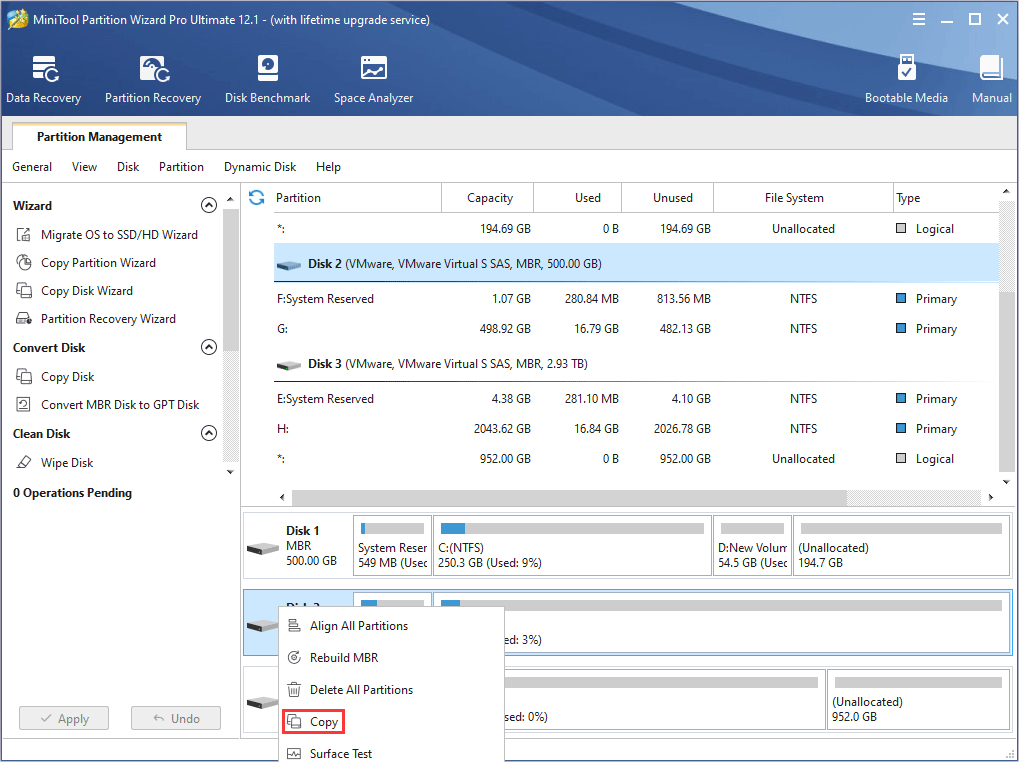 Step 2: Follow the wizard to choose a destination disk (the external SCSI hard drive). Please note that the data on the destination disk will be destroyed. Then, review changes and click Next button.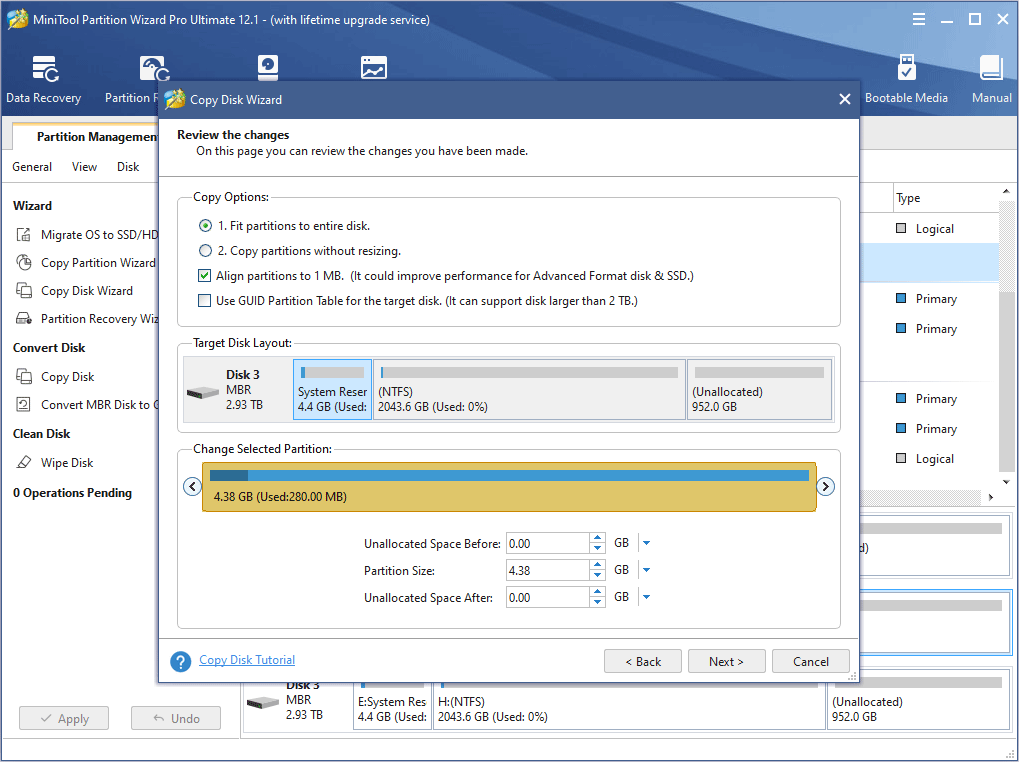 Step 3: Click the Apply button to execute pending operations.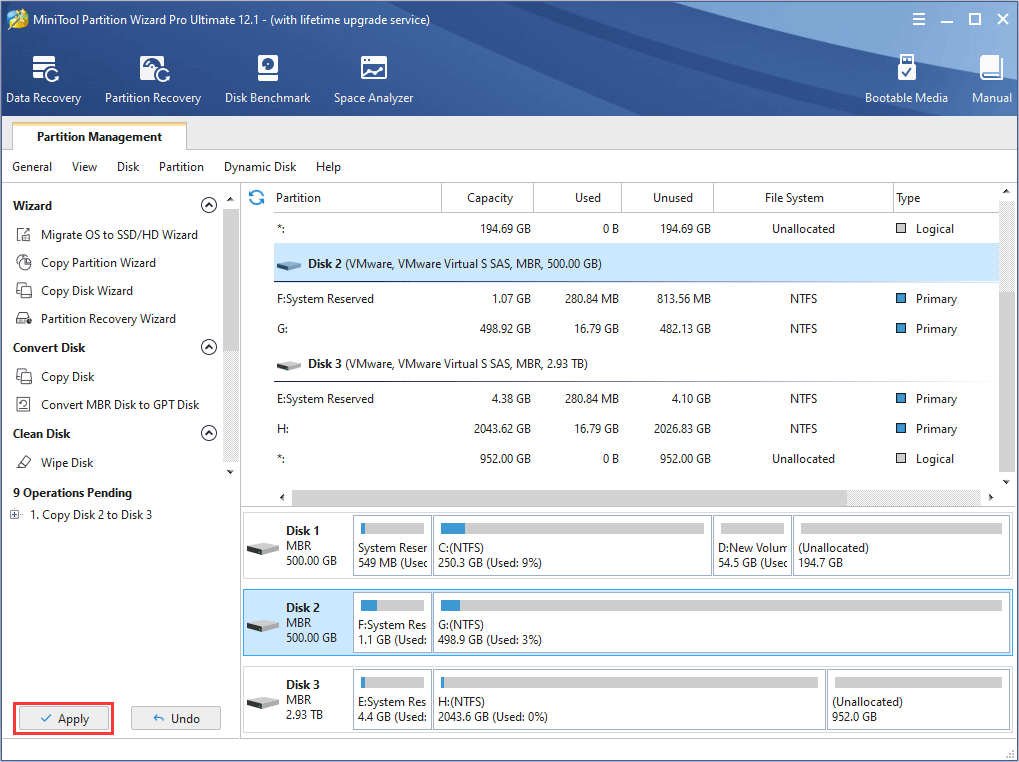 Tip: If you want to copy a single partition, you can right click the partition and choose Copy feature. This allows you to copy the partition to an unallocated space.
If you want to recover data from the SCSI drive with MiniTool Partition Wizard (this feature is not free), here is the tutorial:
Step 1: Click Data Recovery. Then, under Hard Disk section, highlight the SCSI drive and click Scan.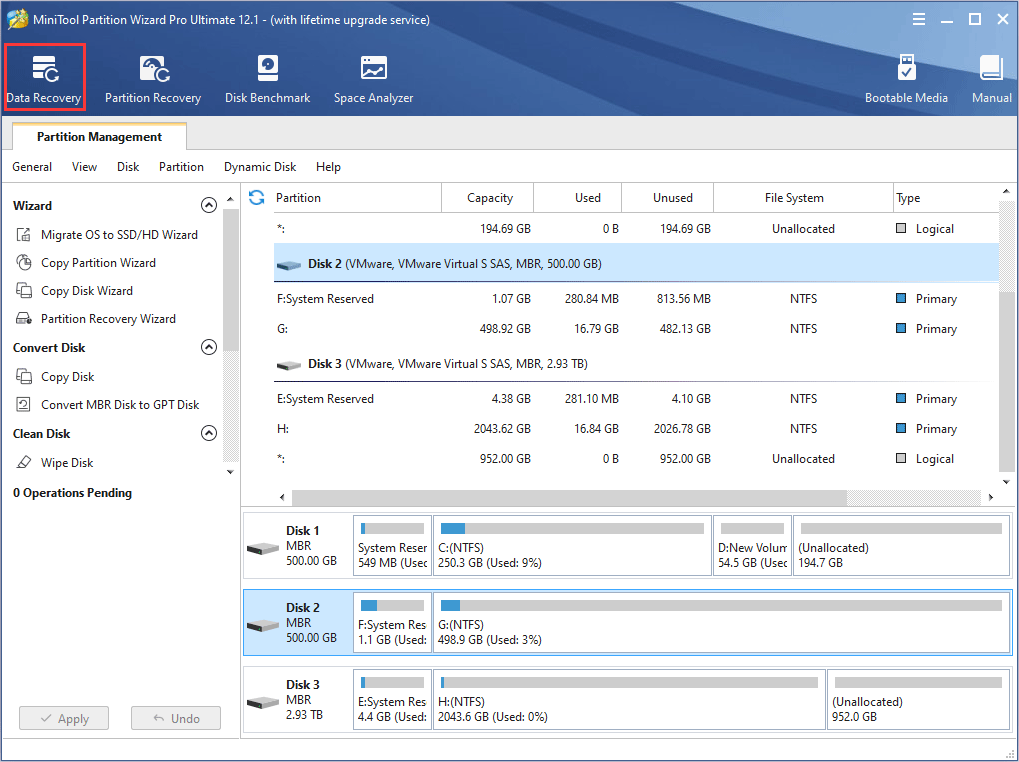 Step 2: After the scanning process is completed, choose the data you want to recover and click Save button.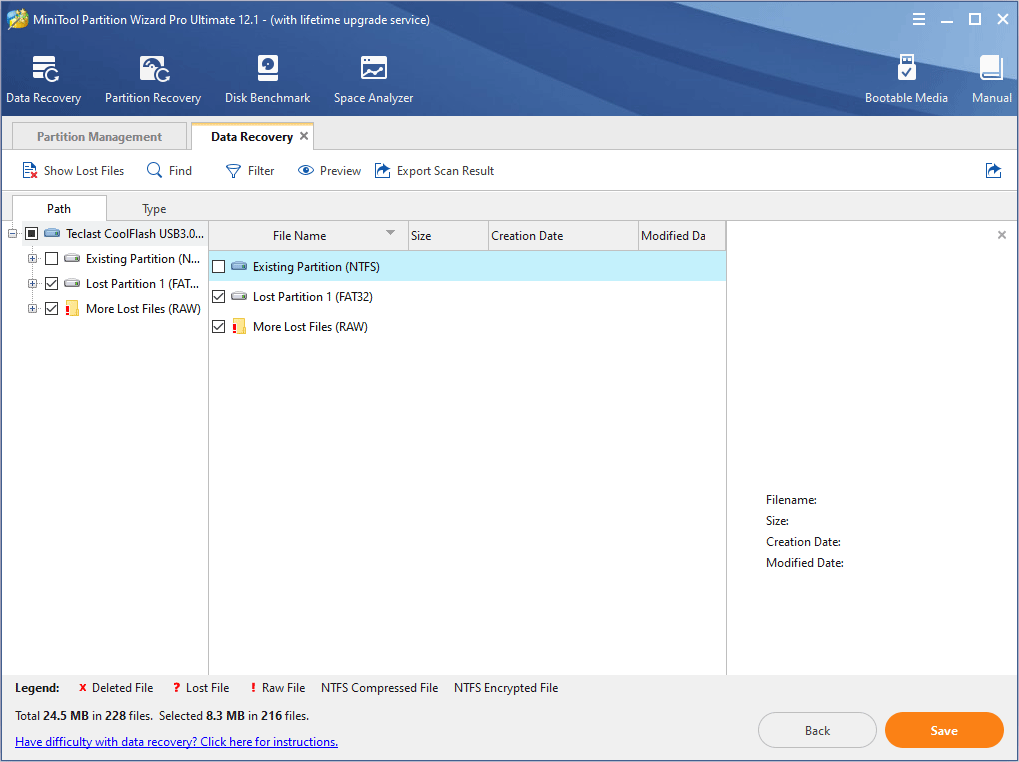 If you want to back up computer to a SCSI drive or want to recover data from a SCSI drive, you can read this post to get solutions.Click to Tweet
Bottom Line
Is this post helpful to you? Do you have other ideas about SCSI drives? Please leave a comment in the following zone. Besides, if you have difficulty in backing up computer or recovering data, please send us an email at [email protected]. We will get back to you as soon as possible.
SCSI Drive FAQ
Are SCSI drives still used?
There are still some people using SCSI drives, but most people have switched to SAS drives. If you search in an online shop, SCSI drive products are few.
Is SCSI a SSD?
SCSI is not a SSD. It's just an interface that connects storage devices to a computer. SSDs are one particular type of storage devices, which may be connected to a computer via SATA, SAS, PCI Express or SCSI. Besides, SCSI has been replaced by SAS. Older SCSI drives are usually HDDs.
Is SCSI faster than SSD?
If you mean SCSI merely, SCSI drives are usually HDDs and the fastest SCSI interface has a speed up to 640 MB/s, which is faster than SATA interface but much slower than PCIe 3.0 x4 interface (NVMe SSDs). As to SATA SSDs, because the SCSI drive is HDDs, I think in most cases, SATA SSDs are faster still.
But if your SCSI means Serial Attached SCSI (SAS), some SAS drives themselves are SSDs. Then, this comparison is meaningless.