Summary :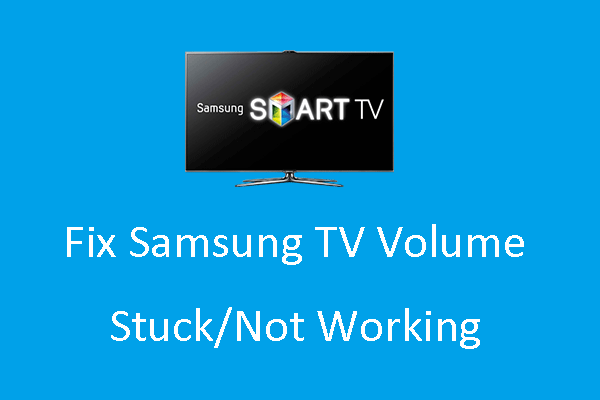 Many Samsung TV users are complaining about the Samsung TV volume stuck/not working issue. This issue often happens when people try to change the volume on their Samsung TVs. How to solve Samsung TV volume problems? Well, this post from MiniTool Partition Wizard will offer you several solutions.
It is common and annoying to encounter the Samsung TV volume stuck/not working issue. But don't worry, here are three methods to solve Samsung TV volume problems. Scroll down to know the detail.
Method 1: Delete Apps to Free up Memory
Samsung TVs have automatic updates, and applications that you have downloaded by yourself may take up your memory. Therefore, if you encounter the Samsung TV volume not working issue and want to fix your volume problems in the long term, try to delete some applications to free up memory. Here is how to do that:
Step 1: Press the Home button on the remote to open the TV's Home screen menu.
Step 2: Navigate to Apps and then choose the Settings icon at the top right-hand side of the screen.
Alt=choose Apps
Step 3: Then, you can see all of the apps that have been downloaded to your Samsung TV. Choose the app you want to delete, choose Delete, and then choose Delete again to confirm.
Note: Recommended apps (such as Netflix, Hulu, Prime Video, etc.) cannot be deleted from the TV but can be removed from the TV's Home screen menu.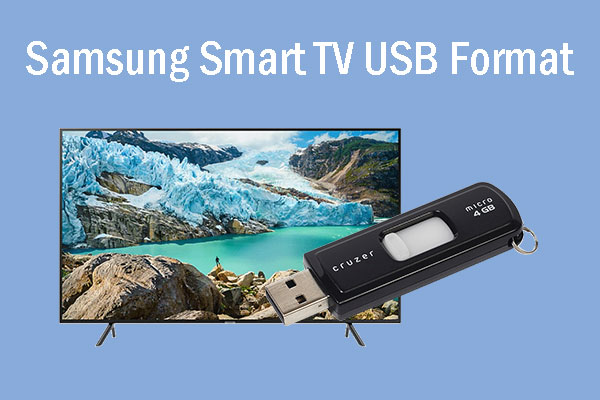 This post tells you what the supported Samsung smart TV USB formats are and tells you how to solve the format problem with 5 methods.
Method 2: Perform a Soft Reset
Actually, not all Samsung TV problem needs a factory reset. In most cases, trying to perform a soft reset may solve the problems. Therefore, before you use the factory reset, please try out the soft reset. How to do that? Here is the guide:
Note: Compared with a factory reset, a soft reset does not change any settings on the TV. The only thing that might be affected is the most recent running activity on the TV before the reset.
Step 1: Press and hold the Power button and wait for the system to turn off.
Step 2: Wait for at least 30 seconds before you press the Power button again to restart the television.
After performing a soft reset on Samsung TV, if the Samsung TV volume not working issue is not fixed, please go to the next method.
Method 3: Factory Reset Your TV
If the above two methods do not work for your Samsung TV, now you need to factory reset your Samsung TV. Usually, when there is a problem that can only be fixed by resetting or if you want to sell or give it away, you may need to perform a factory reset on your Samsung TV. Follow the steps below to do that:
Tip: A factory reset will reset the Smart TV to default settings. This process will delete all customized TV settings, including tuned channels, recordings, custom input names, installed apps, stored Wi-Fi passwords, and more.
Step 1: Press the Home button on the remote to open the Home screen menu.
Step 2: Then, choose Settings (an icon in the lower-left corner of the screen) and then choose the General option.
Alt= choose Settings
Step 3: Now, choose Reset and you will be prompted for your PIN (0000 is the default). Then, enter your PIN and choose Yes to confirm the factory reset.
Note: If you don't remember the PIN that you have changed the password before, you can reset it by powering off the TV and then pressing Mute > 8 > 2 > 4 > Power on your remote control.
After that, your TV will restart automatically. If these steps above do not match your TV, you can also navigate to Settings > Support > Self Diagnosis > Reset.
Once done, you can check if the Samsung TV volume problems are resolved.
That's all about how to fix the Samsung TV volume stuck/not working issue. If you have any questions about this topic, please leave them in the comment zone and we will try to answer them as soon as possible.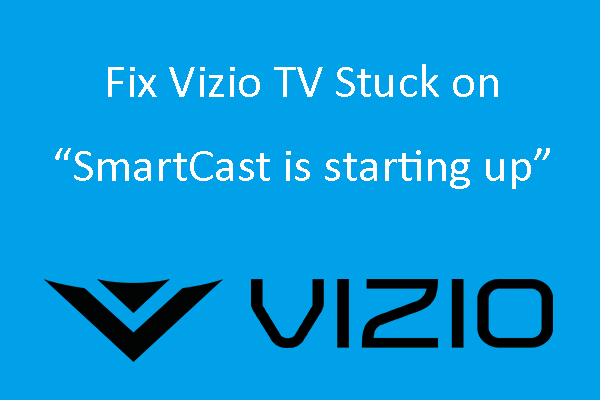 This post shows you how to fix the Vizio TV stuck on SmartCast issue. You can take corresponding measures to solve this problem. Let's check it.