Summary :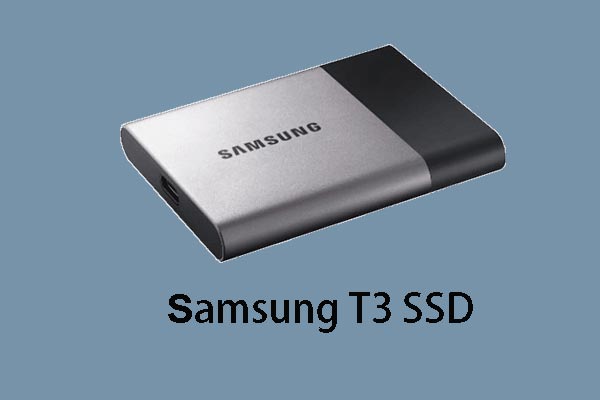 Samsung's new line up solid-state drive, Samsung portable SSD T3 has won much attention among many customers because of its outstanding features. This post introduces some SSD T3 specifications and gives you some tips on using Portable SSD T3.
Basic Information of Samsung Portable SSD T3
At 2016's CES, tons of new electronic products and technologies were introduced, among which Samsung's new line of Solid State Drive, the Portable SSD T3, won much attention due to its outstanding features. Well then, what's new in this portable SSD? Or how can we better use and manage such a kind of portable SSD? After a series of researches, we wrote this post to show some details and hope it useful.
Further reading: CES (Consumer Electronics Show) is a global consumer electronics and consumer technology tradeshow that takes place every January in Las Vegas, Nevada. It attracts lots of major companies and industry professionals worldwide.
Samsung Portable SSD T3 is basically the successor to last year's SSD T1 and uses the same vertical NAND (V-NAND) technology. But on the basis of the T1, Samsung has made several significant upgrades to the T3 by considering the feedback and needs of their customers.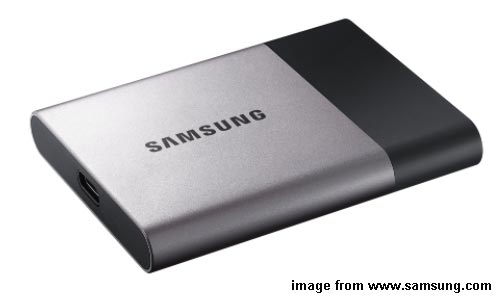 Firstly, the Portable T3 switches to a metal case from the black plastic of T1, which makes the device stronger and more elegant though it is 21g heavier (T3 weighs about 51g while the T1 is 30g).
Secondly, the T3 ships in four capacities, including 250 GB, 500 GB, 1 TB, and the 2TB which isn't provided by the T1.
Thirdly, the Portable SSD T3 is the first portable device that employs a USB 3.1 Type C connection instead of a standard USB B port, which allows it to work with newer portable host devices, such as the latest MacBooks, lots of Android tablets, and smartphones.
In addition, the drive ships with a USB Type-C to Type-A cable in the box, which means it will work with all existing computers.
For detailed specifications or parameters of the portable drive, please see the following chart.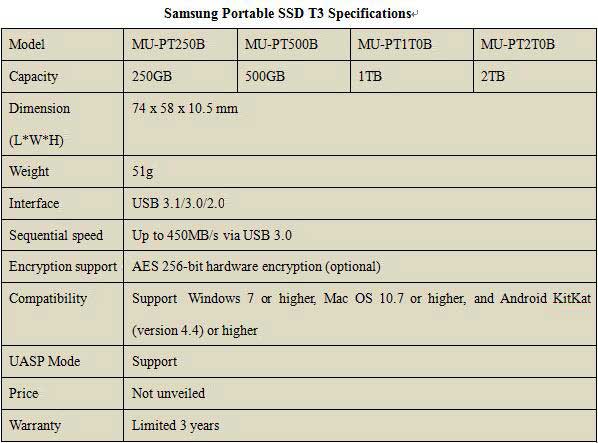 Tip: From the manufacturer, 1KB equals to 1000 bytes rather than 1024 bytes, so a 2TB hard drive just offers 2×1000×1000×1000×1000÷(1024×1024×1024×1024) ≈ 1.8TB capacity.
Then, we will give you some tips on using Portable SSD T3.
5 Useful Tips on Using Samsung Portable SSD T3 or Any Other SSD
Format Partition by Considering Actual Demands
The Portable T3 uses exFAT as its default file system to create a seamless user experience since it is supported by Windows OS, Mac OS X, Android OS, and so on. However, if you do not like using this file system, just reformat it to NTFS or HFS+. However, if data have been saved, you had better back up data so as to avoid data loss. MiniTool ShadowMaker can help you to protect your data and file, so you can download this freeware and just have a try.
Partition Reasonably
It is not a wise choice to use the entire hard disk as one partition, and we list the following disadvantage:
Makes it difficult to save and manage data. For example, we may cost lots of time to locate a specified file from a huge number of files.
Increase risks. Once the partition is attacked by a virus, all files might be lost or damaged.
Only one operating system can be installed.
Degrade overall computer performance. For instance, large SSD with only one NTFS file system typically has a very large sequentially accessed Master File Table (MFT) and it generally takes more time to read this MFT.
Related article: Does Partitioning a Hard Drive Affect Performance? Get Answer!
Therefore, it is very necessary to partition the SSD into multiple partitions, and you can do this during installing system or in Disk Management of Windows and Disk Utility of Mac OS X. In addition, even if data have been saved, you are still able to partition the SSD without losing any information. Here, we take Windows for example:
Open Windows Disk Management (right-click Computer icon, choose Manage, and select Disk Management), right click partition of the SSD, choose Shrink Volume feature, and then decrease partition size by following instructions. After that, just create new partitions in the unallocated space via the New Simple Volume feature.
Prepare a Partition Manager
When using Samsung Portable SSD T3, you may meet different kinds of problems. For example, little free space is left in one partition while other partitions have lots of unused space; the partition saving important files get lost; read-write speed is reduced due to partition misalignment. But fortunately, partition manager can help us solve all these problems with ease. For details of the program, please see Free Partition Manager.
Data Recovery
Data saved on SSD might be lost due to mistaken deletion, accidental formatting, or any other factors. However, as long as you have data recovery software, your lost files could be recovered. Therefore, you can try the Data Recovery feature of MiniTool Partition Wizard. In additon, you can read the post how to recover lost data from hard drives to learn more. 
Make Settings to Get Best Performance of SSD
Though SSD gives us much better performance compared with HDD, we still need to make a series of settings, like enable AHCI mode and TRIM, if we want to get its best performance. You are lucky enough because we have a post to introduce detailed setting steps. Please see How to Get Best Performance from SSD or Optimize SSD Performance to get more.
Then, let's see whether it is worth buying this portable SSD.
5 Reasons for Recommending SSD T3
1. Great Portability
Just as Samsung says, portability is the key element shared among all digital devices today where everything is constantly moving. Therefore, they are dedicated to developing SSDs which are small in size, light in weight, but large in capacity, and high security. Portable T series solid state drives, including Portable SSD T1 and T3, are products seeking for these designing ideas.
The SSD T3 measures just 2.8 x 2.09 x 0.36 inches (74 x 58 x 10.5 mm) and weighs only 51 grams (product weight may vary by capacity), which is much smaller and more light than other SSDs (Samsung 850 EVO 2 TB SSD measures 3.94 x 2.75 x 0.27 inches and weights 63.5g), let alone mechanical hard disks, so that you can easily put a 2TB storage space into your pocket and carry large amounts of data everywhere.
2. Wide Compatibility
From Samsung, we know the SSD T3 can be used on Windows platform, Mac platform, and even Android platform (requires Windows 7 or higher, Mac OS 10.7 or higher, and Android KitKat (version 4.4) or higher). That is to say, it will work on lots of USB supported devices, including Windows PC, Windows Server, iMac, Mac mini, MacBook Air, MacBook Pro, Android tablets, Android smartphones, and so on.
Or in other words, it can be used on almost all existing computers due to its USB-C to USB-A cable as well as a great number of portable devices because of the USB 3.1 Type C connection. In addition, like any other hard drives whose interfaces are backward compatible, Samsung Portable SSD T3's USB 3.1 interface is also compatible with the previous 3.0 and USB 2.0 interface.
Tip: Samsung says they will offer a new companion Android app along with the T3, which brings users great convenience to manage and access content on the go. But disappointingly so far Samsung hasn't given more details of this program.
3. High Security
Here, we talk about security from 2 aspects:
Firstly, Samsung Portable SSD T3 is with a shock-resistant metal case (rather than a traditional plastic case) and an internal frame, which makes the drive stronger. Specifically speaking, the T3 can withstand up to 1500G of force and will survive a drop of up to two meters. In addition, the drive's integrated Thermal Guard prevents overheating in extreme temperatures.
Secondly, it is outfitted with optional AES 256-bit hardware encryption that gives perfect protection to data but doesn't bring any effect on performance. Even if the drive is lost or stolen, data stored on it would be inaccessible as long as the AES encryption is enabled in advance. Of course, this feature is optional so that you can choose to enable or disable it, depending on your own demands.
4. Fast Speed
With a USB 3.1 connection (compatible with USB 2.0 and 3.0), its promised read-write speeds can reach up to 450MB per second, approximately 4X faster than traditional alternative external HDD.
Tip: Performance may vary depending on host configuration. Nevertheless, to get the best speed, you'll need to enable both USB 3.1 connection and UASP mode.
USB 3.1 is a new generation of the USB specification, which was firstly released on 31 July 2013 and introduces a faster transfer mode called SuperSpeed USB 10 Gbit/s. In 2015, USB 3.1 was renamed USB 3.1 Gen2 to differentiate it from USB 3.1 Gen1 (5Gbps, formerly USB 3.0).
UASP, USB Attached SCSCI Port, is an advanced transfer protocol that can significantly improve device performance, but it requires hardware supports. Therefore, please check with your manufacturer or vendor to see whether the capability is included on your own hardware.
5. More Capacities for Choosing
Unlike many other solid state drives that just offer one or 2 capacities, the SSD T3 ships with 4 capacities, including 250GB, 500GB, 1TB, and 2TB, so that users can choose the needed one by considering their actual demands, thus saving much money with enjoying its amazing features. After all, SSDs are always expensive.
In summary, if you are having requirements on portability, security, compatibility, or speed, Samsung Portable SSD T3 might be a good choice. However, if you are much caring about costs instead of those 4 features or requires large capacity, the drive is not recommended.
2 Reasons for not Recommending Samsung Portable SSD T3
Much More Expensive per GB
Compared with mechanical hard disk (HDD), SSD is always much expensive per GB. For example, a 2TB Seagate HDD is sold about $80 on Amazon, while a 2TB Samsung Portable SSD T3 might be sold about $700 (So far Samsung hasn't unveiled the price of T3, but we can make an estimation by considering the price of 1TB Portable SSD T1, which should be purchased for $380 or more).
Compared with other SSDs, the T3 series are also a lit bit expensive. For example, the Samsung 850 EVO 1 TB SSD is now sold with $345 while the 1TB SSD T3 is sold with $379 on Amazon.
Think about it: if you do not care much about portability, speed, or security, are you willing to buy such an expensive hard drive? Of course not, right?
Small in Storage Space Compared with HDD
The largest SSD among Samsung Portable SSD T3 series is the 2TB model, but searching on the internet, we will find that HDDs are always huge in capacity, and 5TB, 6TB, and 8TB HDDs are commonly seen. If you need to do large-capacity storage (more than 2TB), the T3 is also not recommended.
Choose it depending on your own situation. If you still have doubts or any other problems, please feel free to leave comments below. In addition, if you think this is a useful post, please share it with others.
Bottom Line
In this post, we have introduced some SSD T3 specifications and also gave some tips on using Portable T3 SSD. And here, if there is a need, you can try MiniTool Partition Wizard to manage the Samsung Portable SSD T3.
And if you have any problem with MiniTool programs, please contact us via the email [email protected].
Samsung Portable SSD T3 FAQ
What is Samsung Portable SSD T5?
The
Samsung Portable SSD T5
improves the data transfer speeds to the next level and gives users a new experience. The Samsung Portable SSD t5 comes with a compact and durable design. It has the password protection. The Samsung Portable SSD t5 is able to carry and store data security.
What is Samsung Portable SSD?
Samsung Portable SSD is a kind of portable drive which is larger than a Thumbdrive. But it has larger storage capacity. The portable SSD is convenient to carry out. The Samsung Portable SSD also enables you to encrypt data.
How do I eject my Samsung T5?
Right-click the Samsung T5 icon from the taskbar and choose Safely Remove Hardware and Eject Media. Then choose to eject the Samsung T5 SSD.
What's the difference between Samsung T3 and T5?
Compared with Samsung T3, the Samsung T5 SSD enjoys larger storage size. Samsung T5 SSD also delivers fast transfer speed. Unlike the Samsung T3 SSD, the T5 features an all-aluminum unibody with a solid color throughout the unit and black caps on each edge.