Samsung released the two Samsung 850 Pro 2TB SSD and Samsung SSD 850 Evo 2TB. This post gives you a complete guide to the Samsung 850 Pro and Evo 2TB SSD. Read this post to get more information about these two Samsung SSDs.
Brief Introduction to Samsung 850 Pro and Evo 2TB SSD
Samsung HDD released the world's thinnest 4TB portable drive, namely Samsung M3 4TB Portable Drive and Samsung P3 4TB Portable Drive. These two 2TB Samsung 850 Pro and Evo 2TB SSDs were released. It cannot be denied that Samsung is now the leader in advanced memory technology all over the world and also the most productive hard drive manufacturer.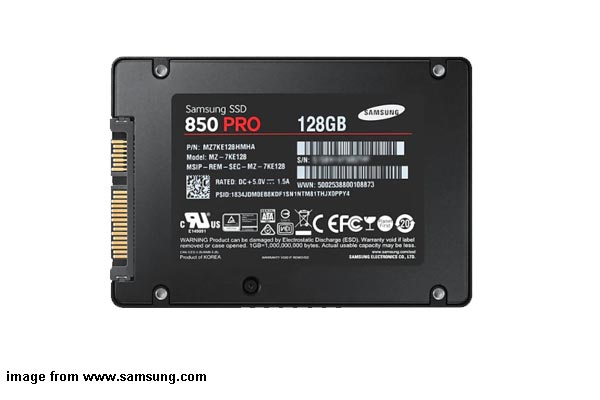 In early days, SSDs were always small in capacity, generally 32GB or 64GB, and even today massive storage SSD is rare especially for ordinary consumers. But recently Samsung released the largest consumer solid-state drives, namely 850 Pro 2TB SSD and 850 Evo 2TB SSD, which is a big breakthrough in this area.
Tip: Here we just talk about consumer SSD but not enterprise SSD.
Samsung has announced three TCO-optimized and high-performance SSDs including PM1633, PM1725 and PM953 adding to its portfolio of advanced enterprise and data center SSDs, and the largest capacity can be 3.84TB, 6.4TB, and 1.92TB. Well then, how can Samsung produce such large-capacity solid state drives? It is due to the use of 3D V-NAND technology, which will be introduced in the following content.
Samsung 850 Pro and Evo 2TB SSD Specifications
For the detailed specifications of these two Samsung 850 Pro and Evo SSDs, you can refer to the following table.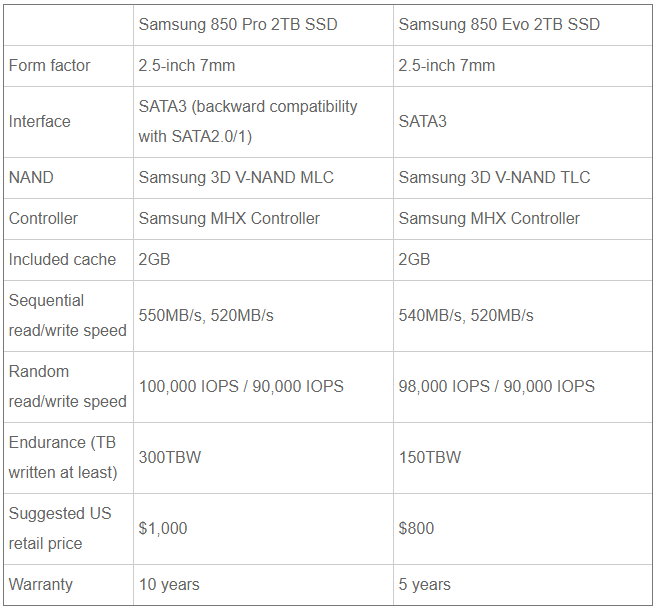 From the above specs you know both the Pro and Evo are 2.5-inch solid state drives and employ SATA3 interface whose transfer rate reaches to 6Gbps. Well, how fast is 6Gbps? It is about 750MB/s, but in fact this is just a theoretical value, and the actual speed would be slower due to different kinds of restrictions.
In addition, they employ the same controller as well as offer the same cache. Of course, there are many different specifications apart from similarities, including sequential read/write speed, random read/write speed, endurance, price, and warranty. Next, let's analyze some of these specifications in detail.
3D V-NAND Technology, Controller, and Cache in Samsung 850 Pro and Evo 2TB SSD
After taking apart the SSD, we can see eight chips which are required to reach the 2TB capacity (4 chips each side of the PCB). That is to say, capacity of every chip reaches to 256GB.

Why each chip is so large in capacity? It is owed to the use of 3-dimensional vertical flash memory technology, namely 3D V-NAND. Compared with traditional 2D planar setup which puts all memory cells horizontally, 3D V-NAND technology stacks cells vertically up to 32 layers, which makes it possible to add more memory cells in the same number of wafer bits, thus increasing capacity and lowering costs.
However, the 3D V-NAND technology used by 850 Pro is a little different from that used on the 850 Evo. To be specific, 850 Pro makes use of Samsung 3D V-NAND MLC while the Evo employs Samsung 3D V-NAND TLC.
MLC is short for Multi-Level Cell while the full name of TLC is Triple Level Cell. The former enjoys up to 10,000 program/erase cycles per cell while the latter just provides about 5,000 cycles. Compared with MLC, TLC has slower read and write speeds and lower endurance limit or shorter lifespan.
All these explain why Samsung 850 Pro 2TB SSD is more expensive than 850 Evo 2TB SSD. Now that the former is more expensive, naturally Samsung gives much longer warranty to it. In addition to the 3D V-NAND technology, there are 2 big changes in Samsung 850 Pro and Evo 2TB SSD: one is the new controller, and the other is the high-speed DRAM.
The controller used on Samsung 850 Pro and Evo 2TB SSD is different from those employed on other models of Samsung 850 SSDs. Here we take the Samsung 850 Pro for example. The 128GB, 256GB, 512GB, and 1TB 850 SSDs use Samsung MEX controller, while the 2TB SSD makes use of the new MHX controller.
The former controller has a triple-core Cortex R4 processor, which is just like the SSD 840 Pro's MDX except that the frequency of its three cores has been increased from 300MHz to 400MHz. But for the new controller MHX, so far Samsung hasn't given any more detailed information, and we just know it is based on ARM architecture and also has 3 cores. Well then, why Samsung gives up MEX but employs MHX on 2TB SSD drives? Samsung says it is introduced because the original MEX controller isn't designed for capacities above 1TB.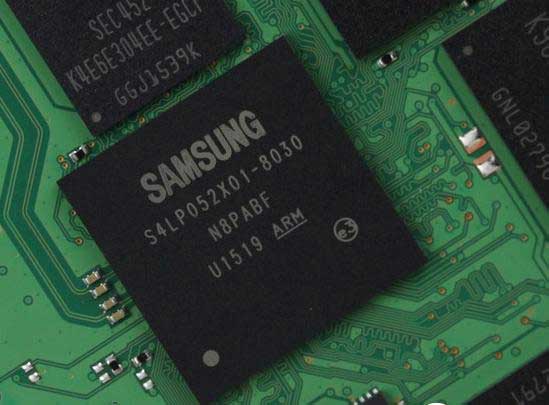 Apart from controller, Samsung 850 Pro and Evo 2TB SSD drives have made great improvement on cache support. Nowadays, NAND mapping table designs tend to require about 1MB of DRAM per 1GB of NAND for optimal performance, so a 2TB SSD requires DRAM controller capable of supporting 2GB of DRAM. Therefore, Samsung employs the 2 GB LPDDR3 for their 2TB solid state drive, which can quicken data access speed and boost SSD service time to a large extent.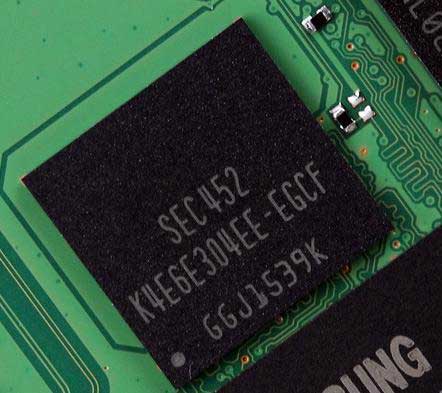 After getting to know these improvements, let's see how fast these 2 SSD drives are.
Read/write Speed Test on Samsung 850 Pro and Evo 2TB SSD
Firstly, we tested Samsung 850 Pro 2TB SSD on AS SSD Benchmark, which is a standard testing program specially designed for solid state drive. And our testing results are shown in 2 forms: one is in MB/s, and the other is in IOPS.
Tip:
To test the performance of these two Samsung 2TB SSD, you can also use the
Disk Benchmark
feature of MiniTool Partition Wizard.
MiniTool Partition Wizard FreeClick to Download100%Clean & Safe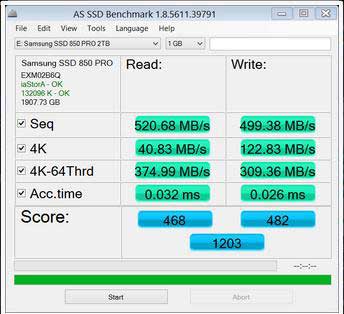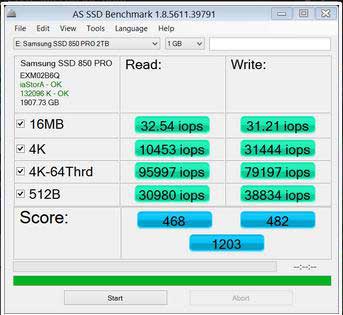 From the test we know sequential read and write speeds of the 850 Pro are 520.68MB/s and 499.38MB/s respectively, which are slower than boasted (in the Specification part, we have said sequential read and write speeds of Samsung 850 Pro 2TB SSD are 550MB/s and 520MB/s). And the IOPS read/write speeds are also reduced. Generally, the speed reduction could be affected by hardware restrictions, quality of testing programs, or other factors.
However, though there is much reduction, these values are much higher than those of similar products. For example, its 4K-64 Thrd read speed reaches to 95997IOPS, and the write speed is 79197IOPS, which are rarely seen.
Then, we tested the 850 Evo 2TB SSD also on the AS SSD Benchmark, getting the following results: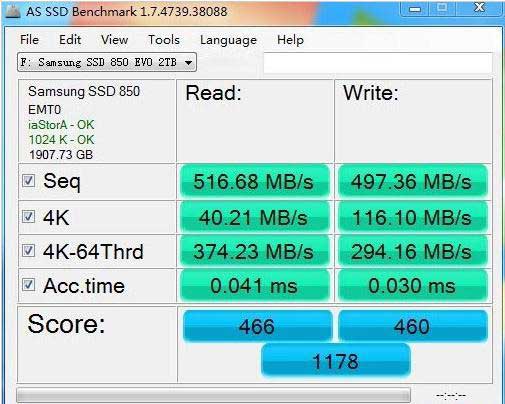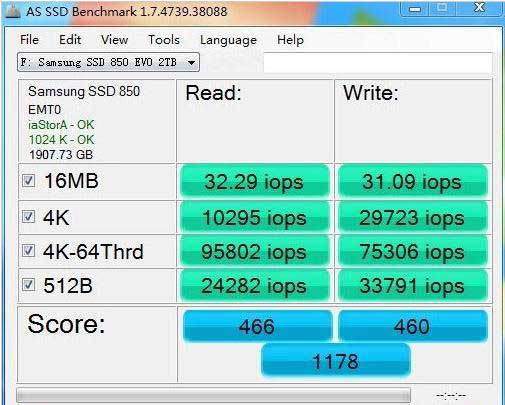 Sequential read and write speeds of the 850 Evo 2TB SSD are 516.68MB/s and 497.36MB/s, which are just several MB slower than those of the 850 Pro. And there is also slight reduction in other speeds, like 4k speed and 4k-64Trd speed. To some extent, the 850 Evo 2TB SSD can be matched with the 850 Pro SSD in read-write speed.
Next, we tested both the Pro and Evo on CrystalDiskMark, which is an easy to use but professional disk testing app and provides users with all-sided testing items, including consequential read/write speed, 512K read/write performance, 4K data packet read/write speed, and random performance under 32 Queue Depth.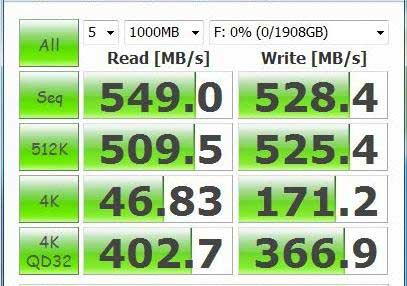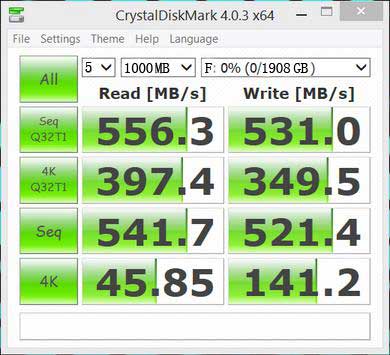 From the tests on CrystalDiskMark we know sequential read/write speeds of the 850 Pro reach to 549MB/s and 528.4MB/s, and 4K read speed is 46.83MB/s while write speed is 171.2MB/s. And the speeds of the 850 Evo are slightly slower than those of the 850 Pro. Though these are not ultimate speeds but quite rare in SATA3 products.
To summary, since Samsung 850 Evo 2TB SSD has nearly the same read-write speed (just several MB slower) as Samsung 850 Pro 2TB SSD, for me, I'd like to buy the Evo. After all, the Evo is $200 cheaper than the Pro. However, if you consider endurance and warranty, 850 Pro would be a good choice.
However, SSD read-write performance can be affected by lots of factors, among which 4K misalignment is the most serious one. If partitions on SSD are misaligned, read-write performance will be heavily reduced. And we even can say SSD with unaligned partitions functions just like a mechanical hard disk. For more details, please see Partition Align. Therefore, to align SSD partitions regularly is a necessity for all SSD users.
In Windows Vista and later released Windows OS, newly created partitions will be aligned automatically, but after doing operations like resize partition and move partition location, the originally aligned partition may be unaligned. In addition, if users clone partitions to SSD, these cloned partitions are always misaligned. Under these situations, users had better employ a third-party partitioning tool to align partitions since Windows built-in programs cannot do it without data loss (users have to recreate partition), and next we recommend a freeware.
MiniTool Partitioning Solutions to Samsung 850 Pro and Evo 2TB SSD
To manage the Samsung 850 Pro and Evo Pro SSD, the professional partition manager – MiniTool Partition Wizard is strongly recommended. It is designed to optimize the partition and disk use without data loss.
For example, it can help you to repair partition, check partition for errors, extend partition, fix MBR and so on.
So, if you want to upgrade your system to the larger HDD or SSD, such as the Samsung 850 Pro and Evo 2TB SSD, MiniTool Partition Wizard can help you, too.
Therefore, get MiniTool Partition Wizard free immediately.
MiniTool Partition Wizard FreeClick to Download100%Clean & Safe
And we will show you how to clone hard drive to the Samsung SSD.
Step 1: Start Disk Cloning Proces
Connect the Samsung 850 Pro SSD to your computer.
Launch MiniTool Partition Wizard.
Select the disk you want to clone and choose Copy from the context menu.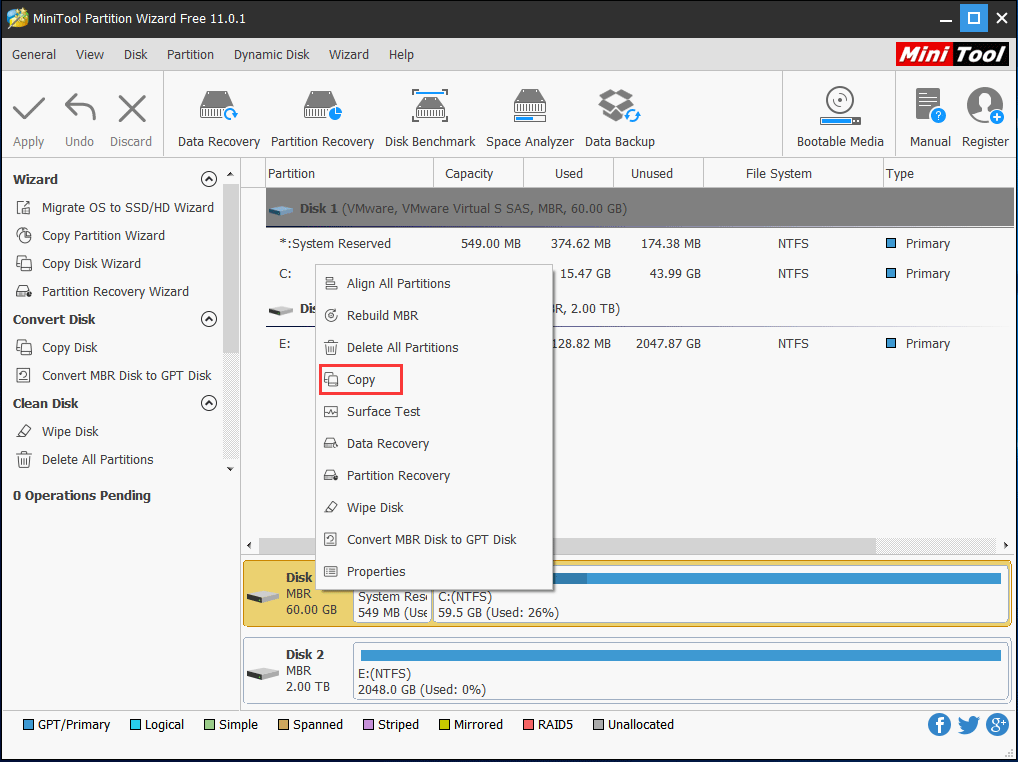 Step 2: Select the Target Disk
Select the target disk.
Click Next to continue.
All data on the target disk will be destroyed and click Yes to continue. If there are important files, please back up them in advance.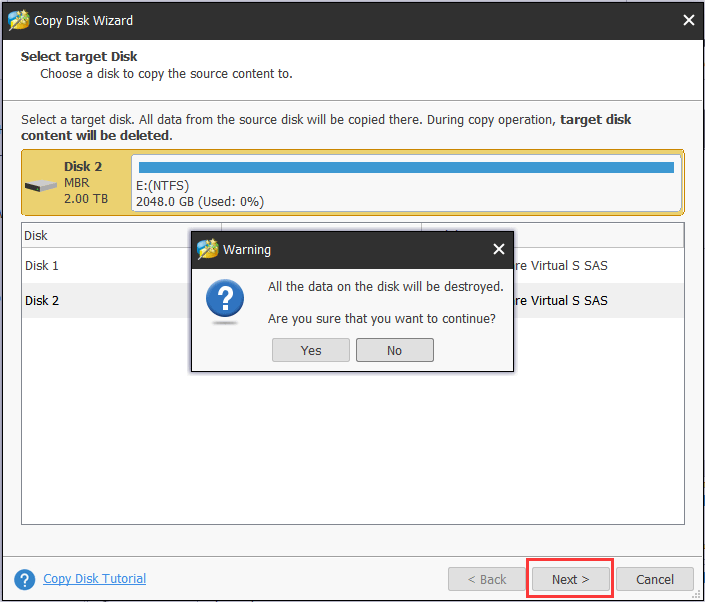 Step 3: Select Copy Options
Select a copy option.
To improve the performance of SSD, the option Align partitions to 1MB should be checked.
(Professional Edition only) To clone your system disk to the SSD with GPT partition style, check the Use GUID Partition Table for the target disk option.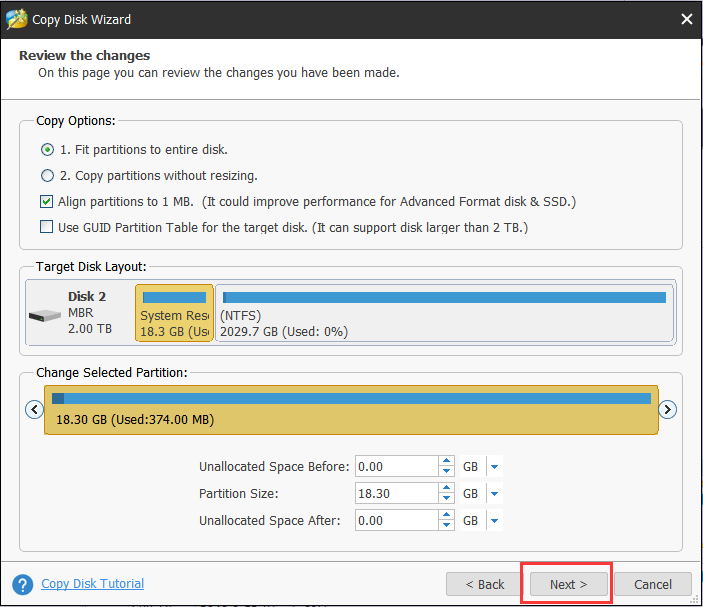 Step 4: Boot from the Target Disk
In order to boot the computer from the target disk, please change the BIOS settings.
Click Finish to continue.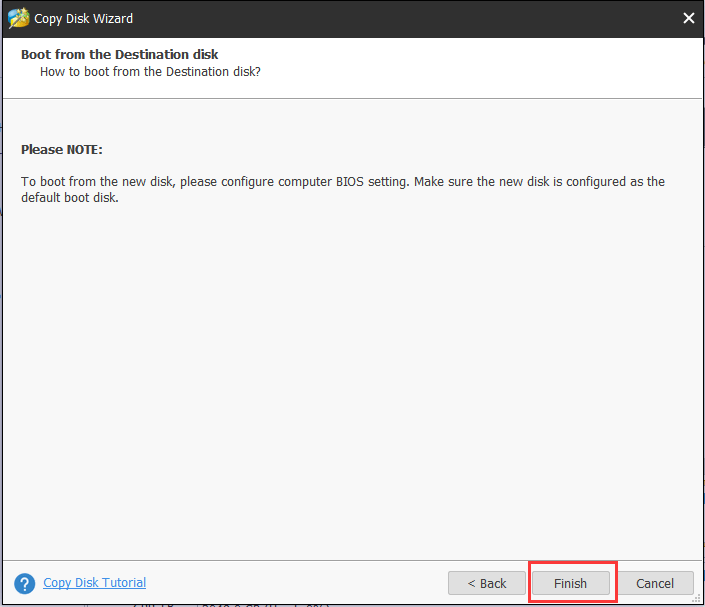 Step 5: Start Disk Cloning Process
Preview the changes.
Click Apply to confirm the changes.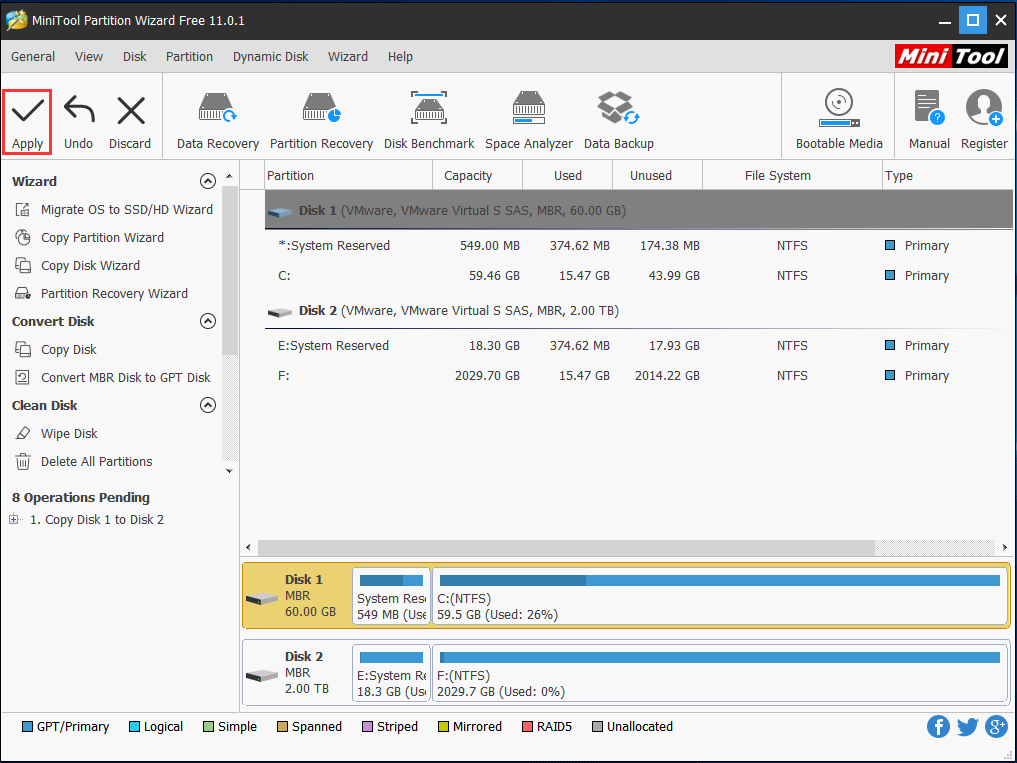 When all steps are finished, you also have finished the disk clone. In addition, the Migrate OS to SSD feature can also help you to clone the system disk to SSD. You can have a try. Of course, MiniTool Partition Wizard has many powerful features to help you manage Samsung 850 Pro and Evo 2TB SSD.
MiniTool Partition Wizard FreeClick to Download100%Clean & Safe
Related article: 2 Reliable and Powerful MiniTool SSD Cloning Software (No Data Loss)
MiniTool Partition Wizard is a powerful disk cloning tool that can help me to clone hard drive to SSD without data loss within just a few steps.Click to Tweet
Bottom Line
In conclusion, this post has given you a complete introduction of the Samsung 850 Pro and Evo 2TB SSD and also has introduced the partition magic – MiniTool Partition Wizard to help you manage the SSD and HDD.
And if you have problem of MiniTool Partition Wizard, please feel free to contact us via the email [email protected].