Real PS5 Dev Kit Photos Leak
The internet has been speculating for months over the weirdly V-shaped PlayStation 5 prototype seen in patent documents and industrial designs purportedly linked back to Sony. Now, the actual photos of the PS5 dev kit have appeared online.
Not long ago, Twitter user @Alcoholikaust posted an image showing two of the dev kits side by side along with the fitting caption, "PS5 anyone?"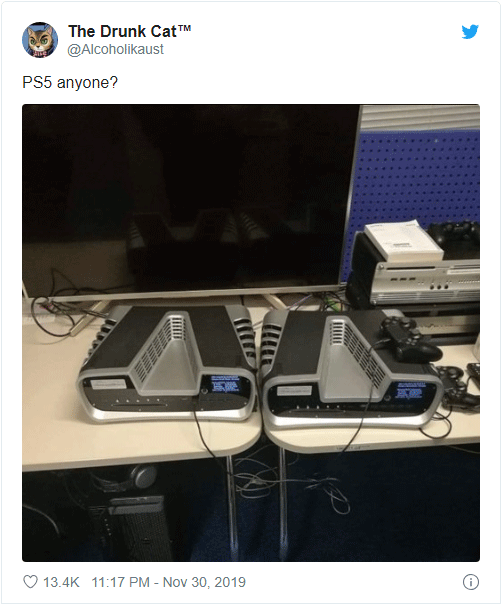 Since these photos look exactly like the originally leaked patent and the CGI renders based on it by LetsGoDigital, there no longer seems any doubt as to what they are. Later, the Verge's Tom Warren commented on Twitter to verify that these devices are the PS5 dev kits the internet has obsessed over since now-confirmed design illustrations.
What about PS5
The dev kit is the version of a console sent to developers so they can make games for it. However, before the standard retail version is released, it often looks quite different from the consumer version.
There are a lot of air vents on that big V-shaped indent on the top. These extra vents may be used to avoid noise when running graphically intensive games (the PlayStation 4 has ever been heavily criticized for the amount of noise it makes).
In addition, Verge senior editor Tom Warren suggested that this odd cut-out makes stacking easier when developers need to push multiple machines through different stress tests. What's more, the V shape helps to optimize cooling.
There are also some folks suggesting that the DualShock controller pictured in this new image could be the updated DualShock 5 (it does look an awful lot like the one shown in a leaked Sony patent), but that remains unconfirmed at the moment.
Back in April the folks at Wired got up in close with one of these devkits as part of an interview with Sony's Mark Cerny. According to Cerny, the PlayStation 5 will boast a new CPU and GPU, 3D audio, backward compatibility, and a solid state drive that boosts rendering and loading speeds to keep up with the demands of next-generation graphics.
You may be also interested in this post:
A demonstration showed that the PS5 prototype purportedly took less than one second to load a section of Spider-Man while the PS4 Pro took around 15 seconds to do it. Apparently, PS5 leaves its predecessor in the dust.
In addition, a tipster, claiming to be working on a title for both Sony and Microsoft's upcoming systems previously, told that this prototype went out earlier this year under the codename "Prospero," though developers have had their hands on other iterations as far back as 2018.
This prototype came with cameras included, which indicated that this new system may come with built-in support for the kind of video game streaming popularized by the likes of platforms like Twitch, Mixer, and YouTube.
However, Sony hasn't commented on the existence of any such feature, and Microsoft denied similar claims concerning prototypes for its next-generation console, Project Scarlett.