What are the ports located right at the front of your PS4? They are USB ports. How to use them? Generally, you can use it to expand your PS4 storage space. To learn more about the PS4 USB ports, you can read the post. By the way, if you want to monitor your PS4 hard drive health, you can try MiniTool Partition Wizard, the Surface Test feature of which is free.
What Are PS4 USB Ports?
Like PS2 and PS3, PS4 also comes with two ports. The two ports are USB ports and they are located right at the front of the console. Scroll down to learn more details about the two USB ports including transfer speed.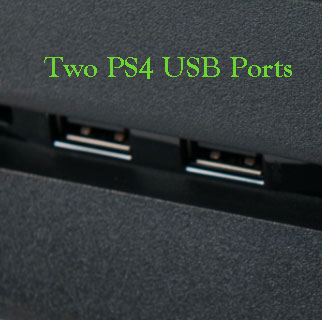 PS4 USB ports transfer speed:
The USB ports on standard PS4 and PS4 Pro are USB 3.0 and USB 3.1 ports respectively. The PS4 USB 3.0 supports transfer rates up to 5GBps. which makes data transfer from an external device to PS4 super-fast. The PS4 Pro USB 3.1 supports a higher transfer rate—the transfer rate is up to 10GBps.
Other features:
The PS4 USB ports are bi-directional. This means that you can download files from your PS4 and upload files to your PS4 at the same time.
Moreover, the PS4 USB ports are power-saving as they put unused devices connected to your PS4 to sleep mode.
How to Use PS4 USB Ports?
Thanks to the USB ports on your PS4, the console can work with the following USB devices:
Controller: Generally, the controller uses one USB ports on the console. You can also connect the controller wirelessly.
How to connect a wired or wireless controller to your console? You can find tutorials form the post.
Keyboard and mouse: Using the PS4 controller can be cumbersome when you type or browse the web. In this case, using a keyboard and a mouse with your console can help you get rid of the cumbersome.
The keyboard setup process is quite easy: go to Settings > Devices > External Keyboard.
USB hub: Plenty of PS4 users feel that the two USB ports on PS4 are not enough. In this case, you can utilize a USB hub to get additional USB ports. But, note that some USB devices like PlayStation VR may fail to work via the USB hub.
PS4 accessories: You can add some devices (like a headset, PlayStation VR, etc.) to improve your gameplay experience on your PS4 (you might be interested in PS4 runs slow).
External hard drive: As we know, PS4 comes with limited storage space. How to expand your PS4 storage space? You can choose to connect an external hard drive to it or upgrade its internal hard drive to a larger one.
Do You Have Other Questions About PS4 USB Ports?
This post comes to an end. Is there anything unclear in this post? Do you have other questions about the PS4 USB ports? If so, please leave them in the following comment zone and we will reply to you as soon as possible.