The following content will introduce you in details on how to solve PS4 error su-30625-6. There are four methods: troubleshoot, update in settings, update manually and initialize. For more essential PS4 setup tips and tricks, feel free to visit MiniTool Partition Wizard.
Nowadays, nearly all people play games in their leisure time. For those who play games frequently or for professional gamers, many of them own professional game equipment, like PlayStation (PS), Nintendo Switch, Microsoft Xbox, etc.
For the PlayStation version 4 (PS4), not a few users have encountered PS4 error su-30625-6 while updating the system software. If you are prompted with PS4 error code SU-30625-6, it means that the update file isn't recognized by PlayStation 4. So, the update fails.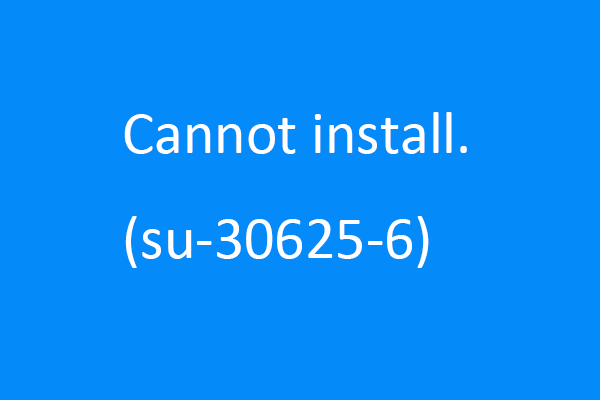 If you come across ps4 error code su-30625-6, you can easily fix it with one of the following solutions.
Solution 1 – Troubleshoot PS4 Update Error Su-30625-6
If you are connected to PSN but can't access the home screen, follow below guide to solve your problem.
Step 1. Hold the power button to completely shut down Play Station 4.
Step 2. Boot PS4 in Safe Mode when the system light is off. Basically, hold the power button until you hear the second beep.
Step 3. Then, connect DUALSHOCK 4 (DS4) to USB cable. On the controller, press PS button.
Step 4. Choose Safe Mode option 3 Update System Software and then select Update Using Internet.
Wait for the success of system updating. Sometimes, to ensure the network connection isn't disrupted, you can directly connect PS4 to router by Ethernet cable.
Solution 2 – Update System Software in Settings
If you can reach PS4 home screen with PSN connected, you should obey this method to fix system software update failure.
Step 1. In Notifications, press Options – Delete to delete all existing update files.
Step 2. Switch to Settings, and select System Software Update. 
Step 3. Follow the instructions to complete PS4 system software update.
Solution 3 – Manually Update PS4 System
This solution applies to situations like PS4 system has been offline for a long time or system update has failed PS4 error su-30625-6. To manually update Play Station system firmware, you should first of all prepare the following things:
Computer with network connected.
USB cable as well as DS4 controller.
USB storage device with FAT32 file system and with at least 460 MB free space available, such as USB flash drive.
Step 1. Plug the USB device into the computer and create a folder named PS4 on the USB root path. Then, further create an UPDATE folder in the PS4 folder.
Step 2. Download the system update file and store it in the UPDATE folder. Note that to Save the update file with name PS4UPDATE.PUP.
Step 3. Access system Safe Mode according to the steps in Solution 1.
Step 4. In Safe Mode, select Update System Software.
Step 5. Next, choose Update from USB Storage Device. Finally, select OK.
Usually, the PS system will automatically detect the update file in the USB. If it doesn't, check whether the created folder name and saved update file name are correct or not. They should exactly match the names in the first two steps, including word case.
Solution 4 – Initialize PS4 System Software
If above manual system update still fails, you can rely on initializing system of PS4.
Note: Initialize functions the same as factory reset or hard reset. It will delete all user data and return system back to its original state (reinstall the PS4 firmware). Therefore, for security, you are recommended to back up your data to a hard disk or online storage before initialization. 
Situation 1: You Can Reach Home Screen
Step 1. Go to Settings and select Initialization.
Step 2. Further choose Initialize PS4.
Step 3. Follow the guidance and finish initializing.
Situation 2: You Can Only Reach System Safe Mode
Step 1. Access Safe Mode with the instruction in Solution 1.
Step 2. Select the option 6 Initialize PS4.
Step 3. Follow on-screen guide to finish initialization.
Tip: You can select safe mode option 7 Initialize PS4 (PS4 Reinstall System Software) instead of the sixth option on step 2 of both situations above depending on your own choice.
Wonderful! This post gathers all the solutions for PS4 error su-30625-6. No matter what your situation is, you can always find a fix here!Click to Tweet
The Bottom Line
Above are all common fixes to PlayStation error su-30625-6. Almost all game players can solve their issues with at least one of those solutions. And, just a few users fixed their errors with other ways such as rebuild database. Anyway, hope all of you can successfully restore to normal activity on PS4!