Do you know that Sony provides some free PS4 and PS5 games for PS Plus members every month? What PS Plus free games can you get in 2022? Read this post from the MiniTool Partition Wizard for more information.
PS Plus, short for PlayStation Plus, is an ongoing subscription provided by Sony. It is quite popular among PlayStation 4 and PlayStation 5 lovers.
This subscription has three membership plans with tiered pricing and features like free PS Plus games, online multiplayer, exclusive discounts, 100 GB of Cloud storage, and so on. Every plan includes monthly free PS Plus games. To know more about PS Plus free games, just keep reading.
PS Plus Free Games FAQ
If you subscribe to PS Plus recently, you might be confused about how it works. Here are some common questions and answers that might help you.
How Many PS Plus Free Games Can I Get monthly?
Sony provides at least 3 PS Plus free games every month. Can you play them all for free? The answer is negative. You are allowed to download up to two games for free every month.
By the way, PS5 games are only available on PS5 consoles, while PS4 games can be played on both PS4 and PS5 consoles.
Can I Play Free PS Plus Games from Previous Months?
Unfortunately, the answer is NO. You should know that the monthly free games are only available for free for a limited time. If you didn't put them in your cart and "bought" them while they were free, you need to pay or wait until they are free again to play them.
If you don't want to download the PS Plus free game immediately, you can just go to the PlayStation Store and "purchase" it when it is free. Then you can download the game for free in your library when you want to play it as long as you are still a PS Plus membership.
PS Plus Free Games in May 2022
In May 2022, there are 3 free PS Plus free games:
Curse of the Dead Gods (PS4 only): This game was released in Feb 2021. It sells at $19.99 on PlayStation Store, but in May 2022, you can get this game for free if you have joined PS Plus.
FIFA 22 (PS5 & PS4): This is an official football simulation video game published by EA Sports. It is wonderful for football lovers. Its Standard Edition is $59.99 on PS4 and $69.99 on PS5. If you are a PS Plus user, you can save a lot of money this month!
Tribes of Midgard (PS5 & PS4): In this game, you will play the role of a Viking living in a village. You can explore the world to create new weapons and protect your village from the grim shadows. It is $19.99 for common players.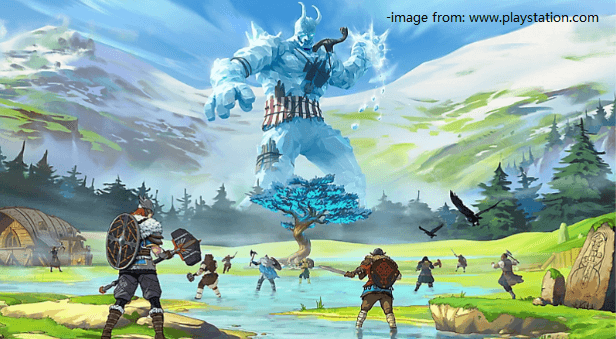 If you don't want to miss these free games, go to PlayStation Store and add them to your library immediately! It's almost the end of May.
What Are the Free PS Plus Games Next Month (June 2022)
Usually, Sony will announce new PS Plus free games on the last Wednesday of the month. And they will be available free on the first Tuesday of the following month.
If you have checked the official website of PlayStation, you may find that it didn't happen this Wednesday (May 25) unfortunately.
The next Wednesday is Jun 1. So, it seems that the new PS Plus free games in June will be announced on the first Wednesday in June, and they will be available for free on the second Tuesday (June 7).
There are predictions about PS Plus free games 2022 June:
Sniper Ghost Warrior Contracts 2 (PS5 & PS4)
Rust: Console Edition (PS4 only)
Spiritfarer (PS4 only)
Let's wait for the official news that will be announced next week.