MiniTool Partition Wizard Pro Edition is widely used all over the world. However, it is a truth that many of you are using Partition Wizard Pro full version crack. Is it a wise choice? Of course, the answer is no. Now, please see this post to know what a MiniTool Partition Wizard Pro full edition can do for you.
Obviously, some of you have already experienced the super functions of MiniTool Partition Wizard Pro. It is one of the best partition managers, which can be used to manage both basic disk and dynamic disk with one solution.
With MiniTool Partition Wizard Pro, you can make disk conversion without data loss, change cluster size manually, do hard disks repartition quickly, perform partition recovery easily, etc. Due to its powerful functions, MiniTool Partition Wizard Pro is widely used all over the world today.
In this case, someone crack Partition Wizard Pro and upload them to website. Yes, they're free. But we need to remind you that they're not safe.
Potential Risks of Using Partition Wizard Pro Cracked Version
MiniTool Partition Wizard Professional Edition has been updated to Version. When you type MiniTool Partition Wizard Pro in Google search box, it will list some other words like MiniTool Partition Wizard Pro full version crack, or MiniTool Partition Wizard Pro Serial, which will lead you to download some pieces of MiniTool Partition Wizard Pro cracked versions.
Yes, you choose MiniTool Partition Wizard Pro to manage your disk partitions in a safe, fast and effective way. But the cracked versions can't give you this promise.
Let's see the DISADVANTAGES of MiniTool Partition Wizard Pro full version cracks:
Illegal modification to software may cause software crash.
No official and technical supports from MiniTool Software Ltd..
No official updates.
Malware and viruses are big threats to your computer operation and personal information.
In fact, you can see the feedback messages in the cracked software download page like this: "it can't work", or "my computer got virus". The disadvantages appear.
Since you want to improve your computer performance by using Partition Wizard Pro, it's really a bad idea to apply the cracked version with the risk of the above disadvantages.
What Can Partition Wizard Pro Do for You
MiniTool Partition Wizard Pro covers every free edition function, and adds some advanced technologies to satisfy your various needs.
However, unlike MiniTool Partition Wizard Free Edition, it can assist you to manage the dynamic disk partitions like moving/resizing dynamic volume, or creating/deleting/formatting dynamic volume. Conversion from dynamic disk to basic disk without data loss is feasible in it. With the help of MiniTool Partition Wizard Pro, you also can change cluster size without data loss manually, and merge partition.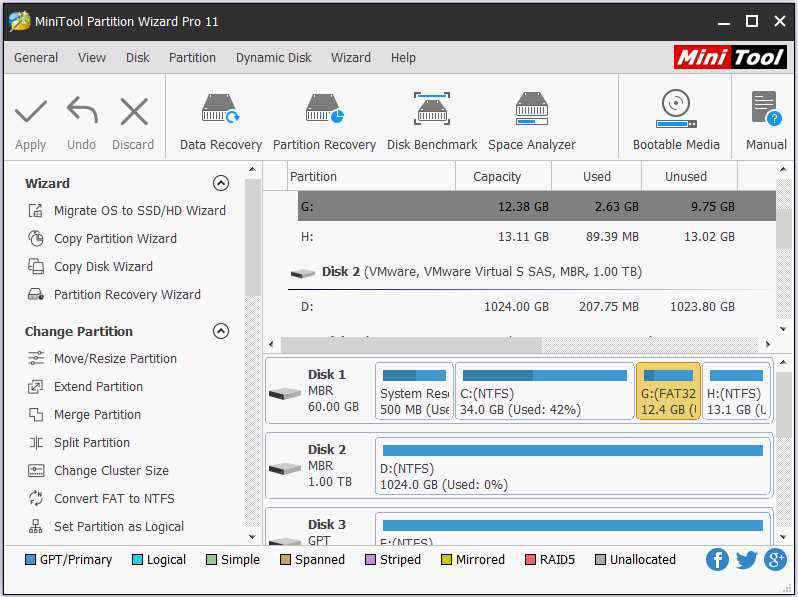 Besides, MiniTool Partition Wizard provides 24*7 technician supports for you. If you are licensed customers and registered users, you have higher priority than free edition users.
MiniTool Partition Wizard Pro is a piece of paid-software, which has two kinds of licenses:
The Pro Edition which can be used on only 1 computer with 1-year upgrade service & free lifetime upgrade services to choose.
The Pro Ultimate Edition which can be registered on 3 computers at the same time & offers free lifetime upgrade service. 
You can just choose one according to your actual situation.
Additionally, this software also has other kinds of editions for you to choose, like Server Edition, Enterprise Edition, and Technician Edition. Thus, we strongly suggest you to visit MiniTool Partition Wizard website and select the proper edition to use.
MiniTool Partition Wizard gives you a promise that every single software you download and purchase from the official website is 100% virus-free and spyware-free. Please buy genuine edition to protect your rights, interests and personal privacy.
Should you have any question when you are using this software, you can just contact us via [email protected], or let us know in the comment.