About High Ping Overwatch
Overwatch is one of the most popular games in the world. Recently, many players complain that they are bothered by high ping in Overwatch.
Ping is a measure of your connection speed, and it is usually used to describe the latency of the connection.
Lower ping is considered to be better. For example, if you have a ping below 20ms, you will have a great experience in your game. However, if the ping of your game is over 150ms, you will definitely encounter noticeable lag issue. Even if you have a gaming PC with high performance, you might take a lot longer to perform the operations than others if you get a high ping.
Why is the ping so high in Overwatch? When you get high ping in Overwatch, it indicates that there is something wrong with your network connection. You can get some solutions in the following contents.
Solution 1: Restart Your Network
If you are bothered by Overwatch high ping, the first thing you should try is to reconnect your network, or restart your modem (and your wireless router, if it's a separate device). You just need to unplug your modem from power, wait for 60 seconds and then plug in the modem again.
Then you can relaunch Overwatch and check if the ping gets lower.
Solution 2: Close Other Bandwidth Hogging Applications
If you're running too many applications which require internet connection, you might get high ping in Overwatch. To solve the problem, you need to close the unnecessary programs.
Step 1: Press Ctrl + Shift + Esc to open Task Manager.
Step 2: Under Processes tab, right-click an app and select End task to close it. Repeat the operation to terminate all the apps which takes up the bandwidth.
Step 3: Exit Task Manager and restart the game to see if the problem has been fixed.
Solution 3: Update Your Network Driver           
An outdated or corrupted network driver could also cause Overwatch high ping. You should try updating the driver to fix the issue.
Step 1: Right-click Start and select Device Manager.
Step 2: Double-click Network adapter to expand the list. Then right-click the network adapter you're using now and then choose Update driver.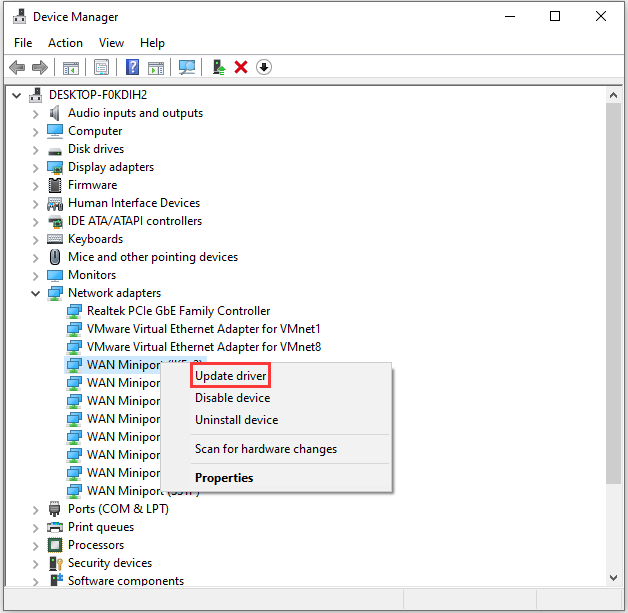 Step 3: In the pop-up window, click Search automatically for updated driver software. Then Windows will search for, download and install available updates automatically. Once it's done, restart your computer.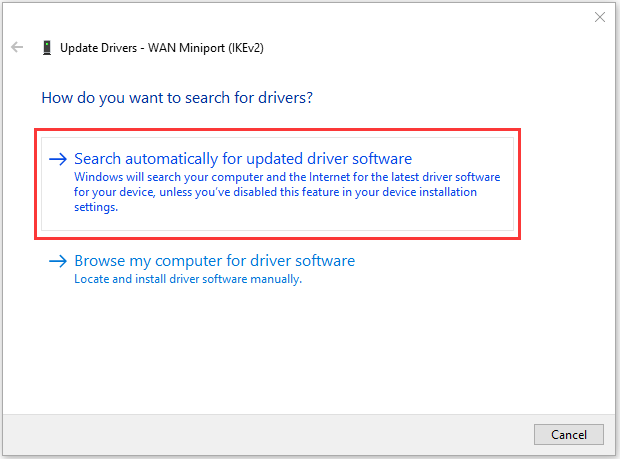 Alternatively, you can also use reliable third-party software to update your network driver. After updating the driver, launch Overwatch and the high ping issue should disappear.
Solution 4: Reset Winsock
If Overwatch high ping still exits, you may need to try resetting Winsock.
Step 1: Press Win + R to invoke Run window. Then type cmd in the box and press Ctrl + Shift + Enter to run Command Prompt as administrator.
Step 2: In Command Prompt, input netsh winsock reset and press Enter to execute the command.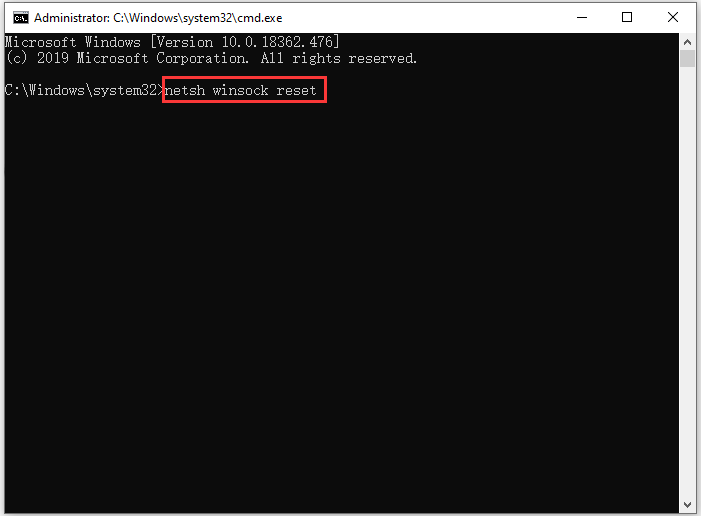 Step 3: Restart your computer to complete the operation.
After the restart, you can launch Overwatch and see if this issue is fixed.
Solution 5: Change DNS Server
Another way to solve high ping Overwatch is to change your DNS server. You can choose Google Public DNS, which offers a speed boost and security.
Here is how to do it.
Step 1: Press Win + I to open Settings. Then go to Network & Internet.
Step 2: Under Status, click Network and Sharing Center. Then select Change adapter settings in the pop-up window.
Step 3: Right-click the network you're using currently and select Properties.
Step 4: Under Networking tab, double-click Internet Protocol Version 4(TCP/IPv4) to open its Properties.
Step 5: Select Obtain an IP address automatically and Use the following DNS server addresses. Then input the following DNS server address.
Preferred DNS server: 8.8.8.8
Alternative DNS server: 8.8.4.4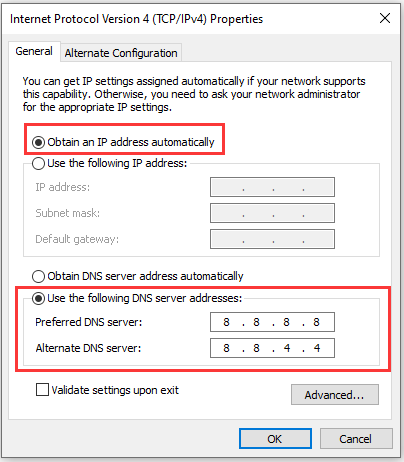 Step 6: Click OK to save the changes you have made.
Then you can restart your Overwatch and the problem high ping in the game should be solved.