Summary :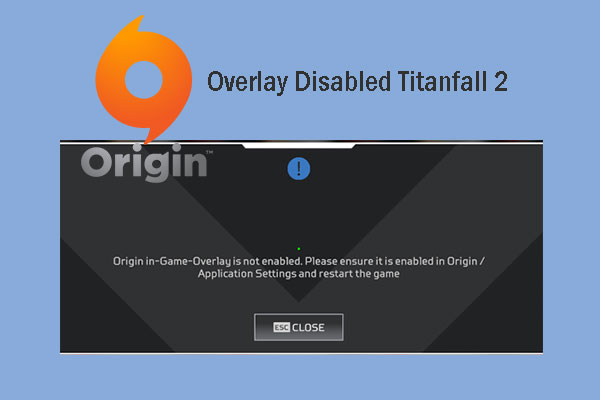 Are you facing "Origin Overlay Disabled Titanfall 2" issue? This problem may have an effect on your gaming experience. In this post, MiniTool Partition Wizard offers you 3 ways to solve the problem.
Origin Overlay Disabled Titanfall 2
Origin is a video game digital distribution platform developed by Electronic Arts and launched in 2011. At the beginning, Origin is designed to release EA exclusive games such as FIFA, Battlefield series, etc. But now, there are more than 500 games available for activation or purchase on the Origin platform, and the number of games is increasing day by day.
Note: Starting from 2019, EA games are gradually coming back to Steam. You can play EA games on Steam again.
Titanfall 2 is a first-person shooter video game, developed by Respawn Entertainment and published by EA. Apparently, you can play this game on Origin. However, many people complain that Origin overlay disabled issue occurs when playing Titanfall 2.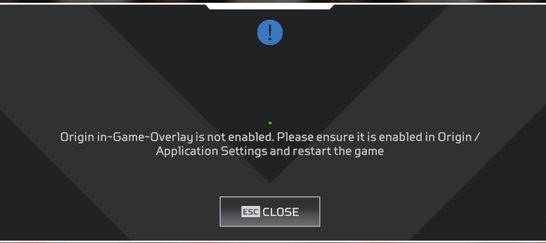 What is overlay? Overlay technology is commonly used use various programs. But in games, usually, game platforms allow you to enable this technology, incorporating your voice and text chat or other things into your game with lower resource consuming. It lets you access the friends list, web browser, chat, in-game DLC purchasing, profile management, direct game joining, etc.
Therefore, if Titanfall 2 Origin overlay disabled issue occurs, it will bring much trouble to Titanfall 2 users. Of course, Origin overlay disabled issue not only happens to Titanfall 2, but also happens to other Origin games like FIFA, NFS Most Wanted, Battlefront, etc.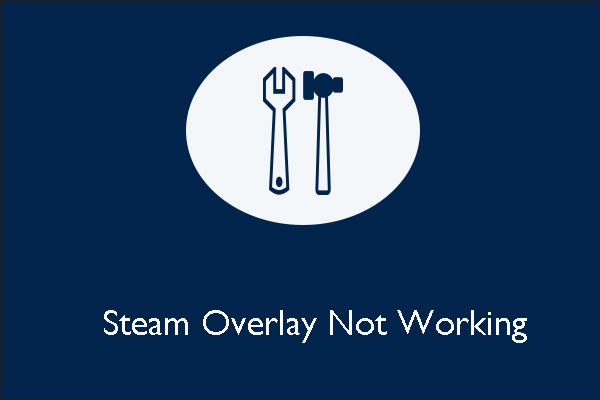 This article shows what you can do when running into Steam overlay not working. If you are a Steam user, you can read this post to fix this issue in the future.
How to Fix Origin Overlay Disabled Issue
To solve the Origin overlay disabled Titanfall 2 issue, you can try the following methods.
Fix 1. Enable Origin In-Game Overlay Again
If the Origin overlay disabled Titanfall 2 issue occurs, the first resolution is shutting down this game and enabling Origin in-game overlay again through the following steps:
In the Origin client, click the Origin menu at the top left of the software.
Select Applications Settingson the menu.
Click the Origin in-game
Toggle on the button corresponding to Enable Origin In-Game. If the button is ON already, please toggle OFF it and then toggle ON it again.

After that, restart your game to see whether the problem is solved.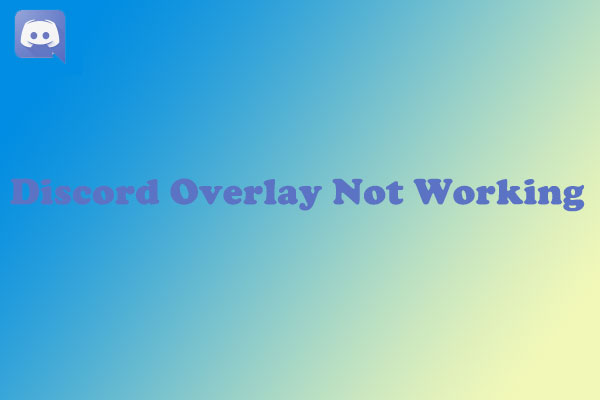 Are you facing Discord Overlay not working while you are playing a game? In this post, you can find 5 solutions to the problem.
Fix 2. Close Background Programs
Some programs that are running background may disturb the Origin in-game overlay and cause it disabled. To solve the Origin overlay disabled Titanfall 2 issue, you can close those background programs. Please do as follows:
Right-click on blank area of the taskbar in Windows and select Task Manager.
On the Processes tab, right-click on those problematic programs and choose End task.
Fix 3. Add Origin to Third-Party Antivirus Utilities' Exception Lists
If you use third-party antivirus software, such as Avast, etc. These programs may block Origin overlay. Some people said they solved the problem by adding Origin to their third-party antivirus utilities' exclusion lists. You can try this method, too.
In addition to the above methods, some users also give the following suggestions:
Clearing Origin cache.
Performing a clean boot.
Updating graphics driver.
Reinstalling Origin.
However, I don't find feedbacks saying a user have solved the Origin overlay disabled Titanfall 2 problem by performing the above methods. But you can still try these ways if the first three methods don't solve the issue.