Back in August, Microsoft announced it would make Notepad as a separate application that could be updated from the Microsoft Store. But now, Microsoft is changing its mind. With 20H1 or Windows 10 version 2004 nearly done, Microsoft has decided not to move the Notepad to the Store. Read this post, in which MiniTool takes you to the details.
What Does It Mean to Move Notepad to the Store?
The history of Notepad can be traced back to 1985, when the newly launched Windows 1.0 came with a text editor, which is the predecessor of Notepad. However, in the following 30 years, no matter how the Windows components evolved, Notepad has not made much progress. What it was 30 years ago, what it is 30 years later!
In August, Microsoft decided to move the Notepad to the Store to make it store-update so that it could respond to issues and feedback outside the Windows release cycle. In other words, Microsoft could modify Notepad on the fly and updates would arrive through the Store on a more regular basis.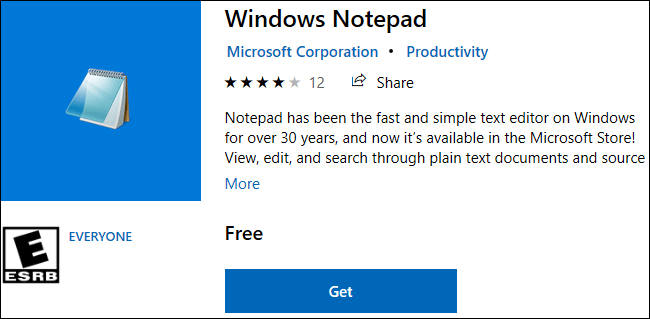 You update Notepad via the Store and won't have to wait for the twice-yearly Windows 10 feature release cycle. It doesn't appear that Notepad itself is going away, just that the application will be distributed differently and only updated in line with new builds of Windows 10.
For some users who often use the Notepad, this may be good news, because moving the Notepad to the Store means that it may be added more additional features like the indicator which will display unsaved content, expanded wrap-around search, line-ending support, etc.
In addition, for those who don't use the Notepad, this may be also good news, because they can uninstall the Notepad from Windows 10, like any other Store app.
However, for those who focus more on reliability and stability, this may be bad news. Shouldn't changes to Windows 10's text editor be rock-solid and well-tested? Can't Windows users wait six months for updates to a utility that just needs to be stable and get out of the way? All they want is reliability and stability.
Microsoft Cancels Its Plan to Move the Notepad to the Store
In a new Insider build of Windows 10's 20H1 update, the build 19035 released on December 4, 2019, Microsoft has decided not to move the Notepad to the Store.
As Brandon LeBlanc writes on Microsoft's Windows blog, "thank you for all the feedback you provided on the Store version of Notepad. At this time, we've decided not to roll this out to customers." Apart from this, Microsoft doesn't offer any explanation for why it decided to cancel the Store version of Notepad.
In addition, Microsoft notes that Windows Insider testers will need to make a few adjustments to how Notepad is set up and to certain workflows:
Users who pinned Notepad to your Taskbar or Start menu should re-pin after they upgrade to this new build.
Users who had certain file types set to open in Notepad by default should re-select Notepad after they saw a prompt when trying to open files of that type again.
This isn't the first time Microsoft has canceled plans to move an application to the Store. Microsoft had ever announced plans to remove Microsoft Paint from Windows 10 and put it in the Store, but it canceled those plans back in May 2019. Like the Notepad, MS Paint still remains part of Windows 10.
You may be interested in this post: 4 Ways To Recover Notepad File On Win 10 Quickly.