The error message "No scanners were detected" might prompt while trying to scan files. If you are facing the issue unfortunately, this article should be helpful for you. Here, MiniTool Partition Wizard displays 4 workarounds with detailed steps.
Windows provides a feature of Fax and Scan that allows users to send faxes and scan documents conveniently. Sometimes, your computer might fail to detect the scanners when you are trying to scan files, and Windows Fax and Scan will give an error message as follows:
No scanners were detected. If a scanner is installed, make sure that it is powered on and connected to the computer, and then try again.

If you come across the "no scanners were detected" issue, don't panic. You should firstly check if the scanner is properly connected to both your computer and the power supply, and the switch button of the scanner is turned on. If everything goes on well, you might need to try the following technical solutions.
Note: If your scanner is built with a printer, you should also make sure the scanner module is enabled within the printer.
Workaround 1: Run Windows Troubleshooter
If something is not working properly on your computer, running a corresponding Windows troubleshooter is a wise choice. To resolve the "no scanners were detected" issue, you can use the printer troubleshooter and here's a simple guide.
Step 1: Press Windows + I to open Settings.
Step 2: Navigate to Update & Security > Troubleshoot.
Step 3: Choose Printer in the right pane and click Run the troubleshooter button to start checking related problems.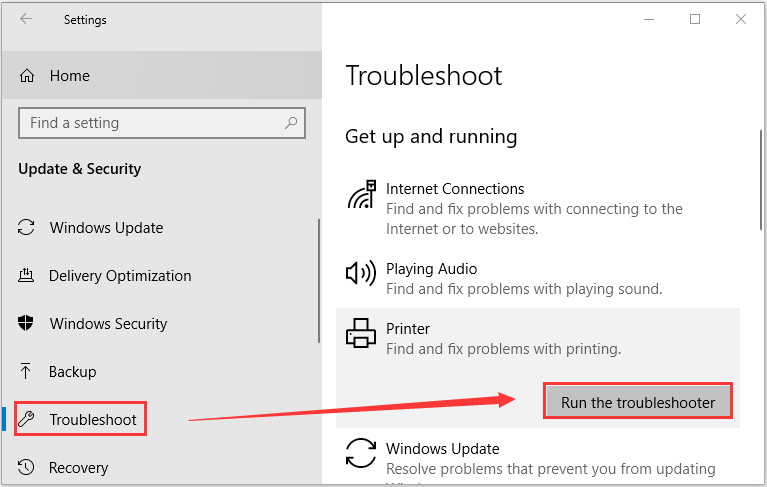 If there are any fix strategies, apply them to fix the potentially issues automatically. Then, you can check if the Windows fax and scan issue is fixed.
Workaround 2: Re-enable Windows Fax and Scan Feature
Sometimes, the Windows Fax and Scan feature might fail to work normally, and this may trigger the "no scanners were detected" issue. In this case, you can disable and then re-enable this feature to make it work properly again.
Step 1: Press Windows + S, input control panel and click the best match result to open it.
Step 2: Go to Programs > Programs and Features.
Step 3: Click Turn Windows features on or off in the left pane to invoke the Windows Features dialog.
Step 4: Expand Print and Document Services and uncheck Windows Fax and Scan. Click OK to save changes and exit.
Step 5: Restart your computer and open the Windows Features again. Now, check the Windows Fax and Scan and click OK to re-enable this feature.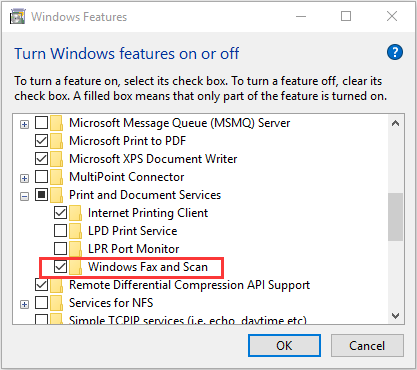 After that, you can try scanning your files again and the error message should disappear.
Workaround 3: Reconfigure the Scanner
If your computer cannot detect the scanner, perhaps you can re-add it to your device list. Just follow the steps below:
Step 1: Open Control Panel.
Step 2: Go to Hardware and Sound > Device and Printers.
Step 3: You will see all your connected devices. If the desired device is not listed here, click Add a device to search for available scanner or printer. If your scanner is listed but you still receive the issue, you need to right-click it, choose Remove device first, and then click Add a device.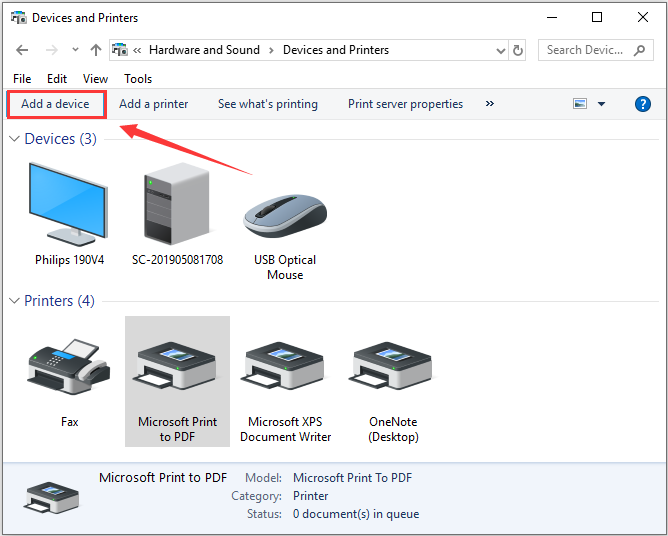 Step 4: Among the detected devices, select the printer or scanner you want to connect and click Next to add it.
After the desired device is added, go to scan file again to check if it can work properly without the "no scanners were detected" issue.
Workaround 4: Update Your Scanner Driver
Finally, if all above methods fail to resolve the issue for you, perhaps the culprit is the scanner driver. If the related driver is corrupted or outdated, the corresponding device will definitely malfunction and give certain error message.
To update your scanner driver, you need to:
Step 1: Press Windows + R, input devmgmt.msc in the dialog box, and click OK button to open Device Manager.
Step 2: Expand the Imaging device, right-click your scanner driver, and choose Update driver.
Note: If your scanner is inbuilt with a printer, you need to update the target printer driver instead. You can find your printer drivers in the Print Queues category.
Step 3: Choose Search automatically for updated driver software option to process.
Then, your Windows will search the web automatically to find the latest updates for your driver. If there are any updates available, install them according to the given instructions.
Once it's done, restart your computer and you should be able to scan documents without any problems.