Summary :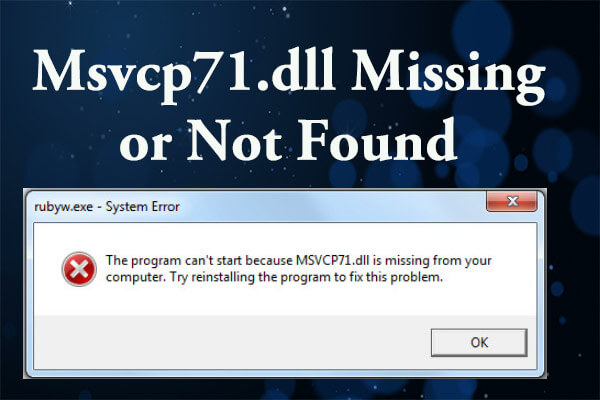 The msvcp71.dll is an old system library file and it is still used by some applications. But sometimes, the programs that use the file might give errors related the file like msvcp71.dll missing or msvcp71.dll not found. Focusing on the msvcp71.dll error, MiniTool Partition Wizard explores some solutions in this article.
The msvcp71.dll is a Windows system file that is no longer included by default in Windows 7 and newer versions. But it is still used by some programs that are original designed to run on Windows XP and older versions. It is not a critical file for your system, but you might fail to open certain related software due to msvcp71.dll missing or not found.
The msvcp71.dll error may appear with various error messages in different cases. Here is a common message:
The program can't start because msvcp71.dll is missing from your computer. Try reinstalling the program to fix this problem.

When you receive msvcp71.dll not found or missing issue, it is possible that this file is corrupted or removed. At first, you can try restoring the file from the Recycle Bin as you may delete it by mistake. If you are sure that you didn't remove the file, then you can try the following methods to fix the problem.  
Fix 1: Update Your Windows
Actually, most of missing DLL file errors appears because Windows is outdated or there are pending Windows updates. So, you'd better make sure your Windows is up to date.
Just press Windows + I to open Settings and go to Update & Security > Windows Update. In the right pane, if there are any pending updates, download and install all of them according to the onscreen instructions. If no available updates are listed, click Check for updates button and follow the given prompts to install updates.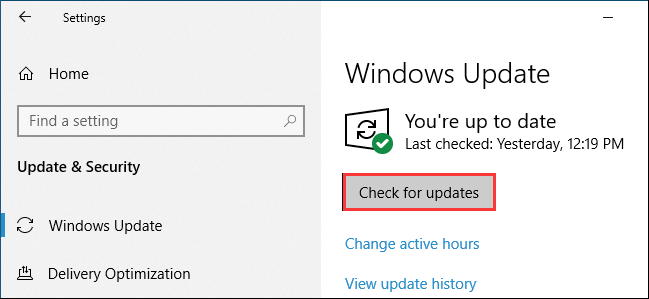 Fix 2: Perform SFC Scan
The System File Checker is a Windows built-in tool which helps to scan for system files and replace any missing or corrupted ones with the cached copy. So, if msvcp71.dll is missing on your computer, try using this tool.
Here's how to use it.
Step 1: Press Windows + R to invoke Run window.
Step 2: Input cmd and press Ctrl + Shift + Enter to open Command Prompt as administrator.
Step 3: Type sfc /scannow in the console and press Enter key to execute the command.

Wait patiently until the verification process is 100% complete. Then, try opening the problematic program to see if the error is resolved. If you receive msvcp71.dll missing error message again, just move on to the next solution.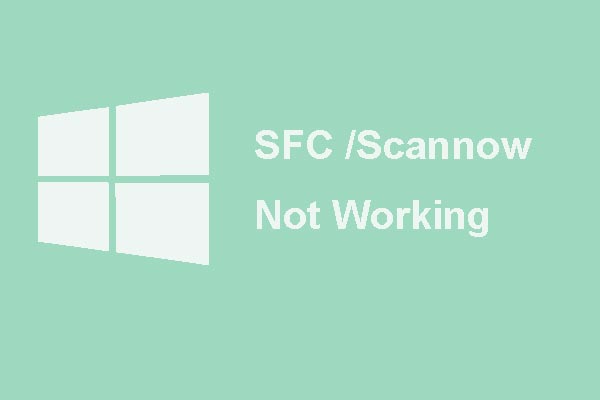 How to fix the issue SFC scannow not working? Here, this article focuses on two cases of SFC error. Try to use the following methods.
Fix 3: Scan for Virus and Malware
If your computer is infected by a virus or malware, the msvcp71.dll file might be damaged due to the infection and thus lead to the msvcp71.dll not found or missing issue. In this case, it should be helpful to run a full virus/malware scan for your system. If you don't have any third-party antivirus installed, you can use the built-in Windows Defender antivirus.
Just follow the steps below:
Step 1: Open Windows Settings and navigate to Update & Security > Windows Security.
Step 2: Click Virus & threat protection in the right pane.
Step 3: Click Scan options and choose Full scan. Click Scan now button to start checking all files and running programs on your hard disk.
This scan could take longer than one hour. Just leave your device alone and go out for a cup of coffee. After removing any potential threats during the process, the msvcp71.dll error should be resolved if it is caused by virus/malware infection.
Fix 4: Reinstall the Program that Gives the Error
If the problem still exists after trying all above methods, perhaps you have to reinstall the problematic program as the error message prompts. To uninstall a program, you can:
Type control panel in the Search bar and click the best match result to open it.
Go to Programs > Programs and Features.
Choose the software that gives the msvcp71.dll error, click Uninstall, and confirm the operation.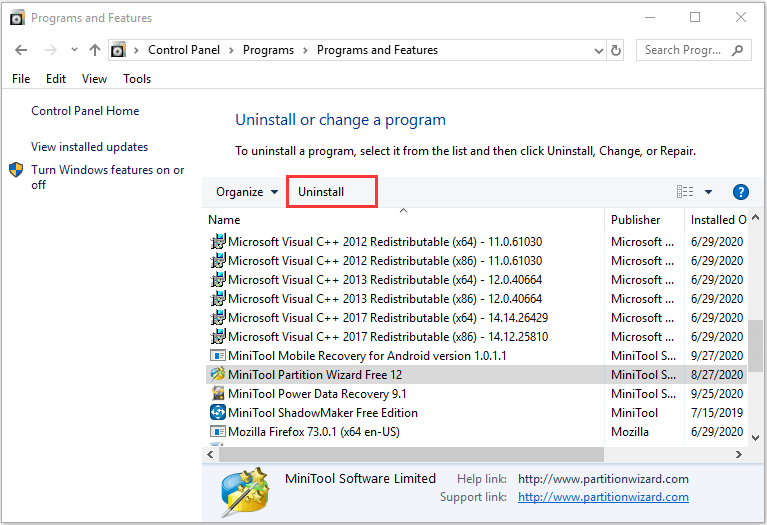 After that, go to the official website to download the latest version of the program and install it properly.
Note: You might need to keep your antivirus disabled when you reinstall the program, because some antivirus might regard the msvcp71.dll which is included in the installation as a malicious file.