Summary :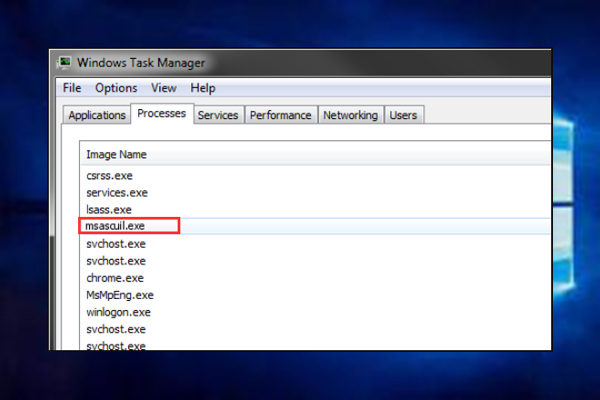 A great many users notice the msascuil.exe process on their Windows PC. What is msascuil? Is it suspicious malware? How to get rid of the msascuil.exe virus? Now, let's explore these questions together with MiniTool.
What Is Msascuil.exe
A great many users think that msascuil.exe msascuil is a virus. In fact, it is a legitimate process/file that belongs to a part of Microsoft Windows 10 as well as the Windows Defender user interface. Normally, the msascuil.exe file is located in the C:\Program Files\Windows Defender folder. It's used to show the Windows Defender icon in the taskbar.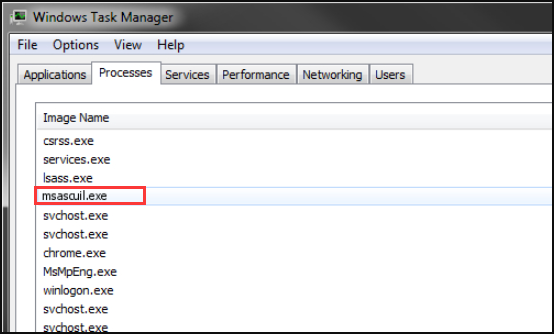 However, most of these files and progresses such as Toaster.exe, msascuil.exe, DataStore.edb always trigger various kinds of issues like high CPU usage and virus. Many cybercriminals use the name of msascuil.exe to disguise their malicious programs and processes in Task Manager.
Now, you may have an overall understanding of msascuil startup. So, how to check if it is safe or a virus? Please keep reading the following part.
How to Check If Msascuil.exe Is a Virus on Windows PC
Since the name of msascuil is often made slight changes, it cannot be noticed without careful inspection. In addition, some malicious files come with similar names that are located in other folders and not the original and legitimate versions. To verify the legitimacy of msascuil.exe msascuil, you can refer to the 3 aspects below:
The directory location of msascuil. The legitimate msascuil startup file is placed in the C:\Program Files\Windows Defender folder by default. If you find it is placed outside the folder and have graphical icons, then it is not a genuine system process.
File size. If you still confused about the msascuil.exe file, you can right-click it and select Properties to take a look at the size of the file. Normally, the size of this file ranges from 483,840 bytes to 631,808 bytes depending on your current Windows OS.
Whether it can open like most other standard programs. If it is not a genuine process, a visible window won't be opened once clicked.
These malicious programs are installed on your computer through an e-mail disguised as official. So, once you make sure the msascuil.exe is a malicious program, you should get rid of it immediately. How to remove msascuil.exe virus? Move on to the following part.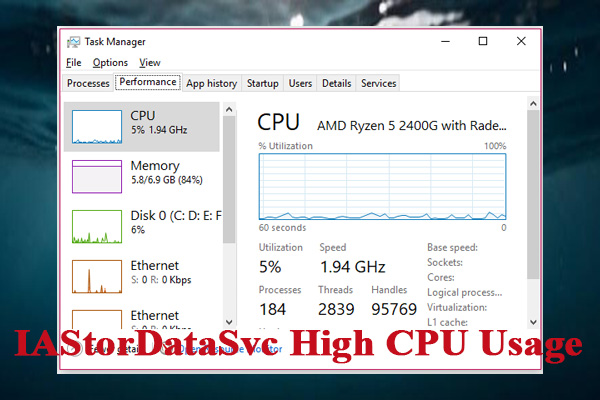 Do you know what IAStorDataSvc.exe is? Can you remove it? How to fix IAStorDataSvc high CPU usage? Now, read this post to get the answers.
How to Get Rid of Msascuil.exe Virus
First of all, you should aware that removing msascuil startup might cause some potential risk for your system. This is because a legitimate msascuil process is the component of Windows Defender, which is responsible for preventing your Windows system from virus attack and some high-risk computer infections.
Therefore, prior to remove the malicious msascuil file, please make sure you have a full scan of your whole system using a high-quality antivirus tool. To get rid of msascuil.exe virus, follow the full guide below:
Step 1. Restart your computer into Safe Mode. If you don't know how to do that, you can refer to this guide.
Step 2. Press the Ctrl + Shift + Esc keys at the same time to open the Task Manager window and go to the Processes tab.
Step 3. Right-click the msascuil process and select Open File Location, and then you can scan this file using a virus scanner. If it's infected by virus, end this process and delete the file in its folder.
Step 4. Press the Win + R keys to open the Run dialog box, and then type appwiz.cpl in it and hit Enter.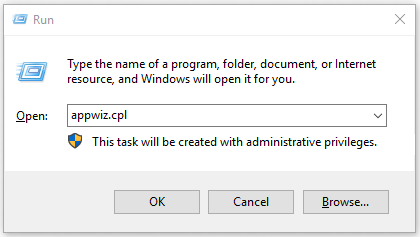 Step 5. In the pop-up window, right-click the suspicious program and click on Uninsatll. Then follow the on-screen prompts to complete the uninstallation.