You might have noticed that there is an item named mouse acceleration under controls options in your computer game. You might ask: what is mouse acceleration? Whether it help improve my performance in games? Can I disable mouse acceleration and how?
Just keep reading to get the answers.
What is Mouse Acceleration
Mouse acceleration is a customization feature of Windows. And it makes the distance your cursor moves follow the speed the actual mouse moves. In other words, the faster you move your mouse, the longer the distance the cursor moves.
If mouse acceleration is disabled, the distance the cursor moved will be the same as that you moved your mouse. The cursor's sensitivity to speed will be greatly reduced.
Advantages of Mouse Acceleration
Mouse acceleration can be very useful in most situations. You can have a better experience with this feature.
When you have limited physical space for your mouse to move on, mouse acceleration brings you convenience. With mouse acceleration, you can make your cursor move a desired long distance by moving your mouse just a little.
You don't have to lift your hands and mouse to move the latter to the center of the mouse pad again and again. In general, this feature enables you to make full use of the movement space available for you currently.
What's more, mouse acceleration is rather useful when you do some regular activities on your PC. When you need to scroll through lengthy documents, web pages or other task that needs to be executed quickly, mouse acceleration will save your time effectively.
Disadvantages of Mouse Acceleration
Unfortunately, mouse acceleration will bring negative effect when you are playing games or doing other tasks that requires cursor precision and accurate mouse movement.
Especially when you are playing shooter games, mouse acceleration will largely reduce your aiming accuracy. Under high-tension situation, you might move your mouse with more force than usual and this might make you miss your target.
How to Disable Mouse Acceleration
As I have mentioned before, mouse acceleration might lead to some unwanted results sometimes. Therefore, to acquire cursor precision and accurate mouse movement in special situations, you are recommended to disable mouse acceleration.
The detailed steps of disabling this feature in Windows 10 are displayed below.
Step 1: Search Control Panel with your Cortana and click the search result to open it.
Step 2: In the main interface of Control Panel, choose Hardware and Sound category. Under Devices and Printers section, click Mouse.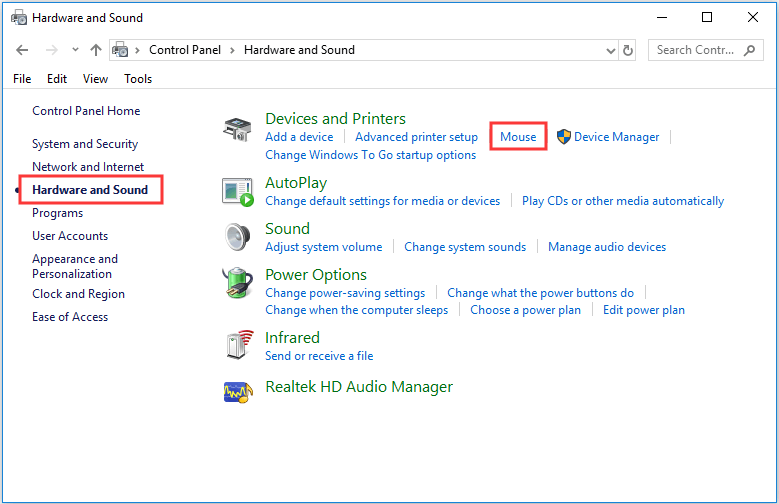 Step 3: The Mouse Properties window will pop up. Please switch to Pointer Options tab. Then, uncheck Enhance pointer precision under Motion section, and click Apply and OK to save the change you have made.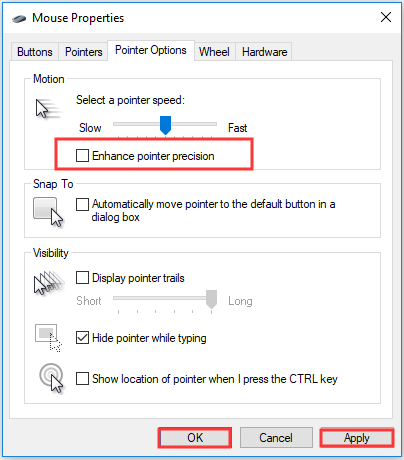 That's all I want to share with you about mouse acceleration. You must have known when to use or disable this feature. Don't hesitate to disable mouse acceleration when you want to make the cursor movement fixed.