In 1946, the first computer came out, featuring the room-sized mainframe. With technology development, computer size has been greatly reduced and mini PCs show up, some of which can fit into the palm of your hand. This post introduces what mini PCs are and their pros and lists some best mini PC Windows 10.
What Are Mini PCs?
For convenience, we prefer devices featuring small size. Phone manufacturers make mobile phones smaller so that we can put it into the hip pocket of our jeans. This also happened to computers.
Mini PC is no stranger to many users. Several years ago, we saw the rise of the mini PC, looking like a TV box or modern. They are designed for basic tasks such as web browsing, accessing web-based applications, document processing, and audio/video playback.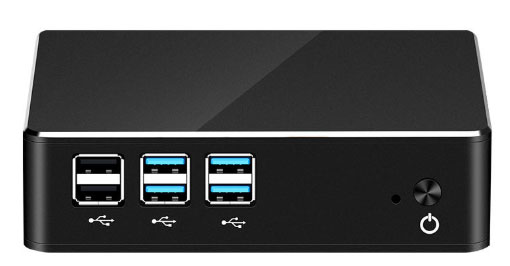 Why Are Mini PCs Small?
Many mini PCs on the market can fit into the palm of your hand. The size of mini PCs on an average is about 120mm height and 120mm length. You can fix one behind your monitor screen and hence it will not take any space at all.
Why are Mini PCs small? The reason is that a large number of peripherals such as optical drives and various interfaces have been removed.
As we know, a computer must be equipped with a processor, RAM, storage medium, etc. Mini PCs are not excluded.
Mini PCs adopt advanced reduced-instruction-set computer microprocessor (ARM)-based processors. These processors are small and produce less heat than more powerful processors.
Like regular computers, Mini PCs use HDD or SSD to hold information. For physical interface, some Mini PCs rely on USB connections. Others may incorporate standards like HDMI.
Pros of Mini PCs
Although Mini PCs are small, they have the same processing of a regular PC. Apart from this advantage, they also shine in the following aspects.
Portability: Small compact gives birth to this function. Mini PCS are portable and you can easily carry it when you are on business.
Strong: Since mini PCs are not made from many mechanical parts, they are tougher than desktop computers.
Dust-and-dirt proof: Components of mini PCs are fixed under a shell and hence it is safe from the dust and dirt.
Green computing: Mini PCs consume less power and therefore they save electricity.
Multi-functionality: Mini PCs have all functions of standard desktop PCs and you can upgrade components such as the RAM and hard drive. You can hook it up to a regular monitor, an open frame display, or a TV screen to.
Less overheating issue: Overheating is generally a common issue for desktop computers and laptops. When overheating, computer crashes when playing games. However, mini PC users do not need to worry about this issue even if they have used the device for a longer duration.
Long lifespan: Compared with desktop computers and laptops, mini PCs also have a longer life – a mini PC can be used for 5 to 6 years without any worries. Read the post to learn about the laptop lifespan.
Cost: Mini-PCs are more affordable and very cost-effective to operate. Its price increases as per the features and specifications.
Best Mini PC Windows 10
What are the best Mini PC Windows 10? I list three best "Mini PC Windows 10" for you.
Gigabyte BXi5-4570R
This min PC is highly recommended. It is powered by an Intel Core i5-450R 3.2GHz processor. According to users' feedback, the mini PC can boost in five seconds. How quick boot speed!
Apart from the powerful processor, this mini PC comes with an Iris Pro graphics 5200 card, which offers vivid images and supports 4K resolution output. Furthermore, four USB 3.0 ports are available for connectivity.
Does this come with an OS pre-installed, memory, or storage medium? One customer said on Amazon, this mini PC is a bare-bones system that requires you to provide an HDD, memory, and OS.
As to HDD and memory, this Mini PC supports a 2.5-inch SATA3 HDD and 2 x SO-DIMM DDR3L slots.
Acer Revo One
Acer Revo One Home is also a great choice if you want to purchase a Windows 10 mini PC. This mini PC features a simple and nice exterior. Moreover, powered by an Intel i5-5200U 2.2GHz processor together with the Intel HD Graphics 5500 card and the 1TB hybrid drive, it could be "a world of entertainment in a mini PC".
Unlike the above mini PC, Acer Revo One has Windows 10 pre-installed.
HP Pavilion 300-230
The third recommended "Mini PC Windows 10" is HP Pavilion 300-230. This mini PC runs Windows 10 Home and it is elegant and powerful.
This mini PC is powered by the Intel Core i3-5005U 2.0GHz. According to consumers' feedback on Amazon, this PC runs quite faster.
It also has large enough space (1TB SATA hard drive) for saving data. Plus, this mini PC is equipped with Intel HD Graphics and four USB-3.0 ports for extra connectivity.