Minecraft 1.20 is an upcoming major content update to Java Edition that was announced at Minecraft Live 2022 on October 15, 2022. Most fans of this game are excited about this news. Revealed by Minecraft, the 1.20 Minecraft update will be designed to inspire self-expression, representation, and storytelling through players' own Minecraft worlds, which may make Minecraft "Minecraftier".
Are you a big fan of Minecraft? Do you wonder more about the Minecraft new update? Here, all the details of the 1.20 Minecraft update will be discussed. To find out what you want to know, you'd better keep an eye on this post.
Minecraft System Requirements: Minimum and Recommended
What's the Minecraft 1.20 Release Date
Actually, there is no official release date for the next Minecraft update. During Minecraft Live 2022, the game developers claimed that Minecraft 1.20 will not be released faster than 2023. Therefore, we can only make a rough guess for the date of the Minecraft new update according to the previous trend for Minecraft updates.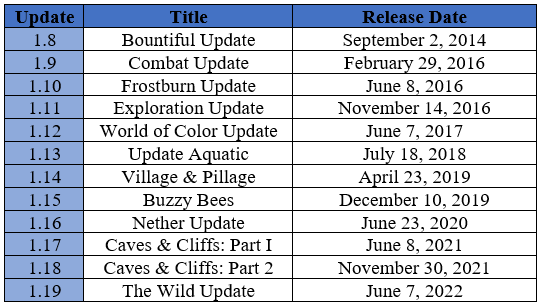 The most likely Minecraft 1.20 release date is sometime in January or June 2023. Now, you just need to wait patiently for this game version to be available.
When playing Minecraft, you may randomly encounter the following issues: 
What will be Added in Minecraft 1.20
The 1.20 Minecraft update will bring a bunch of new features. But instead of revealing all the features in advance, Mojang only shows those that have come very far in the development process. Until now, there are six features confirmed for Minecraft 1.20. You can learn them briefly from the following content.
Default Skins
In addition to Alex and Steve, there will be 7 new default skins that you can choose from in Minecraft 1.20. They have different skin tones, clothes, hairstyles, and more. Those new default skins with different appearances really embody the diversity and inclusivity of Minecraft.
Camels
Camels are a new mob that will be added to the desert biome. You can find and ride a camel in desert villages. They are tall enough to protect you from being attacked by hostile mobs while you are riding them. Their speed is not so fast but they can sprint to get themselves out of danger when meeting enemies. Additionally, you can breed camels with cactus blocks to get them stronger.
The Sniffer
The Sniffer won the mob vote during Minecraft Live 2022. It's an ancient mob that was once lost. However, you can find their eggs in underwater ruins and revive the creature.
Hanging Signs
Another appealing new feature is Hanging Signs. They are decorative blocks with unique looks, making them differ from regular blocks. You can place your signs on any block you like using wood or chains.
Chiseled Bookshelf
The chiseled bookshelf is also a new feature in the Minecraft new update. With a chiseled bookshelf, you can store up to six books, like written books, enchanted books, and quills. Moreover, the chiseled bookshelves can be used with a redstone comparator to detect the last book added or removed from the bookshelves.
Bamboo Wood
Bamboo wood is a new log-like block in Minecraft 1.20. You can use bamboo to craft planks, stairs, fences, gates, doors, trapdoors, slabs, and even bamboo rafts. Furthermore, an exclusive building that can be set with bamboo is the bamboo mosaic. You can try to craft one with 2 bamboo slabs.
How to Download Minecraft 1.20
After the next Minecraft update is released, you can directly go to Minecraft's official website or the app to download the specific update for your gaming device. If you have not played Minecraft before, you should purchase the game first and then install the new update so that you can enjoy the game properly.
By reading this post, you can find out detailed information on Minecraft 1.20. If you have any problems with this Minecraft new update, you can leave a message in the following comment part.
To make sure you can download Minecraft 1.20 successfully on your PC, you ought to regularly manage your partitions and disks, making your PC keep good performance for gaming. To execute this operation, we'd like to recommend MiniTool Partition Wizard to you. It's a comprehensive partition manager and you can know more about it by visiting its official website.