Summary :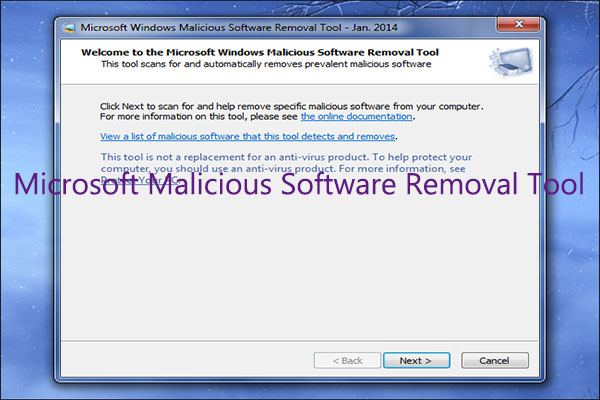 What is Microsoft malicious software removal tool? How to run it? How to remove it to solve Microsoft malicious software removal tool high CPU issue? In this post, MiniTool Partition Wizard gives you answers.
Is Microsoft Malicious Software Removal Tool Safe?
Microsoft Windows Malicious Software Removal Tool is a freely distributed virus removal tool developed by Microsoft for the Microsoft Windows operating system. It is a safe program.
First released on January 13, 2005, this software was usually updated on the second Tuesday of every month and distributed via Windows Update. But starting May 2020, Microsoft releases the MSRT on a quarterly cadence as part of Windows Update or as a standalone tool.
Some of you may have never heard of Microsoft Windows malicious software removal tool before. That's because it's a stealth program. When things are functioning normally you don't see it. It only runs when you get its update and only reports if malicious software is found.
When Microsoft malicious software removal tool detects malicious software, it can help you remove this malicious software and reverse the changes it has made.
However, please note that MSRT is not an antivirus program and it offers no protection from infection. It doesn't run automatically in the background at all times, and only detects a few specific and widespread types of malware.
According to Microsoft, it is just a "post-infection removal tool". Therefore, you still need a full blown anti-malware program to protect your computer.
The Different Types of Malware and Useful Tips to Avoid Them
How Do I Run Microsoft Malicious Software Removal Tool?
Microsoft Windows malicious software removal tool only runs when it gets update. But sometimes, you may have the need of running Microsoft Windows malicious software removal tool in the interval of two updates. In this case, you can run it manually.
Here is the tutorial on how to run Microsoft malicious software removal tool:
Press "Windows + R" keys to open Run
In the Run box, type "mrt" and press Enter to open Microsoft malicious software removal tool.
On the screen, click Next
On the nest screen, check Quick scan or other scan types and then click Next button to start scan for malicious software.
On completion of scan click Finishto exit.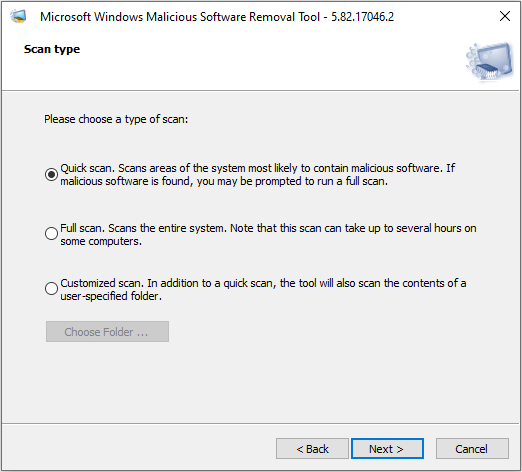 MSRT helps remove malicious software from computers that are running any of the following operating systems: Windows 7/8.1/10 and Windows Server 2008/2012/2012 R2/2016/2019. But if you can't find this tool, you can download it from Microsoft official websites.
Running Microsoft malicious software removal tool manually has many advantages, for example:
You can opt to run a full scan rather than the default quick scan.
You can run the program more than once a month, including any time a PC seems to be acting strangely.
You can manually insure that the latest version of MSRT is, in fact, installed.
You get definite notification of an infection. In the normal stealth mode of operation, if MSRT finds an infection, it does not warn you immediately. Instead, it displays a warning the next time Windows starts up and an Administrator logs on. In addition, if the machine is regularly used by a restricted user, this warning may not display for a long time.
The mrt.exe resides in C:\Windows\system32. It records its results in a log file located at %windir%\debug\mrt.log (C:\Windows\debug\mrt.log). You can open this file in Notepad or any other text editor to see the results of the scan. If you see a mostly empty log file with no problem reports, the tool didn't detect any problems.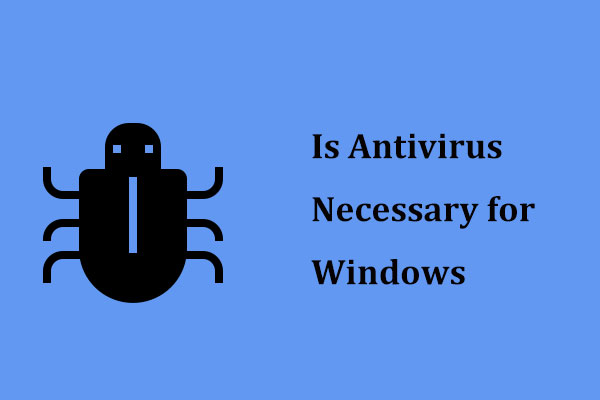 Is antivirus necessary for Windows 10/8/7 to keep your PC safe? Read this post to get the answer, and you can also know some ways to prevent malware.
How Do I Remove Malicious Software from My Computer?
Some people report that they encounter Microsoft malicious software removal tool high CPU issue and therefore they want to remove this tool. If so, you can open File Explorer and navigate to C:\Windows\System32. In this folder, scroll to find MRT app and delete it.