Inkscape is a free and powerful vector graphics software, which uses the standardized SVG file format as its main format, and it can also import and export other file formats, including AI, EPS, PDF, and PNG. But how to recover Inkscape files if Inkscape crashes? Here, MiniTool Partition Wizard will tell you that.
Why does Inkscape keep crashing? Although there are no minimum system requirements for Inkscape, a file size that challenges system resources may cause Inkscape to crash. Also, some users encounter the Inkscape crashing issue after upgrading to a new Inkscape version.
But in any case, when Inkscape crashes, the first thing that you should do is to recover files from Inkscape. So, how to recover Inkscape files? Scroll down to know the detail.
How to Recover Unsaved Inkscape Files
Since the Inkscape 0.48 version, you can easily recover the unsaved files from the Autosave backup file if the Inkscape Autosave feature is activated. If Inkscape crashes when you are editing a file, Inkscape will attempt to save the document.
But just as I mentioned above, you need to make sure that the Inkscape Autosave feature is turned on. Here is how to check if the Autosave feature is in use:
Step 1: Open Inkscape, click the Edit tab, and choose Preferences from the drop-down menu.
Note: If Inkscape saves files successfully, the automatic backup location is usually C:\Users\user name\AppData\Local\Microsoft\Windows\INetCache\inkscape. (The User Name placeholder is the username of the computer.)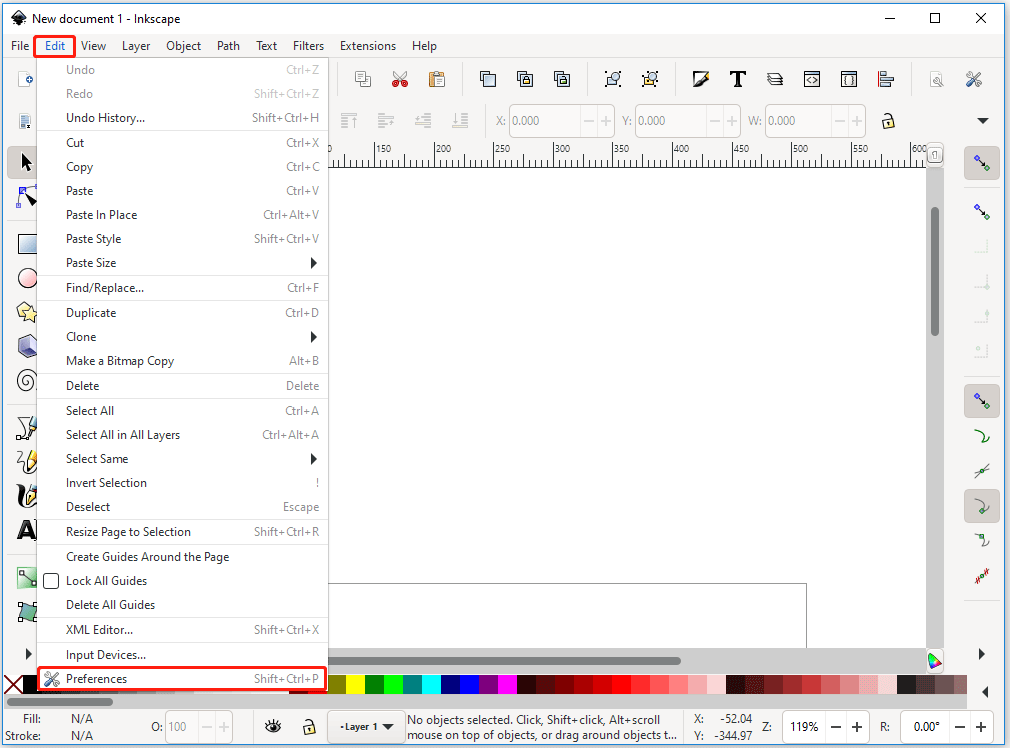 Step 2: In the Preferences window, click Input/Output, choose Autosave, and check if you have ticked the enable autosave option.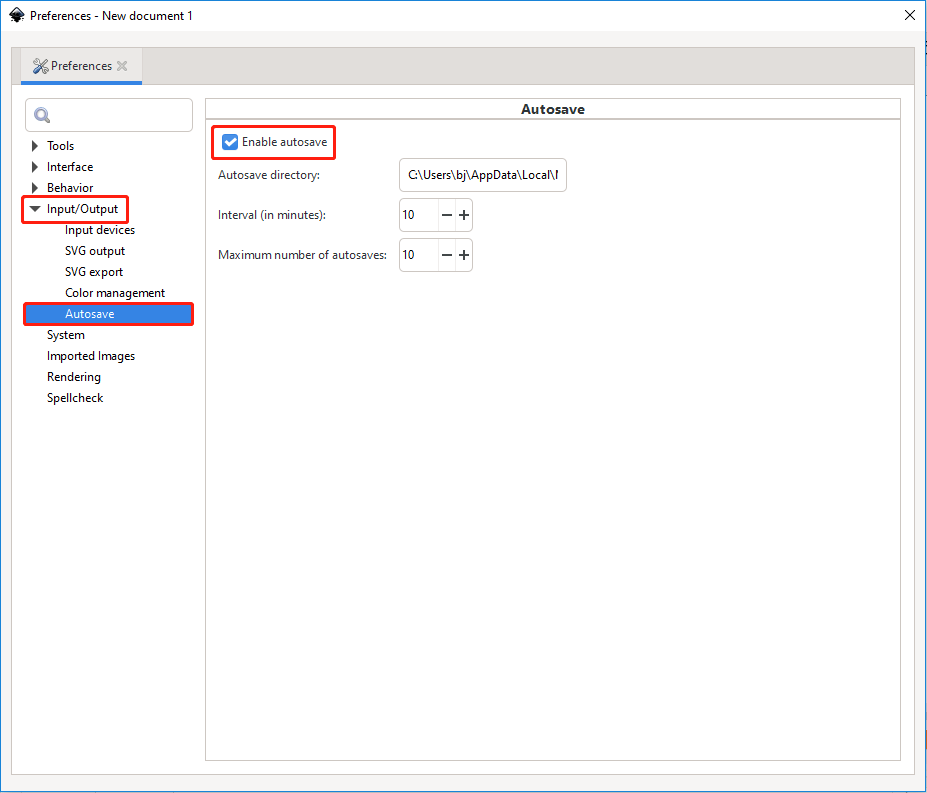 How to Turn on AutoSave in Word/Excel to Auto Save Files
After checking the Autosave option, you can easily recover the unsaved files if the Inkscape Autosave feature is in use. How to do that? Here is the guide:
Step 1: Go to Edit > Preferences > Input/Output > Autosave again. Here you can find the automatic backup location.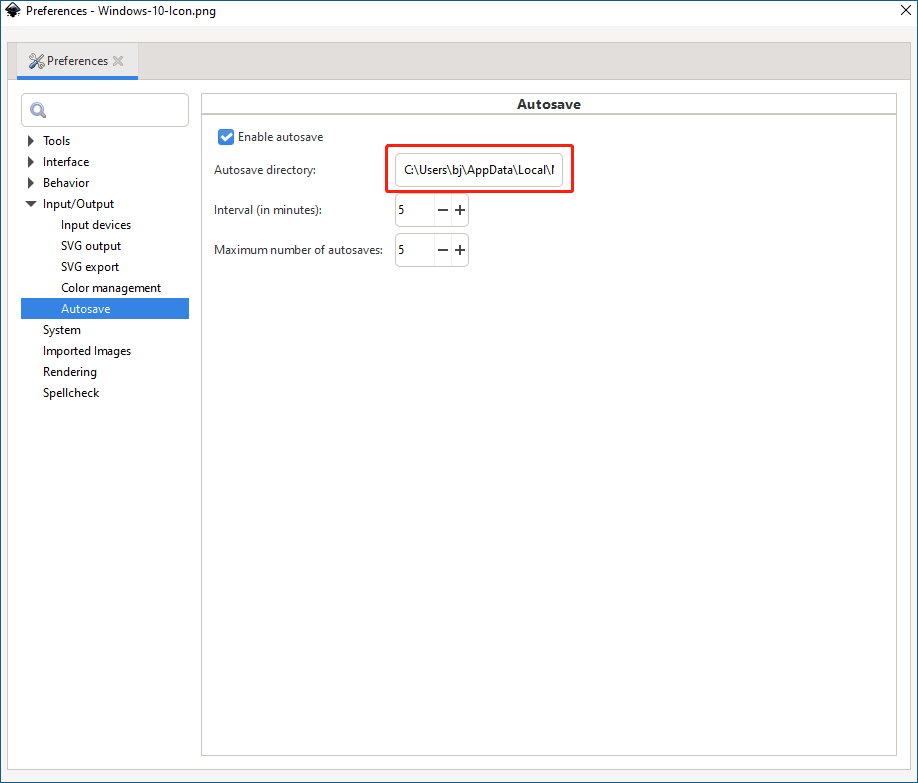 Step 2: Copy that path and paste it into the search bar in File Explorer. Then, choose and open the latest autosaved file.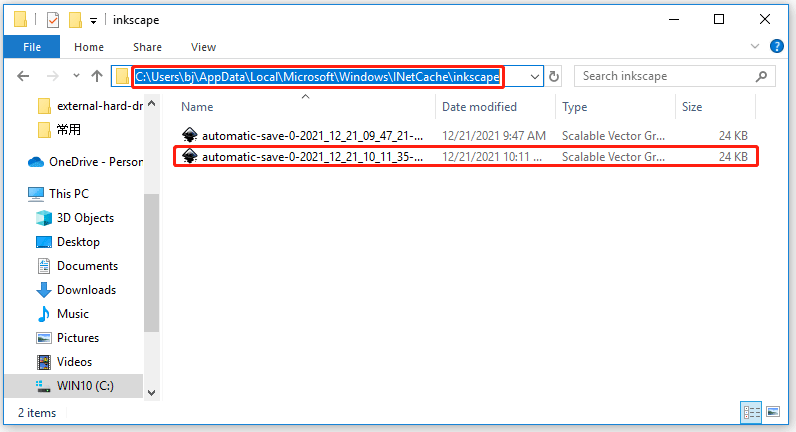 Only in this way can you recover files from Inkscape. But if you don't enable the Inkscape Autosave feature, you may lose Inkscape files.
How to Recover Deleted/Lost Inkscape Files
In addition, if you want to recover accidentally deleted or lost Inkscape files, you can use professional data recovery software to do that. In the MiniTool Partition Wizard software, Data Recovery is used to recover lost or deleted files.
Note: Don't perform any operations on the hard disk where Inkscape files are lost or deleted.
With the help of MiniTool Partition Wizard, you can recover all lost or deleted Inkscape files in simple steps. Get MiniTool Partition Wizard and launch it to access its interface. Follow the on-screen instructions to install it on your computer.
Step 1: Launch MiniTool Partition Wizard to its main interface, and click Data Recovery on the top toolbar.
Step 2: Choose the location where you lost or deleted the Inkscape files and click the Scan button. Then, the software will immediately start scanning the drive.
Step 3: When the process is over, the lost or deleted Inkscape files will show up. You can choose and preview the files and then click the Save button.
Note:
The software allows you to preview files smaller than 100MB. Besides, it is recommended to save the recovered files on another drive. Otherwise, the lost/deleted files may be
overwritten
.
That's all about how to recover Inkscape files. If you have any questions about this topic, please leave them in the comment zone and we will try to answer them as soon as possible.