Some Windows users may notice that there are countless INF files in File Explorer, but they do not know what an INF file is used for. So, what exactly is an INF file? Well, this post from MiniTool Partition Wizard is a complete guide about INF files.
What Is an INF File?
Generally speaking, an INF file is a plain-text file that contains all the information used by the device installation component to install the driver. This information includes the following:
Driver name and location
Driver version information
Registry information
Where are the INF files stored on Windows 10? Every installed device must have an INF file. And these INF files are usually stored in this path: C:\Windows\INF.
Tip: Sometimes, the INF folder is hidden. In this case, you need to click the View tab and tick the Hidden items option.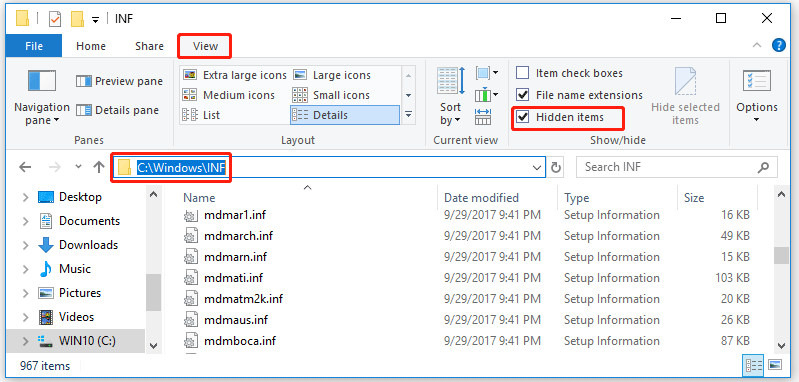 Install a Driver Using an INF File
Sometimes, a driver package that you downloaded does not include a .exe file or .msi file. Instead, you can find an INF file. Just like this in the picture below: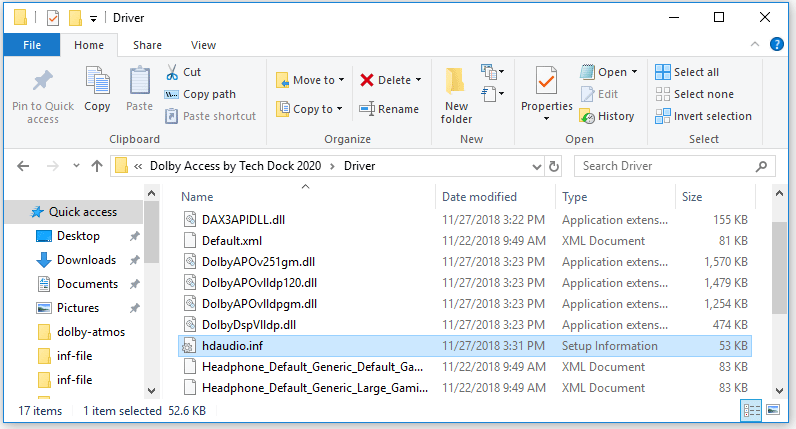 In this case, you should install the driver using the INF file. So, how to do that? Here is the complete guide:
Step 1: Open File Explorer, and locate the driver folder.
Step 2: Right-click the INF file and then click Install.
Tip:
If you get prompted by the
UAC
(User Account Control), please click
Yes
to grant administrative privileges.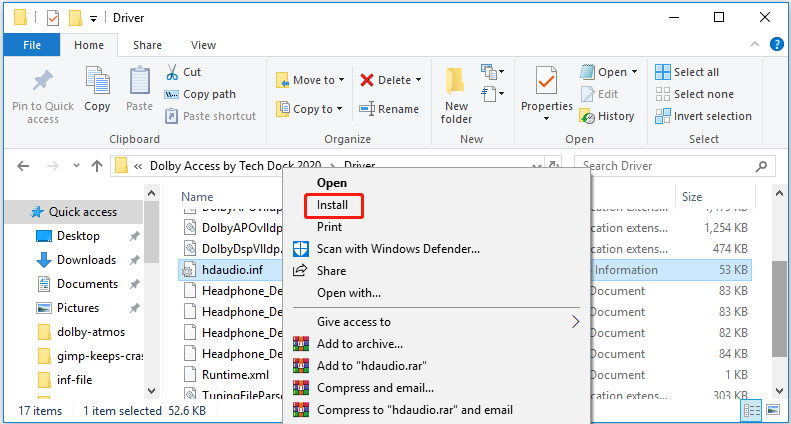 Step 3: Once the operation is completed successfully, please click OK.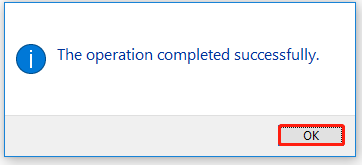 How to Open and Change INF Files?
Sometimes, you may need to change INF files. For example, you have received an error "The required line was not found in the INF" when you install a driver. In this case, you can open the INF file to check what information is missing, find related information from the manufacturer's website, and then modify the INF file. In this way, you can force install the driver.
To open and modify the INF file, you can use tools such as Microsoft Notepad. In addition, if you just want to open an INF file to view the information, you can also drag and drop the INF file into a browser to open it.
Tip: INF files are prone to virus infection, so I recommend you scan inf files carefully if someone sends them to you.
Now you have learned what an INF file is and how to install a driver using an INF file. Besides, you can also open and modify the INF file using suitable tools. If you have any questions about this topic, please leave them in the comment zone and we will try to answer them as soon as possible.