Are you seeing Hulu error code 406 on your streaming device? Does the code prevent you from streaming anything? In this article from MiniTool Partition Wizard, we'll tell you why the error pops up on your device and what steps you can take to fix it.
What Is Error Code 406 on Hulu?
Hulu error code 406 (406 Not Acceptable is another name) is one of the Hulu error codes that can appear when you are trying to stream content from Hulu. The Hulu error 406 may occur when you are trying to watch movies, TV shows, or trying to stream live through Hulu with Live TV.
The Hulu error code 406 often comes with the message "406 Not Acceptable. The request is not acceptable".
What causes Hulu error code 406? This Hulu error code 406 may be caused by an outdated Hulu app on your device, poor internet connection, server configuration error, etc.
So, how to fix the Hulu error code 406? There are several methods below, and you can try these Hulu error code 406 fixes one by one to solve your problem.
How to Fix Hulu Error Code 406?
Method 1: Restart Your Device
The first thing you need to do is restart the device. You just close the app and completely shut down your PC or whatever device you're using the Hulu app on. If this method doesn't work, you can try some other methods to get rid of this error.
Method 2: Check Your Internet Connection and Speed
A good internet connection is required for Hulu. Therefore, you should check whether your internet connection is enabled. If yes, you can then check the internet speed to see whether it is fast enough to stream on Hulu.
Method 3: Clear Cache in Your Browser
If you are using a web browser to watch videos on Hulu and get this playback error, try deleting the old cache on your web browser, such as Chrome, Firefox, Edge, etc. Here is Chrome as an example.
Step 1: Open Chrome on your computer. Then click the three-dots icon on the right corner of the window.
Step 2: Then navigate to More tools > Clear browsing data.
Step 3: Check the Cookies and other site data and Cached images and files box, and then click the Clear data button.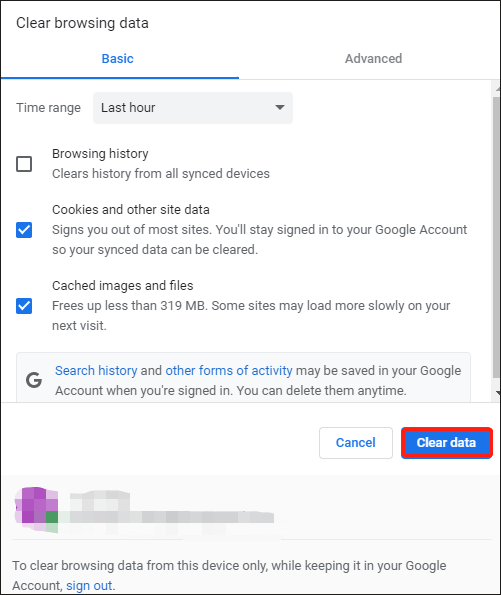 Method 4: Clear Hulu App Cache
A corrupted app cache could be another reason to trigger this bug on Hulu. So please clear the Hulu app cache on your device and see if the problem goes away. If you're streaming on Xbox One, you can clear the Hulu app cache using the following steps:
Step 1: Navigate to the Menu. Click My Games and Apps and highlight the Hulu app.
Step 2: On your controller, tap the Menu button. Then select Manage Apps and press the Clear saved data option.
On Android or iPhone, you can delete the Hulu app cache in Storage in the Settings section.
Method 5: Update the Hulu App
If you are using an outdated version of the Hulu app, you may encounter many errors, including error code 406. So please update the Hulu app on whatever device you're using.
After that, try playing the video that had the error code 406 Hulu before and see if the problem persists.
Method 6: Try Playing the Video on a Different Platform
In order to fix the Hulu error code 406, you can switch to another platform to watch movies on Hulu. Hulu is supported on various platforms. If you use Hulu in a web browser, try the Hulu app on your Windows PC. Alternatively, you can try Hulu on Android or iPhone.
Bottom Line
All ways for fixing error code 406 Hulu. If you have any doubts about this article or have a better way to this problem, you can share it in the comment zone.