Have you received many McAfee pop-ups? These McAfee pop-ups are very annoying. How to stop McAfee pop ups? In this post, MiniTool Partition Wizard offers you 4 ways to solve this problem.
McAfee Corp. is an American global computer security software company headquartered in Santa Clara, California. It offers various programs to protect computer devices from malware, spyware, and other malicious files.
Many people trust this company and its antivirus products. However, some people report that they have received many McAfee pop-ups continuously and they want to know how to stop McAfee pop ups.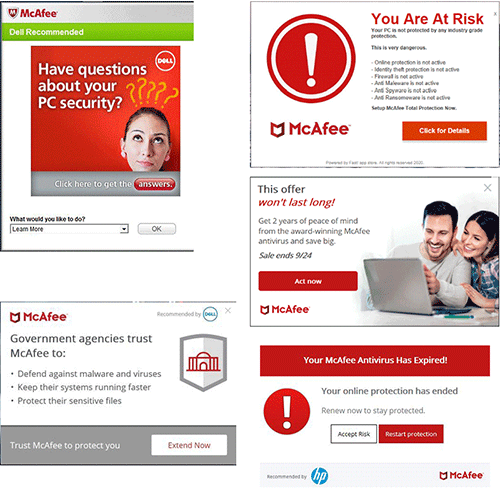 When these ads or notifications pop up, you should check whether you have visited some unsafe websites, whether the McAfee you have installed is from the official website, etc. Anyway, when these ads and notifications pop up frequently, you may want to know how to block them. Then, you can try the following ways.
Fix 1. Get Rid Of The McAfee WebAdvisor Extension
McAfee bundles the "McAfee WebAdvisor" browser extension that can work seamlessly with Google Chrome, Mozilla Firefox, and Internet Explorer. This extension is used to warn you about weak passwords and dangerous downloads when you surf the Internet.
However, I recommend you to remove this extension, because it is somehow useless. Whether you have this extension installed or not, your core-antivirus software will scan your downloads. In addition, removing this extension may block some McAfee popups.
To remove the McAfee WebAdvisor extension, here is the guide:
In Google Chrome, click the menu and go to More Tools > Extensions. Then, click the trash can to remove the McAfee WebAdvisor extension.
In Mozilla Firefox, click the menu and select "Add-ons". Then, click the "Disable" button to remove this add-on.
In Internet Explorer, click the menu button and select "Add-ons". Then, disable this add-on.
Fix 2. Disable McAfee Alerts
Alerts are an essential part of the McAfee defense system, but some kinds of alerts are not so important and you can decide to block them. To do that, you can follow steps below:
Open McAfee.
Click the "Navigation" link in the right pane of the McAfee window and then click "General Settings and Alerts" under Settings.
Click the "Informational Alerts" and "Protection Alerts" categories, and then uncheck types of alert messages you don't want to see.
However, this method can't remove pop-ups linked to your subscription. Fortunately, McAfee uses Windows Notification for all of its pop-ups, so you can mask all alerts from McAfee by modifying the Windows notification settings. Then you may be interested in the following post:
Fix 3. Hide Firewall Prompts
McAfee's built-in firewall is set to ask for your permission whenever a program tries to connect to the Internet. If you don't want to see these popups, you can block them in McAfee's firewall settings. Here is the guide:
Click the "Home" link at the right side of the McAfee window to access the home screen.
Go to Manage Security > Web and Email Protection > Firewall.
Expand the "Smart Advice and Advanced Settings" category and ensure it is set to "Enable Smart Advice" and "Decide automatically".
Fix 4. Uninstall McAfee
Many PC manufacturers bundle a time-limited trial version of McAfee on their new PCs. You quickly see notifications that your subscription is expired and you need to pay for McAfee antivirus protection.
If you just want a free antivirus program, you can uninstall McAfee and choose to use a free antivirus tool like Windows Defender or other free reliable programs.
Is Windows Defender Better Than McAfee, Avast, Or Bitdefender