Google Docs enables users to work together in the same document at the same time, which helps and attracts a lot of people. In this post, MiniTool Partition Wizard introduces a tutorial on how to share a Google Doc. You can have a try if you need it.
About Google Docs
Google Docs is a word processor included as part of the free and web-based Google Docs Editors suite offered by Google. It provides various services, including Google Sheets, Google Slides, Google Drawing, Google Forms, Google Calendar, etc.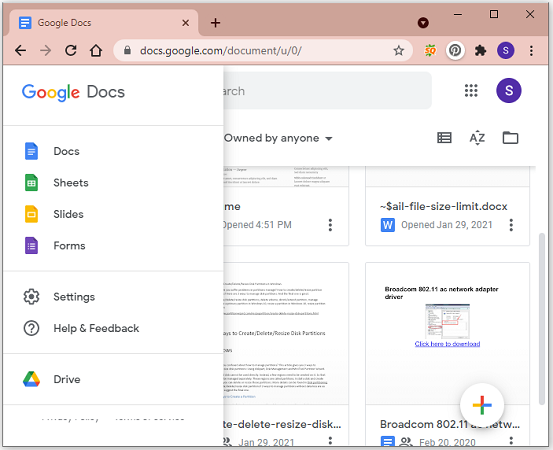 This service is supported on plenty of web browsers, such as Google Chrome, Mozilla Firefox, Internet Explorer, Microsoft Edge, and Apple Safari. Users can access Google Docs through the Google Drive website.
With Google Docs, users can create and edit text documents in a web browser and they don't need to install any software. In addition, it enables multiple users to work at the same time on the same document, and they can see the changes made by others. By the way, every change is saved automatically by Google Docs.
To work with others, you need to share the documents with them. In the following contents, you will learn about three ways for how to share Google Docs.
How to Share a Google Doc
How to share Google Docs? Some common ways are listed below:
Share Google Docs via email addresses
Share Google Docs via links
Share Google Docs via a shared folder or drive
Now, let's see them one by one.
The following methods also work or Google Sheets, Slides, and Forms.
How to Share a Google Doc via Email Addresses
If you are planning to share a Google Doc with a few people and you know their email addresses, you can follow the steps below to achieve the goal.
Step 1: Open your favorite browser and visit the official website of Google Docs.
Step 2: Open the target file that you want to share. Then click the Share button in the upper right corner.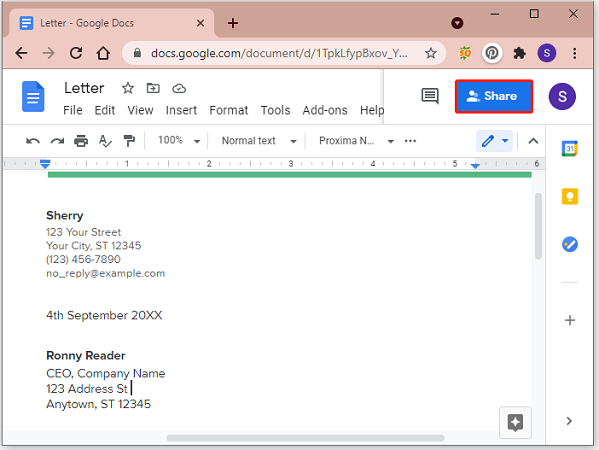 Step 3: In the pop-up window, type the email addresses under the section Share with people and groups. Then click Done.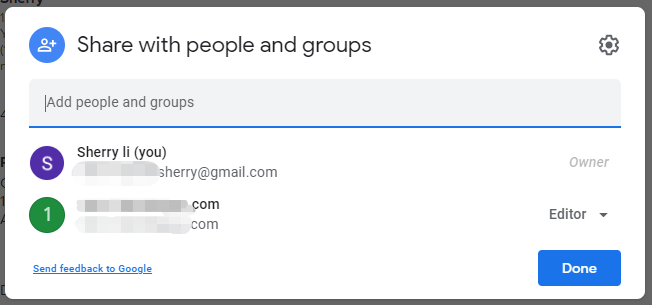 Step 4: Make sure you type the email addresses right. If you want to send an email to notify people that you are sharing a Google Doc, check the Notify people option. Otherwise, uncheck it. Then click Send.
Tip: By default, people who receive the Google Doc are set as Editors. You can click the drop-down menu to change them to Viewers or Commenters to control what they can do to your Doc. Editors can change permissions and share, while viewers and commenters can see the option to download, print, and copy.
Now, others can access the file you share from the email they received. If you don't check Notify people, they need to log into Google Doc to open the file.
How to Share a Google Doc via a Link
If you don't know the email addresses or you need to share the file with too many people, it's a good idea to share the Google Doc via a link.
Step 1: Open the target file in Google Docs. Then click the Share button.
Step 2: In the pop-up window, click the Change button under the Get link section to decide who can open the link. There are two options:
If you select Restricted, only people added to your group can open this link.
If you select Anyone with the link, anyone on the internet with this link can view the file.
Step 3: Click Copy link to get the link. Then click Done to exit.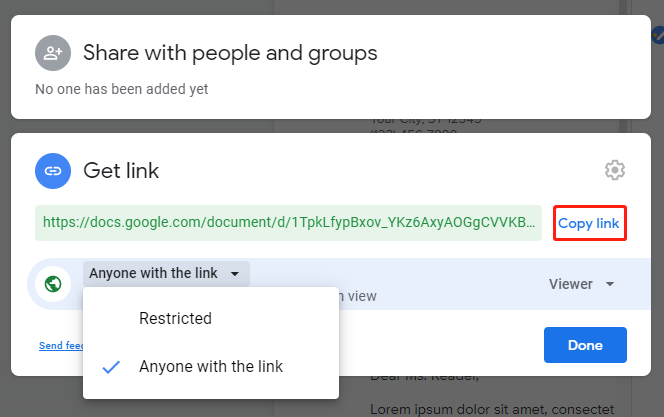 Step 4: Send the copied link to others with whom you want to share the file.
How to Share a Google Doc via a Shared Folder or Drive
It's a nice option to share a Google Doc via a shared folder or drive when you have to collaborate with a group of people regularly and frequently. This is easy to share a drive and you just need to:
Visit Google Drive and log in with your Google account.
Create a shared drive, and add the members you want to share files with.
Add files and folders to the shared drive.
For more details, you can read our previous post: How Do I Create A Shared Drive & How to Use It. You can also share a folder directly in Google Drive.