Rust, as a survival video game, is new but popular. However, users could also encounter problems while playing games. The long load time is one of the most common ones. Don't worry. If you get such a problem, you can try these tips provided by MiniTool Partition Wizard to solve it.
Rust is a multiplayer survival video game developed by Facepunch Studios. It was first released in February 2018. Nowadays, it is available on Microsoft Windows and macOS. The versions for PlayStation 4 and Xbox One have been announced for release in 2021. Windows users can get this game on Steam, one of the most popular game platforms.
During the gameplay, players need to survive in the wilderness using gathered or stolen materials. Unfortunately, some users complain that their Rust costs a long time to load. Why does this happen? How to make Rust load faster? You can get the answers in the following contents if you keep reading.
Tip 1: Update Your Graphics Card Driver
The developers of Rust are keeping updating Rust for bug fixes and performance improvement. Sometimes things change to suit new software and graphics drivers' requirements. If you are still using an outdated graphics card driver, that should be why Rust takes so long to load on your computer.
To solve the problem, you need to update your graphics card driver to the latest version. You can make it by using a professional third-party program, visiting the official websites of your graphics card's manufacturer, or using Device Manager.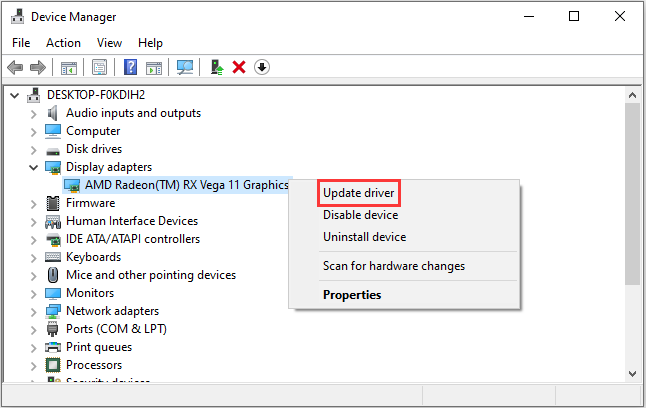 Tip 2: Check for Steam Client Updates
Usually, Steam would update automatically once there are available updates. But sometimes, it might stop and require you to update the client manually. To trouble should the problem that Rust takes so long to load, you should also check for Steam updates.
You just need to Click the Steam button at the upper left corner and select Check for Steam Client Updates. Then follow the onscreen instructions to finish the operation.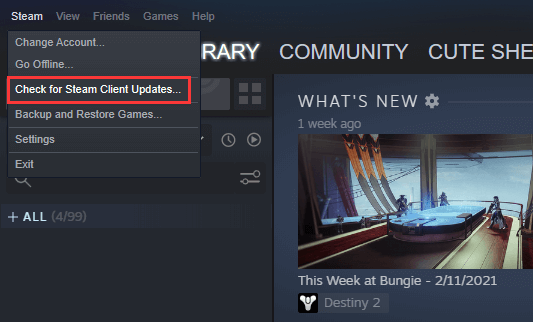 Tip: You can also try verifying the game files of your Rust in Steam.
Tip 3: Defrag Your Hard Drive
If you are using a hard disk drive (HDD) on your computer, you might need to defrag it to solve the problem you encounter. Due to repeated writing and deleting, free sectors on the disk will be spread to discontinuous parts of the disk. By defragging your hard drive, you can re-arrange data and store them in one place, which enables you to access data faster than before.
If you don't know how to defrag your hard drive, you can follow the steps below:
Step 1: Press Win + R to invoke the Run window.
Step 2: In the Run window, input dfrgui and click OK to open the Optimize Drives window.
Step 3: In the Optimize Drives window, click the Turn on button under the Scheduled optimization section.
Step 4: In the pop-up window, check the option Run on a schedule (recommended). Then select the Frequency and Drives according to your own needs.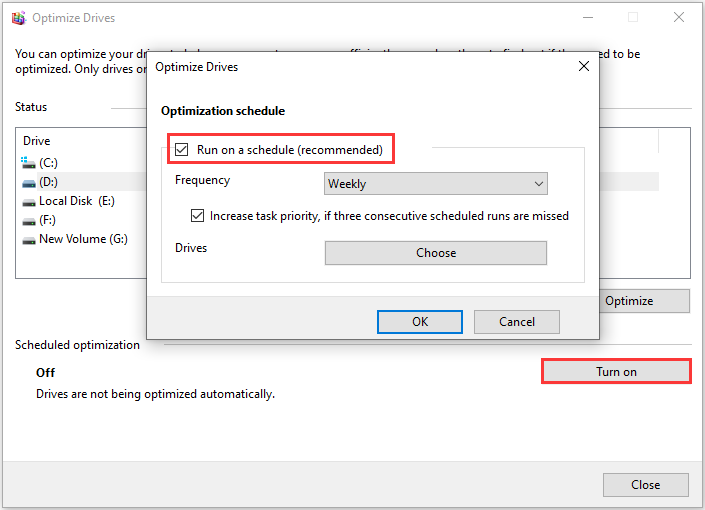 Step 5: Click OK > Close to save the changes.
Tip 4: Reinstall Rust on an SSD
If you still need another way about how to load Rust faster, you can try reinstalling Rust on an SSD. You can choose to use an external SSD or upgrade your HDD to SSD, because SSDs usually run much faster than HDDs.
To get more information about SSD and HDD, you can check this post: SSD VS HDD: What's Difference? Which One Should You Use in PC?