Summary :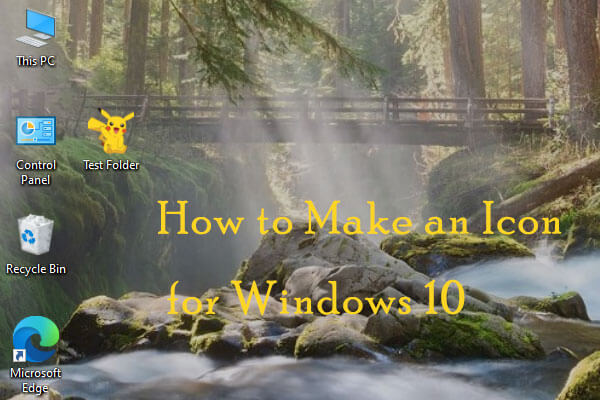 If you want to decorate your PC with your style, you might need to customize the icons for your folders and shortcuts. But how to make an icon for Windows 10 as you wish? In this post, MiniTool Partition Wizard provides a tutorial and you can have a try.
As you can see, each app has its default icon, and all the folders are displayed with the same icon by default on Windows PC. If you prefer personalized styles, you might not like the default icons. Sometimes, to find a target quickly, it is also a good idea to replace the icon for it with your familiar picture.
How to make an icon for Windows 10? Here are some methods for you.
Method 1: Use a Built-in Image Editor
Microsoft Windows 10 is designed with some built-in raster graphics editors, such as Microsoft Paint and Paint 3D. They support BMP, JPEG, GIF, PNG, and single-page TIFF formats, and users can use them to open, edit, and save pictures free.
How to create an icon for Windows 10 with Paint? You need to create a picture and change its pixels and image format. Now, let's see the detailed steps.
Tip: The transparency will be affected if you create an icon with Paint. Therefore, some colors won't show up in your icon and you'd better use black and white colors to create your Windows icon with this method.
Step 1: Press Win + S to open Windows Search utility. Then search for the Paint app and open it.
Step 2: In the Paint app, go to the View tab and check the Gridlines option so that you can edit it conveniently.
Step 3: Go back to the Home tab and click Resize. In the pop-up window, select Pixels and uncheck Maintain aspect ratio. Then input 32 in the boxes for Horizontal and Vertical to create a 32x32 canvas. After that, click OK.
Tip: It's OK to choose 16x16, 24x24, 48x48, or 64x64 for the icon resolution if you want, but 32x32 and 96x96 are the most commonly used sizes.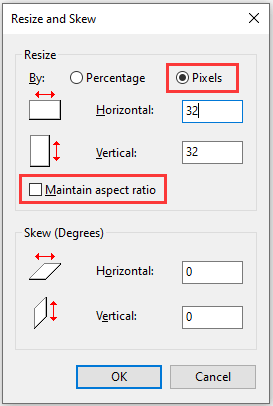 Step 4: Go to the View tab again and click the Zoom in button as the canvas is so tiny that you cannot make any changes. Then go back to the Home tab and you can draw your icon according to your needs.
Step 5: Click the File tab and select Save as. In the pop-up window, name the image file and select 24-bit Bitmap (*.bmp;*.dib) from the drop-down menu of the option "Save as type". Then select a location and click Save.
Tip: You can also select other formats including 256 Color Bitmap and 16 Color Bitmap for the image format, but the color quality might be reduced.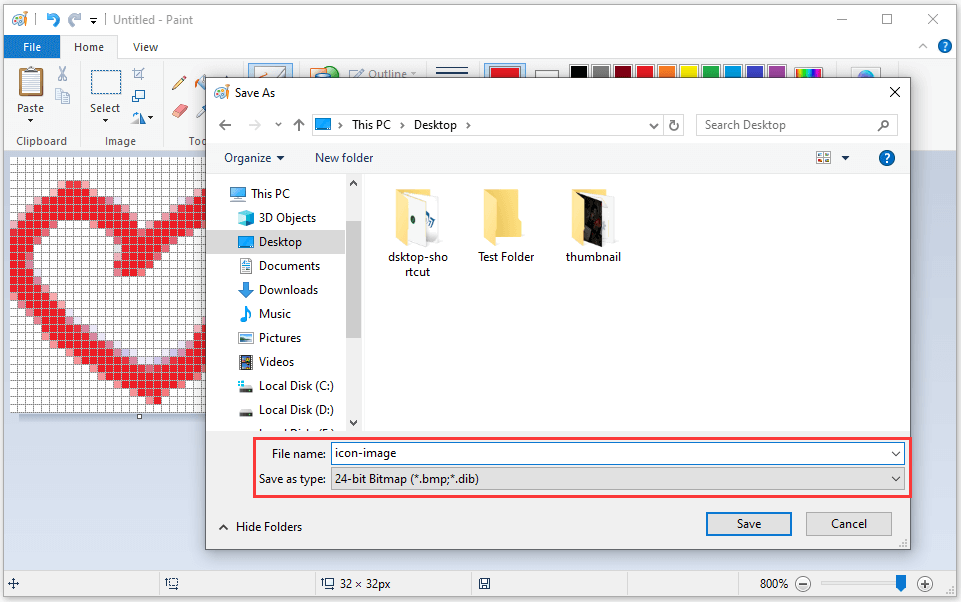 Then you can repeat the steps above to make as many icons as you need.
If you want to create an icon based on another picture, you just need to right-click the picture and select Open with > Paint. Then refer to the steps above to modify it and save it with the correct format. But you need to notice that any transparency will be lost if you save the picture with a new format and the color quality might also be reduced.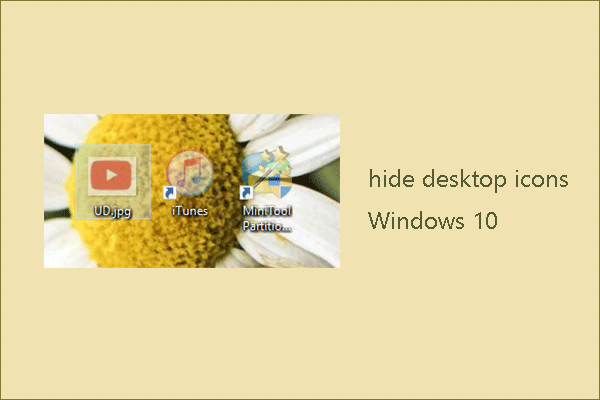 Are three so many icons on your desktop that you can't see your background image? If yes, follow the guide in this post to hide them.
Method 2: Use a Reliable Third-party Tool
As mentioned, the transparency and color quality will be affected when you use Microsoft Paint to create icons for Windows 10. If you want to make an icon with a download picture, Paint might not be a helpful tool. In this case, you can try an online converter to modify the picture and change its format from JPG or PNG to ICO so that you can apply the icon directly.
For the tool, ICO Convert and ONLINE-CONVERT are both helpful. Here is how to make an icon for Windows 10 with ICO Convert.
Step 1: Open your browser and visit the official website of ICO Convert.
Step 2: Click Choose File button and select the picture which you want to use to make a Windows icon. Then click Upload.
Step 3: Crop the image by clicking and dragging to select the needed area of the picture. If you don't need this step, just ignore it and go to the next step.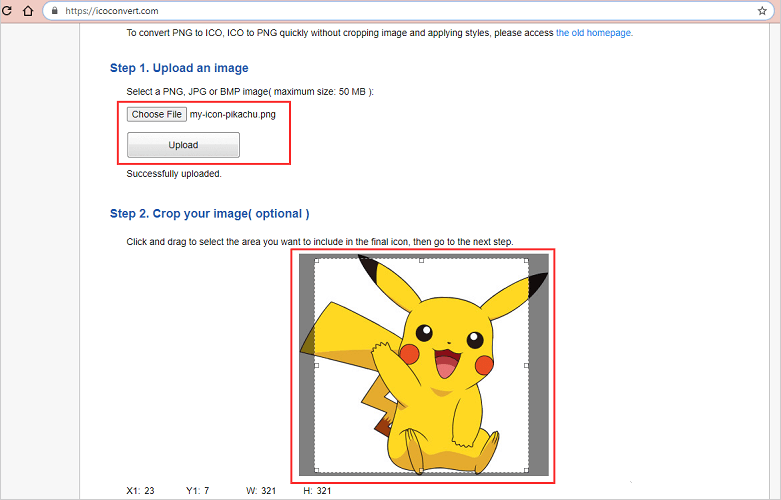 Step 4: Select a style for the icon. If you don't want one, just click Select None. If you click Select All, you will get many icons based on these styles at once.
Step 5: Select the option "ICO for Windows 7, Windows 8, Vista and XP" for the icon format. Then hit Convert ICO to start converting.
Step 6: Wait patiently until you see the hyperlink "Download your icon(s)" and then click the hyperlink to download the created icon.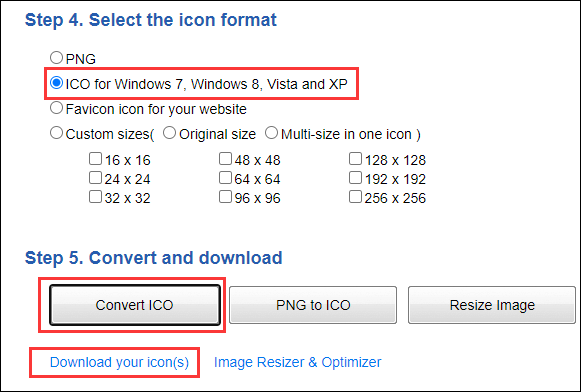 How to Replace Your Icons
After creating the icons you want with one of the above methods, you can change the icons for your folders or app shortcuts.
Step 1: Right-click your folder and select Properties. Then go to the Customize tab and click Change Icon under the Folder Icons section.
Tip: For an app shortcut, you can find the Change Icon button under the Shortcut tab in its Properties.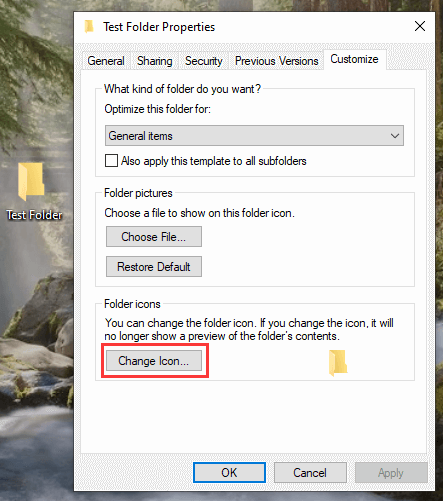 Step 2: In the pop-up window, click Browse and select your created icon. Then click OK.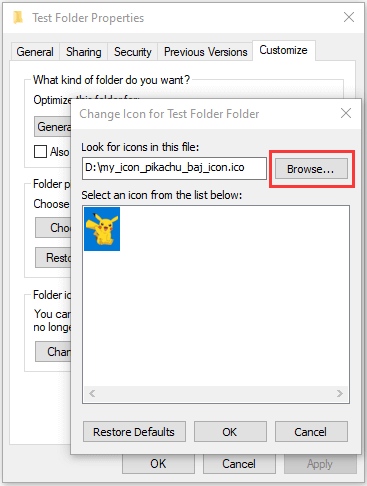 Step 3: Click Apply and OK to save the changes you have made. Now you will get the icon you want.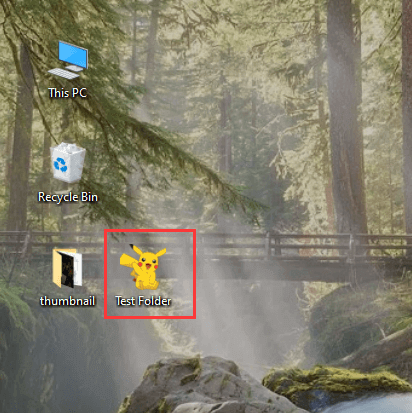 Warning: You should make sure the icon images you created are stored in a location that you won't delete by mistake. If you delete the image, the icon for the folder or app shortcut will be changed to the default one automatically.
That's all you need to know about how to create an icon. Now, it's your turn to have a try.