Some users try their best to crack MiniTool Partition Wizard since they don't want to pay money on this program. However, the cracked software may unfortunately lead to some problems on your computer. It is not recommended to use the cracked edition.
About Partition Wizard Full Crack
Situation: Recently one of my friends asked me how to do dynamic disk management without the Windows Disk Management tool. He wanted to look for a dynamic disk partition manager like MiniTool Partition Wizard Professional Edition, but there was one important point that he was unwilling to pay money on the software because he thought that he only needed to use the paid software this time and it is not worth to spend money. At last, he found a way that was to do MiniTool Partition Wizard crack with serial key.
As a matter of fact, some users are trying to look for some ways to crack Partition Wizard Professional full edition. As long as the software is upgraded to a new version, they try to full crack it. Maybe after a period of time, they can find some videos, forums, blogs, and articles about how to crack MiniTool Partition Wizard on the internet. Those courses teach them to get Partition Wizard full crack with serial key, serial number, license code generator or keygen (key generator).
MiniTool Partition Wizard Crack Is Not Recommended
The above content mentioned methods about how to crack MiniTool Partition Wizard Pro, which sounds wonderful and magic. In fact, the cracked partition management software is not recommended to manage your partitions and disks on your PC. Maybe most users ask "the paid software I have cracked also can manage my dynamic disk, but why not use it". In reality, during using the cracked MiniTool Partition Wizard software, you may encounter many troubles.
These troubles could be:
Virus attack: Some software probably brings many viruses to attack your computer. Once the virus enters your PC, some malware and spyware may be downloaded automatically and some data will be damaged or destroyed. In addition, you may encounter system crash issue or your computer cannot be booted while you do disk management with cracked MiniTool Partition Wizard.
The program stops working: Once you do MiniTool Partition Wizard crack, this cracked program may stop working, because perhaps you have modified its code which makes it unstable.
No after-sale service: If you have some problems with disk and partition management, you can't get the official after-sale service.
Can't upgrade: If a new version is released, the cracked can't be upgraded.
Therefore, it is not wise to do Partition Wizard full crack. If you want to do MiniTool Partition Wizard Professional Edition crack, it is just a waste of time.
Get official MiniTool Partition Wizard Professional Version
After knowing the demerits, you'd better not find methods to crack Partition Wizard Pro by searching articles, videos or forums. To ensure that your computer can run normally and protect your data, the official MiniTool Partition Wizard Professional Edition is a good choice.
As a powerful, official and reliable partition manager, MiniTool Partition Wizard helps users to manage partition and disk without data loss. Besides, the official software supports after-sale service, offers users technical support, and lifetime upgrade compared to cracked software.
Thus, you can purchase one to manage your hard disk and partition well.
And MiniTool Partition Wizard has many powerful features. For example, it can help you to do disk benchmark.
As is well known, the Disk Management can't help you to convert NTFS to FAT. Thus, MiniTool Partition Wizard would be a good assistant. And in the following part, we will show you how to convert NTFS to FAT with MiniTool Partition Wizard.
Step 1: Install and launch the software to enter its main interface.
Step 2: Select the partition you would like to convert, and choose Convert NTFS to FAT from the context menu to continue.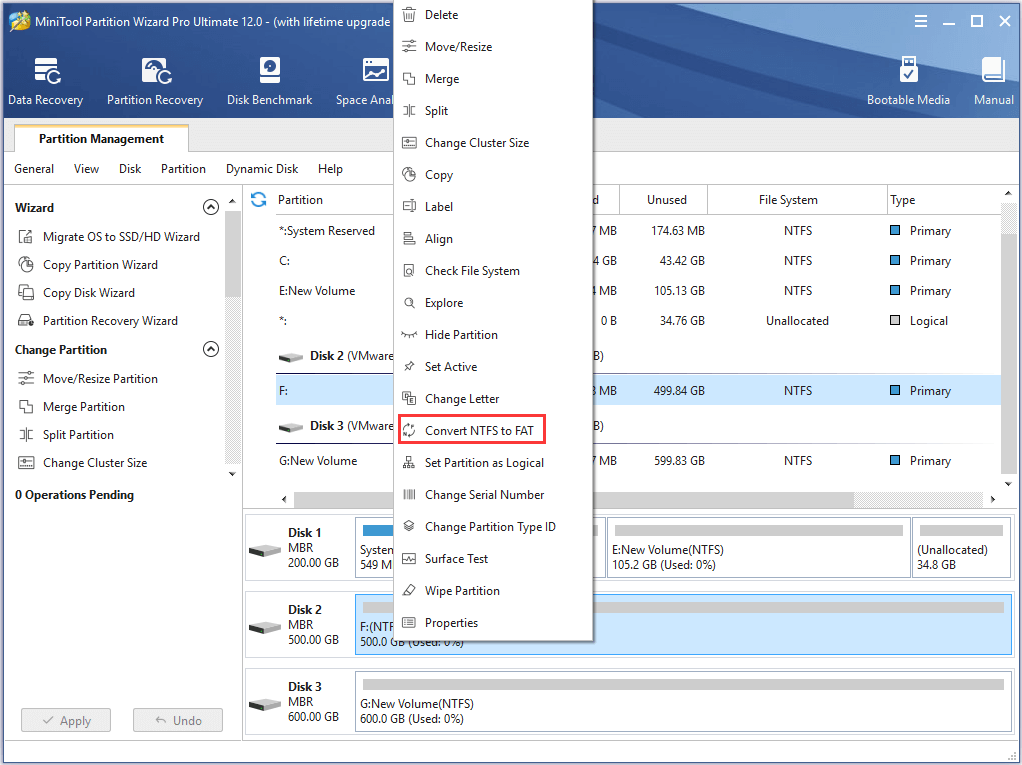 Step 3: Then you can preview the change and click Apply to confirm the change.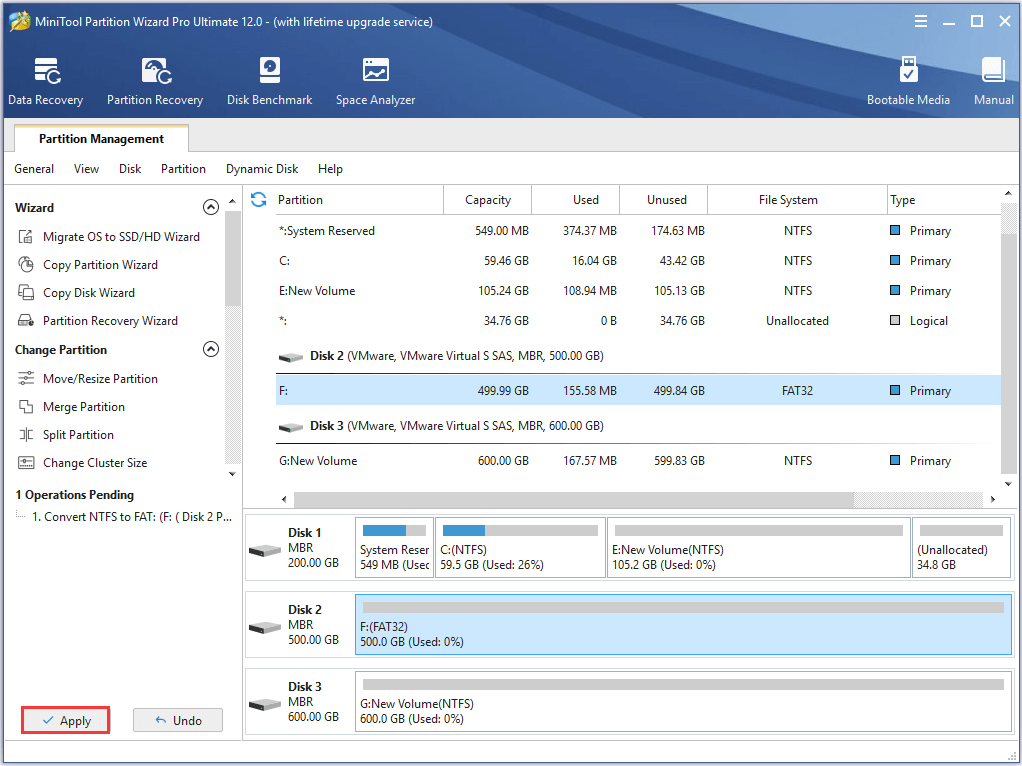 When you finish all steps, you can see that MiniTool Partition Wizard is a great tool to help you to manage the disk and partition. So just purchase one to have a try.
And if you buy MiniTool Partition Wizard, you can enjoy upgrade service and after-sale service. In addition, the paid program would give rise to damage to your computer and data.
Bottom Line
It is not wise to crack MiniTool Partition Wizard because it may lead to some worse problem. And the Partition Wizard full crack edition is also dangerous. So in order to keep computer and data safe, you had better purchase the MiniTool Partition Wizard Pro or some advanced editions which can bring you a better experience.
If you have any problem of MiniTool Partition Wizard, please feel free to contact us via the email [email protected].