How to change keyboard language? Whether you are a Windows user or a Mac user, you can find the tutorial on changing keyboard language in this post. By the way, if you are using Windows OS, it is worth trying MiniTool Partition Wizard, a professional partition manager.
Nowadays, half of the world is bilingual. Numerous people master two languages and use them during studying, working, etc. However, "how to change language on keyboard" bothers those people. This post offers step-by-step tutorials on changing keyboard language on Windows 10 and Mac. Scroll down to get the tutorials.
Note: Not all keyboard language is available in all countries or regions.
How to Change Keyboard Language on Windows 10?
Windows 10 allows you to use different keyboard languages. Follow the tutorial below to change your keyboard language on Windows 10.
Step 1: Right-click the Windows icon on the taskbar and then choose the Settings option from the menu.
Step 2: Choose the Time & language option from the Settings window. Then, choose the Language option from the navigation pane.
Step 3: Select the current default language under the Preferred languages section and then click the Options button.
Step 4: Locate the keyboard section, on which click the Add a keyboard option,
Step 5: Choose the keyboard language you need from the pop-up menu.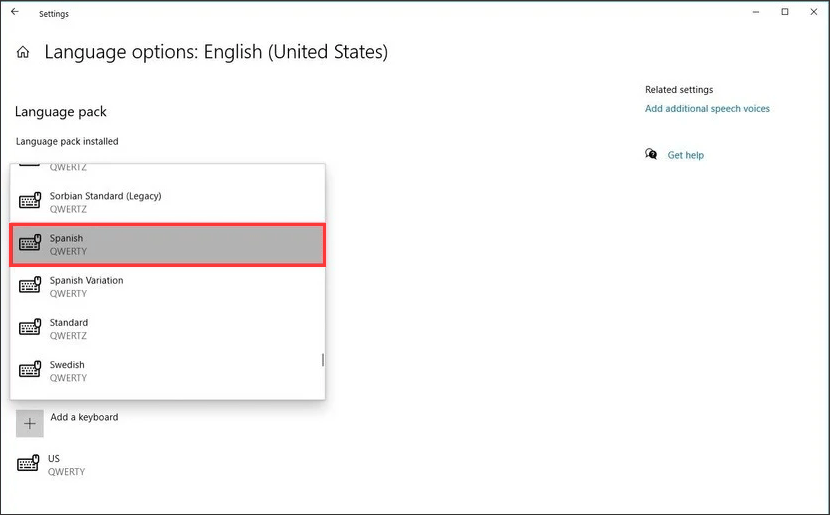 Step 6: Hit the language control button on your taskbar and then choose the language you want to switch to.
If there is one keyboard language that you do not need anymore, you can remove it by repeating Step 1-3 in the above tutorial, clicking the keyboard language you want to move, and hitting the Remove button.
How to Change Keyboard Language on Mac?
To change keyboard language on Mac, follow the tutorial below.
Step 1: Hit the Apple logo and then choose the System Preferences option.
Step 2: Click the Keyboard option.
Step 3: Switch to the Input Sources tab at the top of the window. Then, click the plus icon at the lower-left corner.
Step 4: Select the language you want to switch to from the list and then click the Add button.
Step 5: Check if the Show Input menu in menu bar option setting is ticked. If not, tick it and you will see a flag icon shows up in the toolbar at the top corner.
Step 6: Switch to the added keyboard language by it in the dropdown menu at the top corner of your Mac screen.
After the six steps, you can type in the language you have added with your keyboard on your Mac.
I want Your Voice
Have you successfully changed your keyboard language on Windows 10 or Mac by following the above tutorials? Hope the process goes smoothly. If you find there is something unclear in this post, please point it out in the following comment zone and I will explain it for you as soon as possible.