Does your Google Chrome load old tabs on startup? Some users have posted the following question on forums: how do I get Chrome to open a new tab on startup? If you're bothered by the same problem, you can try the following solutions provided by MiniTool Partition Wizard.
Google Chrome is one of the most popular web browsers all over the world. Usually, when you click the shortcut of Chrome on desktop, a new tab will be opened. However, there are some posts asking "how do I get Chrome to open a new tab on Startup". According to the users, they received previous old tabs when they launch the app.
If you encounter the same issue, here are some solutions and you can have a try.
Solution 1: Change Startup Settings in Chrome
If you configure Google Chrome to open up a specific set of pages or tabs on startup or start where you left off, your browser won't open a new tab on startup. In this case, you need to change the startup configuration in Chrome.
Here are the detailed steps.
Step 1: In Google Chrome, click the three-dot icon and select Settings.
Step 2: Scroll down to find On startup section. Then select Open the New Tab page.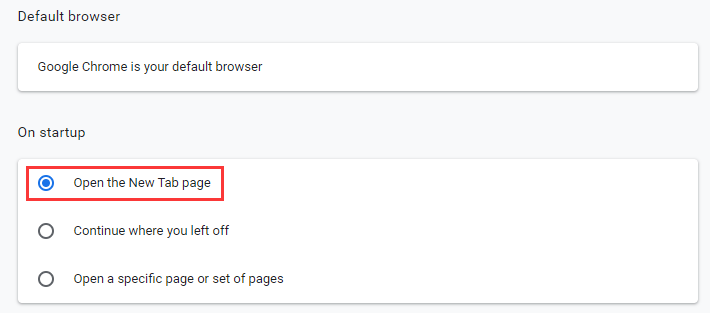 After changing the startup settings, you can close the browser and launch it again to check if the problem has been fixed.
Solution 2: Prevent Chrome from Running on the Background
Another reason why Chrome might load old tabs on startup is that the browser is configured to run in the background. How to stop Chrome from opening old tabs in this case? You need to disable the feature to fix the problem.
Step 1: Go to Settings in Google Chrome.
Step 2: Scroll down and click Advanced button to view more settings.
Step 3: Under System section, toggle of the button Continue running background apps when Google Chrome is closed.

Step 4: Minimize Chrome. Then press Shift + Ctrl + Esc to open Task Manager quickly.
Step 5: Under Processes tab, select the program related to Google Chrome and click End task. Repeat the operation until all the involved programs are killed.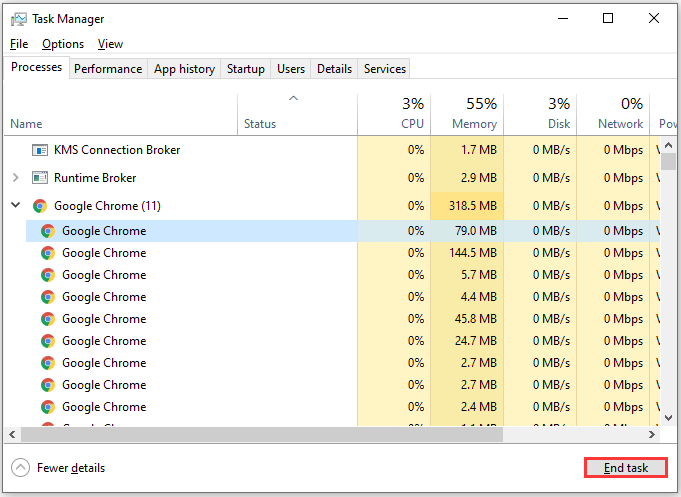 Now you can click the Chrome icon on desktop to launch it again and check if a new tab pops up.
Tip: It is possible that the Fast Tabs feature in Chrome is interfering with certain elements of the browser, which causes old tabs on startup. If it's available on your Chrome, you can try disabling it to fix the problem.
Solution 3: Reset Flag Configurations
You could also encounter the same issue if certain Chrome configurations have been set to load old tabs on startup in Flag settings. Here is how to fix it.
Step 1: In Google Chrome, open a new tab and type Chrome://Flags in the address bar and press Enter.
Step 2: Click Reset all button.
Step 3: You will be required to restart the browser for changes to take effect. Just click Relaunch. Then check if Chrome opens a new tab.
How do I get Chrome to open a new tab on startup? Try the solutions above one by one. Hope they are helpful for you.